NHL Hockey Odds and Picks: Scouting the Week Ahead
by Alan Matthews - 1/12/2015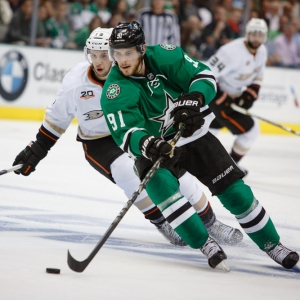 We saw our fourth NHL coach fired this season last week as Toronto's Randy Carlyle not surprisingly got the hook. Carlyle's regular-season record in Toronto was an average 91-78-19. The Leafs are the Yankees of the NHL, so they should be a Cup contender every year, salary cap or not. Carlyle led the team to just one playoff berth, and the Leafs were eliminated in the first round by the Boston Bruins in 2013 -- you may remember that epic Game 7 collapse by Toronto. Carlyle was supposed to be a defensive guy, but the Leafs were outshot by 1,254 shots in his tenure. They are No. 2 in the league in scoring but 25th in goals against this season.
Assistant Peter Horachek will coach the Maple Leafs for the rest of the year. Team president Brendan Shanahan has said he won't hire a full-time coach until after the season. Carlyle joins Ottawa's Paul MacLean, Edmonton's Dallas Eakins and New Jersey's Peter DeBoer as coaches fired this season. And if you are looking to bet on who is next, I'd glance toward Minnesota and Mike Yeo.
The Wild were trampled 4-1 by Chicago on Sunday for their 11th loss in the past 13 games. They are last in the Central Division with 41 points. NBC Sports Network analyst Jeremy Roenick already has called for a change. This is Year 3 in Minnesota since the team signed Zach Parise and Ryan Suter to huge deals (each got $98 million over 13 years), and the team has just one playoff series win in that span under Yeo. The Wild gave Yeo a three-year extension back in June for some reason. The coach went nuts on his team at a practice last week, which of course went viral.
"I was talking with Zach [Parise], and we've never been through … we've never seen anything like this," Suter said after Sunday's defeat. "I don't know what the heck is going on, but every day's a bad day right now."
GM Chuck Fletcher and owner Craig Leipold have indicated Yeo's job is safe but with quality coaches available like Carlyle and Dan Bylsma, the team could make a move if things don't get turned around quickly. No coach can win with lousy goaltending. Minnesota's goalies rank 35th (Darcy Kuemper) and 40th (Niklas Backstrom) among 43 qualified goalies in the league in terms of save percentage.
Things aren't likely to get much better for the Wild on Tuesday as they visit Pittsburgh. The Pens are -190 favorites on BookMaker. The Wild are +2500 at Bovada to win the Western Conference.
Injury Report
The Red Wings have put goalie Jimmy Howard on injured reserve as he suffered a slight tear in his groin (ouch!) in Saturday's game at Washington. Howard will be out until at least the All-Star Break, but it could be longer after the team gets a look at an ultrasound Monday. If the ultrasound confirms what the MRI revealed, Howard's recovery time may be 2-4 weeks. GM Ken Holland says the team's goal is to get to the All-Star Break, get Howard additional rest and assess him from there. Howard was hurt attempting to make a save on Troy Brouwer's goal in the first period. Howard is 16-7-7 with a 2.11 goals-against average and .920 save percentage. No. 2 goalie Jonas Gustavsson already is sidelined with a shoulder injury and likely out until after the break. Thus, the Wings will have to go with Petr Mrazek or recently recalled Tom McCollum in net unless they make a trade.
Los Angeles Kings rookie forward Tanner Pearson is out indefinitely with a broken leg, meaning his chances of winning the Calder Trophy are gone now. He probably wouldn't have anyway, but Pearson has 12 goals, tied for second on the defending Stanley Cup champions. Kings center Tyler Toffoli (12 goals, 15 assists) is out indefinitely with mononucleosis. What is it with the NHL and diseases???
Flyers No. 1 goalie Steve Mason is out likely two weeks with a lower-body injury. Ray Emery takes over as the primary starter with Rob Zepp recalled from the AHL. Mason was injured in the first period of a loss to Boston on Saturday. Mason is 8-12-6 with a 2.46 goals-against average and .920 save percentage.
The Dallas Stars could be very short-handed for Tuesday's game against Ottawa as Jamie Benn (undisclosed injury), Tyler Seguin (illness) and Vernon Fiddler (lower body) are all questionable. Seguin is No. 2 in the NHL in points with 48 and tied for the league lead with 26 goals. Dallas, which has dropped four straight, is a -150 favorite against the Sens.
This Week's Games to Watch
NY Islanders at NY Rangers, Tuesday: The Islanders have taken the lead in the Metropolitan Division and sit just a point behind Tampa Bay for the overall points lead in the Eastern Conference. The Isles have won two straight, while the Rangers have won five in a row and have 13 wins in their past 14 games. The franchise hadn't done that since 1973. The Blueshirts impressively finished off a California sweep on Saturday in San Jose. It's the first time the Rangers have beaten the Ducks, Kings and Sharks on the road in the same season. Both the Isles and Rangers are +700 to win the East. The Rangers are -150 favorites for this one. If the Rangers lead after two periods it's just about money in the bank as they are 18-0-1 when leading after two.
Minnesota at Buffalo, Thursday: I'm not even kidding that this could be Yeo's final game if the Wild get stomped by the worst team in the NHL. The Sabres enter this week on a league-high seven-game losing streak (lost 11 of 12 as well) and have the worst goals differential in the NHL at minus-66. Buffalo lost 6-3 at Minnesota back in mid-November.
Detroit at St. Louis, Thursday: The Blues are rolling entering this week, having won four straight and outscoring their opponents 25-8 in that stretch. St. Louis is perhaps the deepest club in the NHL as it has eight players with 25 or more points, most in the league. This is Detroit's only visit of the season to its former division rival. The Blues' David Backes was the NHL's First Star last week. Backes led the NHL with five goals and eight points in three games, posting three consecutive multi-point games. He opened the week by scoring four straight goals in a 6-0 win over the Coyotes last Tuesday. Backes became the first player to register four consecutive goals in one game - for any team - since Nov. 11, 2005. That's surprising.
Anaheim at Los Angeles, Saturday: These two teams simply don't like each other. The Ducks are an amazing 21-0-6 in one-goal games this season. This will be Anaheim's final visit across town this year barring a playoff series vs. the Kings. The teams have split two one-goal games, with the Ducks winning 6-5 at home in a shootout and L.A. taking a 3-2 overtime victory at Staples Center.
Read more articles by Alan Matthews