NHL Hockey Odds and Picks: Scouting the Week Ahead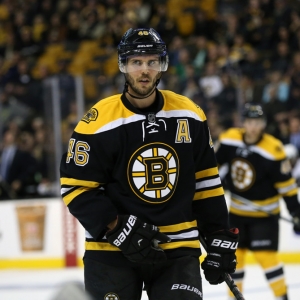 I don't watch a ton of regular-season hockey. Oh, I follow it closely but I just don't get too excited about watching the games. It really is true that watching the NHL is vastly more different in person than on TV. It might be the best game to watch of the four major U.S. sports in person, especially if you are sitting along the boards. It also helps you can see the puck much better than on your screens.
That said, I do generally watch some of the Winter Classic each year -- always the highest-rated NHL game -- even if it doesn't involve the team I am a fan of. And this year's Classic on New Year's Day features an Original Six matchup between Montreal and Boston at Gillette Stadium, home of the New England Patriots. Boston is the first team to host a second Classic. It beat Philadelphia 2-1 in overtime at Fenway Park in 2010. It's the first time for Montreal in the Classic. The NHL generally hasn't included teams from Canada because obviously that would hurt American TV ratings and interest.
I think the reason I and many others enjoy the Classic is because of the chance these guys will be playing in the snow like some of us did back in the day on frozen lakes or ponds. The weather conditions in Foxboro for Friday afternoon sadly don't include any snow. It's listed as a high of 42 with zero percent chance of precipitation. We also won't be seeing one of the NHL's best players in the game as Montreal goaltender Carey Price, the reigning Hart and Vezina Trophy winner, remains out with a leg injury. The Habs have been in a funk of late without Price, winning just twice in their past 12 games entering Tuesday. For a while there, Montreal was the Stanley Cup favorite. Now it's +2000 to win the Cup at Bovada, which are only the seventh-best odds. Boston is at the same price and has lost three straight entering Tuesday. The Canadiens are 2-1 vs. Boston this year. They made a trade on Monday in acquiring goalie Ben Scrivens from Edmonton. So that might mean the Habs don't think Price will be back soon.
Bruins No. 1 netminder Tuukka Rask, who will certainly be in there Friday barring injury, is 1-1 with a 2.02 goals-against average vs. the Canadiens this year. The Bruins will be without center David Krejci, who is week-to-week with an upper-body injury. He was hurt Sunday. Krejci has 11 goals and 22 assists this season.
Here are some other games to watch this week.
Buffalo at Washington, Wednesday: The Capitals, who are -220 favorites here, look like clearly the Eastern Conference's best team, and they lead the East by far with 56 points. They also bring an eight-game winning streak into this one and are +500 Bovada favorites for the Stanley Cup. The Caps beat these Sabres in Buffalo 2-0 on Monday behind goals from Alex Ovechkin and Jay Beagle and the second shutout of the season for Braden Holtby, who is your Vezina Trophy favorite this season. Holtby hasn't lost in regulation since Nov. 10, when the Detroit Red Wings defeated Washington 1-0. Washington defenseman John Carlson missed Monday's game with a lower-body injury, ending his streak of 412 consecutive games played. The Sabres went 0-for-3 on the power play and are 0-for-17 in the past six games. Buffalo star rookie Jack Eichel, the No. 2 overall pick in the 2015 draft, has 11 goals and nine assists this year.
Pittsburgh at Detroit, Thursday: The Red Wings annually host a New Year's Eve game -- it's a big deal in Motown. The Wings are banged up, without defensemen Jonathan Ericsson (shoulder) and Kyle Quincey (ankle) along with forwards Johan Franzen (concussion), Drew Miller (broken jaw) and Teemu Pulkkinen (dislocated shoulder). The Penguins remain without goalie Marc-Andre Fleury due to a concussion. There's still no timetable for his return, although he has been skating some. And top defenseman Kris Letang was injured in Saturday's game and sat out Sunday. He might have a concussion, although the Penguins aren't saying that yet. This is the first meeting of the regular season between these teams. The Wings did blow out the Penguins twice in the preseason, for what that's worth.
NY Rangers at Florida, Saturday: The second-hottest team in the NHL behind Washington? That would be Florida, which took a six-game winning streak into Tuesday and could take the division lead from Montreal. The winning streak is Florida's longest in eight years. The Panthers aren't very good offensively, ranking 17th in scoring and 20th on the power play, but they allow only 2.3 goals per game, which is third in the league. Roberto Luongo has been great in net, with a 2.20 GAA and .924 save percentage. He and Jaromir Jagr (10 goals, 15 assists) are likely the only Panthers players most people would even know. New York hasn't been playing well since late November largely because goalie Henrik Lundqvist is in a bit of a funk. He is 3-5-1 this month with a 3.41 GAA and .890 save percentage. New York won the lone meeting thus far with Florida, 5-4 in overtime in south Florida on Nov. 21. Rick Nash had a hat trick, including the winner. It was New York's seventh straight win in the series.
Dallas at NY Islanders, Sunday: The Stars continue to pace the Western Conference in points and lead the NHL by far in scoring. Their 1-2 forward punch of Jamie Benn (49 points, second in NHL) and Tyler Seguin (47 points, No. 3) is second to none. It's not clear if the Isles will have top goalie Jaroslav Halak here. He missed Tuesday's game in Toronto, not even traveling with the team, due to an upper-body injury. What's up with Isles star John Tavares? My pick for the Hart Trophy, Tavares has only four points this month and is minus-4. It's the first meeting of the season between these teams and the Stars' only visit to Brooklyn.
Read more articles by Alan Matthews