Odds and Betting Predictions for American Pharoah Triple Crown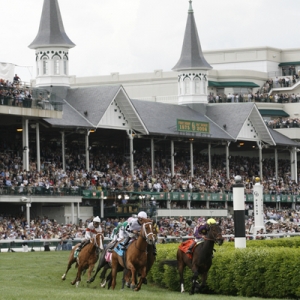 We are left to ask the same question we have asked 13 other times since Affirmed last accomplished the toughest feat in sports - after winning the Kentucky Derby and the Preakness, can American Pharoah win the Triple Crown? The short answer is, of course, yes.
He is an exceptionally talented horse coming off a dominating performance in the middle leg of the Crown, he has really done nothing wrong in his career, and he has never yet looked like he has run as hard as he is capable of. He absolutely could win, and he would not be out of place alongside all-time legends like Secretariat, Seattle Slew, Citation, and War Admiral if he did so.
It is far from a certainty that he will pull it off, though. In fact, a lot of factors suggest that it isn't particularly likely to happen. Bovada has the odds set at -130 that he won't win it, and I would suggest that there is still some room for value seekers in that number.
I want nothing more in sports than to see a Triple Crown won. Why, then, am I so pessimistic? Well, besides protecting my soul after it has been crushed so many times over the years, here are three of the biggest reasons for concern:
Preakness took a lot out of him: For a race that was that easy for him to win, American Pharoah sure look like he put a lot into it. It's not a surprise that it was challenging for him. For starters, he was on the rail, so he had to start the race with great urgency to ensure he could get to the lead and not get caught. The pace wasn't psychotic, but around the final turn he faced some real pressure that he had to respond to. And then there was the weather. The heavens opened up and turned a fast track into a river. Running through that is not easy for any horse. That effort just two weeks after the Derby is a challenge for any horse. Now he is likely to be the only horse in the Belmont who is racing for the third time in five weeks. That's a lot to overcome.
The Belmont field is very tough: This is the biggest challenge of all. Not only is the Belmont the toughest race the horse will have faced yet given the lack of rest and the relentless distance. He also has to beat a very tough field.
Carpe Diem was the third betting choice in the Derby and is much better than he showed then. Frosted was a strong fourth in the Derby and has much upside. Materiality was raw but unbeaten heading into the Derby and will have benefited significantly from that experience and the subsequent rest. Mubtaahij was dominant in Dubai and has had time to get used to the American atmosphere after being rushed into the Derby. Conquest Curlinate has looked good enough that his owner is willing to put up an extra $75,000 to make him eligible for the race. Tale of Verve was the shocking runner-up in the Preakness. War Story has plenty of early speed and flashed mountains of potential earlier in the spring.
Every single one of those horses will be more rested than American Pharoah, and many of the biggest threats will be racing for the first time in five weeks. As we have seen in recent years - Tonalist over California Chrome, Da' Tara over Big Brown, Birdstone over Smarty Jones, Empire Maker over Funny Cide, and so on - a talented, rested horse can have an advantage over a potential Triple Crown winner who is more talented on paper but more tired in reality.
Others have looked about as good and faltered: American Pharoah is an exceptional horse. Nothing that happens at Belmont in a couple of weeks will have an impact on that truth. The sad truth, though, is that being an exceptional horse has no bearing on how this race turns out.
Silver Charm, who like American Pharoah and Real Quiet who lost the Belmont and the Triple Crown by barely a whisker was trained by Bob Baffert, went on to become an all-time legend of the sport, and he as strong in his first two Triple Crown wins. He seemed like a lock, but Touch Gold, who had skipped the Derby and finished a troubled fourth in the Preakness, overcame some real trouble around the final turn to catch Silver Charm and beat him by less than a length. Smarty Jones looked like a generational horse, but 37/1 shot Birdstone chased him down in the stretch to win the lightning-fast Belmont. Big Brown seemed like the biggest star the sport had seen in generations, and after his Derby and Preakness wins I have never been more sure of a Triple Crown. He was spectacular. In the Belmont, though, nothing went right and he was eased in the stretch while the longest shot in the field, Da' Tara, ran away for the easy win.
Incidentally, Big Brown and Da' Tara had previously met in the Florida Derby. Big Brown won impressively, and Da' Tara was ninth by about a million lengths. Even California Chrome, who I was never as high on as others, was a very popular choice in the Belmont but looked like he had nothing left to give and was an underwhelming fourth.
American Pharoah is great, but so many other greats in the past failing to get it done in the Belmont has made me old and cynical.
Want free sports betting picks? Doc's Sports has you covered - get $60 worth of picks free from any of Doc's Sports expert handicappers. Click here for free picks (new clients only).
Read more articles by Trevor Whenham