2016 Belmont Stakes Betting Advice: Handicapping the Fresh Horses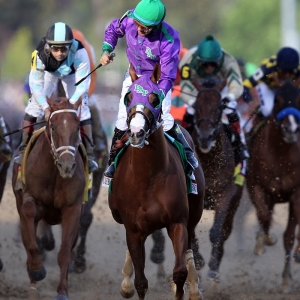 One of the many challenging parts of winning the Belmont as the favorite this year and in most years is that the favorite is running in their third race in five weeks, while most other horses in the race are much fresher. This year that is the case as Exaggerator is going to be heavily favored after being second in the Derby and winning the Preakness. He has only one challenger - Lani - who has also run in both legs of the Triple Crown. Two others - Cherry Wine and Stradivari - are scheduled to come back after running in the Preakness, so they will have had less rest than is most common these days at just three weeks.
The rest of the anticipated field - at least at the time I write this - have been off for a month or more. It's often a challenge for the iron horses to beat the fresher ones - California Chrome was just the latest to fall to a fresh horse in his bid for a Triple Crown when he lost to Tonalist, who had rested for four weeks after winning the Peter Pan. American Pharoah last year, though, showed that it wasn't a factor for him.
So, will Exaggerator be able to overcome his disadvantage and win here? Or will a fresher horse ruin his dreams? Here is a look at the seven current probables that are going to be fresh coming into the Belmont:
Rested since the Kentucky Derby
Brody's Cause: He looked really good two races back in winning the Blue Grass Stakes against a pretty decent field. In the race before that victory, though, and in the Kentucky Derby he was seventh both times. It wasn't a particularly threatening seventh in either case, too. He's wildly inconsistent, and he is very much a one-dimensional closer, so if the race doesn't set up right for him then he's in trouble. Early speed is lacking in this race, so it is unlikely the race will indeed set up right for him. I find this horse tough to love.
Creator: I am intrigued by this horse. At 22/1, where he currently is in futures odds, I am really intrigued. His Derby was a total disaster. I'm just going to pretend it never happened. I really liked his win in the Arkansas Derby in his prior outing, though. I also think his breeding is solid for this spot. He got a massive jockey upgrade, landing Irad Ortiz Jr., one of the top jockeys at Belmont, for this race. I like Steve Asmussen and the way he is training right now, too. This horse should not be the longest shot on the board.
Destin: Todd Pletcher had a prototypically lousy Derby this year, and Destin was among those disappointments. He has historically been much stronger in the Belmont, though, and has generally dominated this track. He couples five weeks off leading into this race with eight weeks off before the Derby, so he is the freshest horse here. I don't know if that is a real asset - I'd prefer a bit more experience to more rest at this stage in a horse's career. Javier Castellano is a great rider to have at Belmont here, and there is some obvious talent that the horse has, so he can't be ruled out entirely - though I just don't see him winning it.
Suddenbreakingnews: He's the second choice in the field, and it makes sense why. He was closing very well late in the Derby and looked like he wanted to run forever at a time when most horses looked spent. That's no surprise, either, because he was perfectly bred for this race - his grandsire, great-grandsire, and damsire all won the Belmont, and his sire was two year old champion and would have very possibly been Derby favorite if he hadn't been injured and forced to retire at two. The horse hasn't won as much as I would like, but he's in a good spot, and he gets a strong upgrade on his back with Mike Smith aboard now.
Trojan Nation: I didn't get why this horse was in the Derby, and I really don't get why he is back here. He is a maiden - he has never won a single race. He was a somewhat fluky second in the Wood Memorial to earn his spot in the Derby, but he was a total disaster in that race. He just isn't good enough right now - or ever, likely - to be racing at this level. Da' Tara taught us that you can't completely rule any horse out of the Belmont, but I am as close to ruling this horse out as I can be.
From the Peter Pan
Governor Malibu: The Peter Pan, run the weekend before the Preakness, is the de facto on-track prep race for the Belmont. It's not a perfect prep - it is only a mile and an eighth, so it is far from the same challenge as the mile and a half of the Belmont. It also doesn't produce a lot of Belmont winners - Tonalist in 2014 was the first horse to pull off the Peter Pan-Belmont double since A.P. Indy in 1992. The undefeated Unified won the Peter Pan but isn't likely to come back in the Belmont. Runner-up Governor Malibu is, though. His connections - trainer Christophe Clement and jockey Joel Rosario - teamed up to win with Tonalist, so they know what they are doing. His breeding is solid, too. He's an intriguing long shot.
Wild About Deb: This horse finished third in the Peter Pan, so he's back for a try here. He's very raw - this will be just his fourth start. He broke his maiden in his second try in California and then headed to New York for the Peter Pan. This is another massive step up in class, and he's another closer who will be challenged by the lack of early pace. It's a tough spot. I like the breeding, though - sire Eskendereya would have been Derby favorite before his injury, and damsire Smart Strike sired the great Curlin and Preakness winner Lookin at Lucky and is the damsire of Derby winner Mine That Bird. I'm not at all convinced that the breeding is enough, though.
Wow! Free Belmont Stakes picks. And it could not be easier. Follow the link and sign up (no credit card required, and no salesperson ever), and you can have your free Belmont Stakes picks in minutes. Click here for the no-hassle sign up.
Read more articles by Trevor Whenham