2016 Belmont Stakes Betting Trends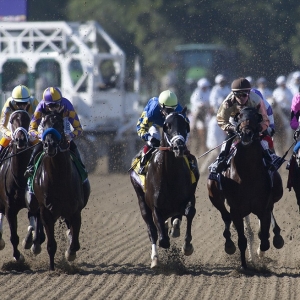 Handicapping the Belmont Stakes is always tough - at least unless there is a truly freakish super horse like American Pharoah who makes it simple. It's particularly tough this year. The field is full of closers and there is no obvious pace setter to develop the race for them, Exaggerator will go off at very low odds, and many of the other intriguing horses also need fast early pace they may not get and are coming off disappointing performances in the Derby. This is a major handicapping puzzle. Hopefully, these three Belmont trends can help point you in the direction of a sound bet:
Respect experience
In the last 22 years we have seen 16 different Belmont winners that had previously run in at least one other Triple Crown race. One of the six horses that didn't have prior Triple Crown experience was a bit of an exception, too. Rags to Riches had won the Kentucky Oaks the day before the Derby at Churchill Downs, so she had the closest thing to Triple Crown experience you can have - same track as the Derby, massive crowd, same basic amount of rest, strongest field of her peers that can be assembled, and so on.
So, why is previous experience such a help in winning the Belmont? There are many factors you could point to, but I lean towards two as most significant. First, horses that haven't run in a Triple Crown race have not run as far as the Preakness is and certainly haven't run the mile and a quarter of the Derby. The Belmont distance is a shock to any horse the first time but is less of a concern for horses that have already faced a grueling stamina test. Second, and more important, if a horse was mature and talented enough to really shine in a Triple Crown race then in most cases he would have already run in one. A horse that wasn't ready for the Preakness or who couldn't qualify for the Derby probably has some issues. He might have had health or training problems that limited his preparation in the spring. Or he could have struggled in Derby prep races or not even have been ready to race in them. Aside from Rags to Riches, the exceptions to this trend are somewhat unique.
Sarava and Da'Tara were massive long shots that benefited from messed up races. Ruler on Ice was slightly less of a long shot, but the field he beat wasn't hugely inspiring. Drosselmeyer fell short of the earnings required to make the Derby field, but he won the Breeders' Cup Classic after his Belmont win so he had major talent. Tonalist had his spring derailed by a lung infection, but he was in fine form, and the Belmont played out perfectly for the massive horse.
It takes a special iron horse to shine
While some experience is a good thing, having two races worth of Triple Crown experience isn't nearly as much of an asset to horses - or at least not to merely mortal horses. In the last 11 years just two horses have won the Belmont after previously running in both the Kentucky Derby and the Preakness. One was obviously American Pharoah, who just happens to be the best horse of his generation - and other generations before his, for that matter. The other was Afleet Alex, who had won the Preakness and was certainly talented enough to win the Derby as well if he hadn't frustratingly fallen short - which wasn't helped by a really lousy ride by jockey Jeremy Rose.
So, the only iron horses good enough were a Triple Crown winner and another horse that should have been one. Every other horse that has tried it has fallen short. There is good reason for that - it is absolutely brutal to try to run these three races in just five weeks. It has always been tough and is only getting tougher as horses get used to running less and resting more.
This year we have just two iron horses likely heading to Belmont - the very impressive Exaggerator and the thoroughly underwhelming Lani. I'm not suggesting that neither has a chance here - though Lani has virtually no chance here, which has to do with much more than the fact that he is an iron horse. I'm just saying that you need to be particularly confident that any iron horse is offering a lot of value because they have more working against them than the rest of the horses in the field.
Embrace long shots
In the last 19 years we have seen seven horses win the Belmont at odds of 25/1 or more - much more in the case of 70/1 Sarava. In that same time we have seen just three Belmont favorites win the race. So, major long shots have been more than twice as common winners compared to favorites lately - and dramatically more profitable as a result.
This can't last forever - the favorite wins about a third of all races, while a 25/1 shot should win about four percent of races. It happens often enough, though, that we can't ignore it entirely.
Doc's Sports has been a leader in Triple Crown handicapping for more than four decades, and we have a great offer for new clients. Get $60 worth of Belmont Stakes picks free with no obligation to buy anything. Not credit card is needed, and you won't ever have to talk to a salesperson. Get your $60 in Belmont Stakes picks here.
Read more articles by Trevor Whenham