2016 Belmont Stakes Predictions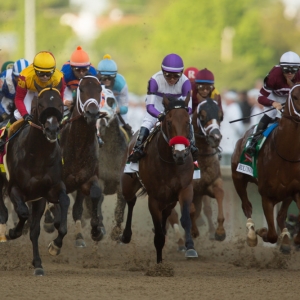 Let's be honest - this is not the dream Belmont Stakes by any means. We were so spoiled last year that nothing was going to measure up this year no matter what. Even compared to more reasonable standards, though, this is an off year. The field of three year olds was far from strong entering the Triple Crown, and with the exception of Exaggerator and Nyquist none have excelled so far beyond expectations that we can get excited. It just isn't a good year.
No matter what, though, the Belmont is always a great race. This year it's also a very interesting handicapping race. As we get ready for the race, and ready to make our final picks and bets, here are four predictions about the race that I am feeling reasonably good about:
Gettysburg will set the pace: On the surface this will seem like a stupidly obvious statement. After all, Gettysburg has obviously and blatantly been entered as a rabbit, so he is going to go to the lead early and run fast with no regard with what impact that will have on him later in the race. He is a sacrifice in an attempt to ensure a true pace for the closers.
Just because a horse is a rabbit, though, there is no guarantee that his efforts will work. In a race like this there is always an option for the other horses to just let the rabbit go. They can let him run as fast as he wants, assuming that he won't be able to hold on and run away with the race. The horses behind him - like Stradivari and Destin among others in this case - can just run their own race, ignoring the suicidal pace ahead of them. In that way you are minimizing the effect of the rabbit and limiting the advantage the closers have as a result. The rabbit will have very fast early fractions, but the fractions that matter from the true contenders will be slower.
I don't see that happening here, though, It only takes one other horse deciding to press the rabbit early on for things to go crazy. If two horses are running early then everyone has to commit to the pace. There are 13 horses in this field, and several without a great chance at winning all things being equal, so there is a good chance that a horse will follow Gettysburg in an attempt to give them a chance to pull off something special. It could be one of Dallas Stewart's raw horses, one of the two Dale Romans horses, the maiden Trojan Nation, Governor Malibu, or one of the two Todd Pletcher horses.
With so many possibilities it is difficult to believe that all will have the patience to let Gettysburg go untouched. Gettysburg will set a contested pace, which is exactly what his connections are hoping he can do. I don't expect it to be truly blazing - it won't be what Nyquist set in the Preakness, for example - but it should be swifter than any horse would look to run up front in this race if they were trying to win. It should, in other words, be under 48 seconds for the first half mile.
Pletcher won't win: When the field was beginning to come together a couple of weeks ago, I was quite optimistic about both of the Todd Pletcher horses - Destin and Stradivari. As time has passed, though, that optimism has faded. In the case of Destin I just don't like the path he has taken to this race - this is only his second start in 13 weeks. For horses this young that just doesn't make sense. Stradivari is a very talented horse, but I think this race comes too soon in his career - he hasn't seen or done enough - and I don't see him getting a scenario in which he can get the win.
The jockeys will make the difference: This sets up as a very tactical race. How fast will Gettysburg try to run? Who will go with him? Where do the closers position themselves early on? How soon do those closers make their move? There are so many decisions to make here, and they will need to be made during the race.
There are also a lot of horses that have shown an aptitude to find trouble, and it will be up to their riders to avoid that. There are some exceptionally good jockeys in this one, and the winner is going to be a horse that got a great ride.
The favorite is vulnerable: Let me say this up front - Exaggerator is by far the best horse in this field, and it isn't even close. On a neutral day he wins this race by distance. As a horse likely going off at worse than even money, though, it's easy to argue that there is a serious lack of value here.
He has run two brilliant-but-very-tough Triple Crown races so far, so he has more to overcome physically than any other horse here. If the weather doesn't cooperate for him again - rain is possible in the forecast, but not heavily like in the Preakness or Santa Anita Derby - then he'll have to have a strong race on a fast track - something he obviously can handle but which doesn't give him quite the same advantage. I also can't entirely trust Kent Desormeaux aboard him - you can't spend time in rehab between the Preakness and Belmont and be at your best. That would be a concern any day, but is especially a concern because so many good riders are here.
Doc's Sports is offering $60 worth of free member's Belmont Stakes picks absolutely free - no obligation, no sales people - you don't even have to enter credit card information. You can use this $60 credit any way you please on any of our top horse racing handicappers or for any of the Triple Crown races. Click here for more details and to take advantage of this free $60 picks credit today .
Read more articles by Trevor Whenham