Betting on the 2016 Belmont Stakes: the Distance Factor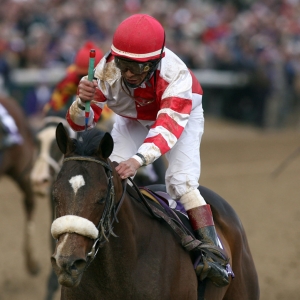 The grueling distance of the Belmont Stakes is always a big story when it comes to handicapping the race. This year, faced with a largely underwhelming group or horses, the distance is going to be a bigger consideration than usual.
The significance of the distance can't be overstated in this race. At a mile and a half the race is not only further by at least a quarter mile than these horses have ever run before, but it is also further than they are likely to ever run again, further than the vast majority of thoroughbreds in North America will ever run, and further than almost all of these horses and most of the rest in North America are bred to run. The distance is almost always the single biggest factor in the outcome of the race, so it needs to be the single biggest factor in our handicapping.
When you are trying to decode the impact of the distance, here are five big questions to ask yourself:
Is he bred for this?: I don't expect you to be a pedigree expert. I have obsessed over pedigrees for years and I still know nothing. The simple fact, though, is that the horses most likely to do well here are the horses that have stamina influences running through their veins.
There are a couple of easy ways you can determine if a horse is likely to be able to handle this distance reasonably well. The first is to seek out the advice of experts. Don't trust the media members who are 'experts' for just a couple of weeks a year around major events. Look to true thoroughbred journalists and handicappers for insights. Second, you can get a quick sense by looking at the three most important male horses in a pedigree - the sire of the horse, the sire of the sire, or the grandsire, and the sire of the mother, or the damsire. What you want to see there are horses that have performed at a very high level in similar challenges - horses that won Triple Crown races themselves, placed highly in those races, or won the biggest races like the Breeders' Cup Classic or the Dubai World Cup. If a horse has succeeded at that level then there is at least a decent chance that their son will, too.
You also know that a horse is capable of producing Triple Crown or major classic race winning offspring if he has already done so, so keep an eye out for sires with huge wins to their credit already.
Has the horse outrun his pedigree?: The reality is that not every horse will be bred ideally for this challenge. Not many horses really are. That doesn't have to be a limiting factor necessarily, though. There were some who were concerned about American Pharoah's breeding last year and that turned out just fine.
What you need to look out for, then, is that a horse that isn't bred to run great distances has more talent at doing so than their pedigree suggests. For American Pharoah, for example, the distance concerns were eased considerably by how well he handled the Derby distance. If a horse looked strong in his longest race then he could be just fine here.
It's not always that simple, though. California Chrome had far more pedigree concerns than American Pharoah did - he lacked stamina and was relatively short on class, too. He looked just fine in the Derby and the Preakness but never looked comfortable in the Belmont and clearly struggled late. He has since won the Dubai World Cup at a mile and a quarter, so we know that he likes that distance just fine. His is a muddy picture when it comes to a mile and a half, and many of the horses will present pictures even muddier this year.
How does he look late?: The horse is running at least a quarter mile further than ever before. What we want to see, then, is that he was still running strong and looking sharp late in his longest previous races. You can look at this quickly by examining the past performances to see if he was moving forward or stalling in the final calls. You can also look at the charts for the longest races to see what the notes say about his finish.
The best thing to do, though, is to actually watch the video of the races. Most significant stakes are on YouTube, or they can be found on good thoroughbred sites. Look to see how the horse looks in the final furlong. Is he passing horses, staying steady or being passed? Is he running in a straight line or drifting all over the place because he's tired? Is the jockey working hard to keep him running or just sitting there enjoying the ride?
The stronger a horse looked late in earlier races, the more likely he is to be ready for this race.
How is the race going to play out?: This is a particularly important factor this year. There are a ton of closers or mid-pack horses in the field, but, at least as I write this, not a single horse that is obviously going to be keen to lead early on. The pace early is a mystery, and that's a problem for all those closers - they typically want fast early fractions to set up their late runs.
Think about it - deep closer Exaggerator won the Preakness after Nyquist ran the fastest opening quarter in Preakness history. You need to put some time into thinking about how the race will play out, whether that will be easy or tough on particular horses early on, and what that means for the energy they will have late in the race.
How do they handle adversity?: No horse will be totally comfortable with this distance and this race. It's not possible. They are going to be asked to do things they have never done before.
Some horses thrive in the face of adversity. They rise to the challenge and seem to be at their best when things are the toughest. Others shrink when things get tough and let the excuses affect their performance.
The more confident you can be that a horse handles adversity well - or at least has done so in the past - the more confidently you can back them at this distance. How did they handle a bad start in the past? Or how about being boxed in, or having to check to avoid contact, or track conditions that were new to them?
Doc's Sports has been a leader in Triple Crown handicapping for more than four decades, and we have a great offer for new clients. Get $60 worth of Belmont Stakes picks free with no obligation to buy anything. Not credit card is needed, and you won't ever have to talk to a salesperson. Get your $60 in Belmont Stakes picks here.
Read more articles by Trevor Whenham