Brody's Cause Odds to win the 2016 Belmont Stakes with Expert Predictions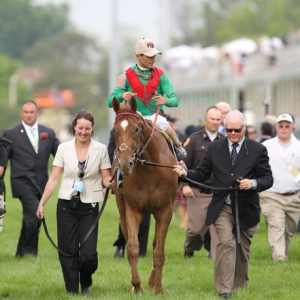 I have a headache right now, and I blame Brody's Cause for it. Just thinking about this horse makes my head hurt. At his best he is a very strong horse who certainly could contend here. I could even see him winning the Belmont in certain circumstances. Over his short career, though, I have just proven completely incapable of figuring out when he is going to have a big day and when he is going to disappoint. In fact, I have gotten him wrong several times, betting on him when I shouldn't have and backing off when I should have doubled up. He is my four-legged nemesis.
So, which Brody's Cause will step up here in the Belmont? How is he going to haunt my thoughts and hurt me head this time around?
Last race: Brody's Cause wasn't bad in the Kentucky Derby, but he wasn't good, either. He just was there. After starting way out in gate 19 he was 12th at the first call, which is further forward than he typically has been in his races. He had trouble navigating the turns and was forced way wide. When it came time for him to make his big move as closers do, he had little response. He was strong enough to move to seventh, but that was more because he was able to mostly maintain his speed than because he was moving forward. It was a disappointing effort in my eyes because I had convinced myself by post time that his Blue Grass effort was at least somewhat legitimate and that he represented some decent value going off at 25/1 in the Derby. The best way to describe the effort would be underwhelming. He didn't embarrass himself, but he didn't really look like he belonged, either.
Career highlights: As alluded to, the Blue Grass Stakes victory was the high point of his career. It was a day in which he made a staggering move. He was 11th in the 14-horse field early on and ninth by the second call. But then he found his path and went to work. He pulled clear and wasn't getting caught, winning by nearly two lengths. It came against a reasonably solid field on a fast track, so it was a legitimate effort. The problem, though, as is so often the case with closers, is that he hasn't been able to reproduce such impressive races with any consistency. The time before he had gone out as the favorite in the Tampa Bay Derby but never fired and was a lousy seventh. In the Breeders' Futurity in October he unleashed a potent move and no one was catching him on the day. Next time out in the Breeders' Cup Juvenile his move was less explosive and he could only get up for third. That's what makes this horse so tough to judge. At his best he is absolutely good enough to contend here, and he would likely represent excellent value. If things don't go his way, though, then I have as much chance running on foot of winning the race as he does. Backing him is a real leap of faith.
Jockey: Luis Saez has had the mount the last two times out, and he is going to have it again here. I have no issue with at decision. Saez sits seventh in the country in earnings this year after finishing in that same spot last year. He has yet to win a Triple Crown race or a Breeders' Cup, but he has plenty of big wins to his credit and he is capable on a big day. He's not the best decision maker in the world, but he is far from the worst.
Trainer: This is one of two horses that Dale Romans has in the field. Cherry Wine is his as well. He has not won a Derby or a Belmont, but he did take the 2011 Preakness with Shackleford. Add in a Dubai World Cup and three Breeders' Cup wins and you have a guy who knows how to get a horse ready for a big test. What is striking is how excited he is about the prospects of both of these horses here. He can be an enthusiastic guy at times, but he seems especially proud of the two horses he has and their state of readiness. It remains to be seen if it is just talk or if he is sitting on a powderkeg or two.
Pedigree: This is a much more European pedigree than we are used to seeing in Triple Crown races. Sire Giant's Causeway was European Horse of the Year in 2000 and ran on dirt and in North America only once - a second in the Breeders' Cup Classic. He has been top sire in North America three times, so he has transitioned well to a dirt-focused system. He has stamina to pass on. In this race Destin is also a son of Giant's Causeway. The damsire, Sahm, is a Euro you just don't see represented over here. He had a short career at stud and doesn't bring much in terms of dirt breeding. He had some stamina but not much class. It's a decent pedigree for this challenge but not the best in the field by any means.
Running style: This is a classic closer. He has never been better than ninth out of the gate, and never better than eighth at the first call. He bides his time and looks for room to move later on. To do that successfully you typically need strong early pace so that the leaders are tired and you can catch them. There is a clear lack of early speed here, so there are concerns about this horse's ability to adapt as there are of the many closers in this field. Romans has said that he isn't afraid to send one or both of his horses to the lead if the pace doesn't materialize, but I don't see that happening, and frankly I hope it doesn't as both of these horses seem much more likely to get their best day from the back where they are comfortable and experienced.
Belmont outlook: Bovada has this horse installed at 16/1 in early betting action. At that price he would warrant a real look. I don't think he is among the top three contenders here, but there also isn't a whole lot to separate him from most of the many closers in the field. In the Preakness Cherry Wine showed that he could be a big factor on the right day, and I'd take Brody's Cause over Cherry Wine any day. He's going to circle around my exotics decision-making process for a long time, and at this point he seems more likely to be in than out.
Doc's Sports has a fabulous offer for new clients. Get $60 in free Belmont Stakes picks with no obligation whatsoever! All you have to do is sign up here, and you will not be required to enter credit card information and you will never have to deal with a salesman.
Read more articles by Trevor Whenham