Cherry Wine Odds to win the 2016 Belmont Stakes with Expert Predictions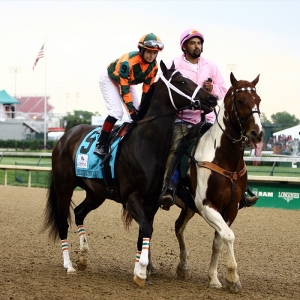 I don't think there were many handicappers out there who didn't even consider the possibility that Exaggerator could finish ahead of Nyquist - especially once the track came up sloppy. Far fewer, though, could have suggested with any confidence at all that Cherry Wine, a 17/1 horse, would also finish ahead of the undefeated Kentucky Derby winner and two year old champion. It wasn't by much of a margin, but margin doesn't matter, and the fact is that he crossed the finish line second in the Preakness.
The question now, then, is whether it was a fluke - the right style in the right race on the right day - or if he can do it again in his last shot at a Triple Crown race.
Last race: Things set up well for closers in the Preakness. The early fractions were totally insane, and that tired out the leaders early on. With Nyquist out of the picture, it was down to which horses could pick up the pieces. Exaggerator was the class of the closers by a wide margin, and it showed as he grabbed the lead decisively and didn't look back. On that day, though, Cherry Wine was the second best of the closers. He was in 10th and 24 lengths off the lead at the first call, but by the end he had nipped Nyquist for second and was moving forward very convincingly. The conditions didn't hurt him, either - he suited them almost as well as Exaggerator did. He had only run on a sloppy track once before, but he had won by more than nine lengths on the day. Perfect conditions plus a perfect race setup led to a nearly perfect day for the long shot.
Career highlights: The horse had appeared twice in stakes races, finishing fourth in the Rebel at Oaklawn Park and then third in the Blue Grass. Both times he trailed the field by a long way and then mounted a charge that was strong but ultimately wasn't good enough. He had always been behind good horses but had struggled to beat them. To start his career he failed to break his maiden in four tries, but then he got on a hot streak, winning by nine as we talked about earlier, and then coming back to win by six in an allowance at Gulfstream just days into his three year old season. Through it all he has consistently been a one-dimensional, one-move closer that needs to get his race to get his result. In a race like the Belmont with no obvious early speed, getting that race is far from a certainty - and it's a real reason for concern here.
Jockey: Corey Lanerie has been the regular rider for this horse and is expected to be back for the Belmont. In my mind he's kind of like dry toast. There is nothing wrong with it - you can eat it if you have to. Given the choice, though, there are a whole lot of things I'd rather eat. So it is with Lanerie. I don't run away and cry when he is on a horse I am interested in like I do for some jockeys - like Calvin Borel in the last three years of his career, for example - but I certainly don't get excited about Lanerie, either. He is far from guaranteed to hurt you in a race, but he also is not at all likely to help you out too much. He's not a positive in this spot.
Trainer: Dale Romans knows his stuff and has had some solid success. He's likeable, and his horses are often ready to run big races. He's a pro. I could say more, but that really sums it up. He is very optimistic about these two horses in this race - he also has Brody's Cause. More optimistic than normal, it feels like. I'm not saying he's lying, but I just don't see it. He also insists that he isn't afraid to send either of his horses to the lead if early pace doesn't materialize. That doesn't strike me as sound strategy - especially not here.
Pedigree: Aside from being one of the funner names to say, Paddy O'Prado, who is the sire of Cherry Wine and was also trained by Romans, was a fine horse. He was a strong third in the Derby in 2010 and then went to the turf where he won four big races. He had plenty of stamina and is a good influence for Cherry Wine to have in his blood. Damsire Unbridled's Song is the son of Derby winner Unbridled and himself was favored in the 1996 Derby. A foot injury sustained in the Wood Memorial was more serious than it seemed, though, and he could only manage fifth. He was solid as a sire and has produced some high-quality horses with strong stamina. Cherry Wine is reasonably well bred for the huge challenge of the Belmont distance.
Running style: Like we said earlier, Cherry WIne is pretty much the definition of a closer. He was been within two spots of last within the first two calls in seven of his nine career races, and even in the two exceptions he was well off the pace. Since moving up to stakes company he has settled even further off the lead early on.
Belmont outlook: I have respect for this horse, but I find it hard to really embrace him in this race. Things set up so well for him in the Preakness, and I just don't have faith that things - the pace, the track conditions - are going to be nearly as favorable for him here. He has shown little to make us believe that he can overcome adversity when faced with it, so I just can't trust him. He's listed as the third choice here at 10/1, according to Bovada. Those odds would have to go up significantly before I saw any real value in him.
Wow! Free Belmont Stakes picks. And it could not be easier. Follow the link and sign up (no credit card required, and no salesperson ever), and you can have your free Belmont Stakes picks in minutes. Click here for the no-hassle sign up.
Read more articles by Trevor Whenham