College Basketball Betting Advice: Weekly Schedule Spot Fade Picks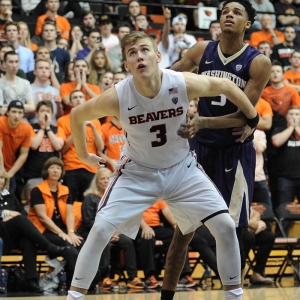 The College Basketball Weekly Schedule Spot Fade Picks article returns for the third straight season here at Doc's Sports. We are now deep enough into the season to have some idea about most of these teams, and there are more difficult scheduling situations now than there were in the early going. The slate of games this week is a bit light since many schools have final exams this week, but there will be a much bigger slate of games to look at for next week's article.
A lot of the talk so far this year has been about the superb youth at Duke, Kentucky, Kansas, UCLA, and other schools. Don't forget about the defending NCAA Champions from Villanova. The Wildcats continue forward like a machine, sitting at 10-0 on the year. This is going to be an exciting season because there is no clear cut favorite. There are a bunch of teams who could cut down the nets, and I think that makes things much more interesting.
I'll be looking at schedule spots that could be bad ones for teams throughout the course of the season and then recommending plays based on those spots. We'll track the weekly results throughout the course of the season. For games that don't have a line at the time each article is written, the Bookmaker opening line will be used for grading purposes. All plays will be one-unit plays.
Let's get to the first few scheduling spot fade picks.
Play #1- Play on Ohio (Fade Milwaukee) on Wednesday, December 14
The Milwaukee Panthers from the Horizon League have been on a ridiculous road trip of late. Milwaukee went to Montana for games against Montana and Montana State. The Panthers then came back and played at Loyola Chicago this past Saturday. They were blown out 72-56 by Loyola, and I think this Milwaukee team is likely tired at this point. This is their final game of the long road trip.
Milwaukee goes to take on a solid Ohio Bobcats team. Ohio has one of the most underrated players in the country in Antonio Campbell. Campbell can do it all from his forward position, and I think he'll match up well against an undersized Milwaukee front line. While Milwaukee has been traveling all over the United States, Ohio hasn't traveled all that far for any road games this year. The Bobcats are fresh, and they should be able to win this one comfortably in front of their home crowd.
Play #2- Play on Long Beach State (Fade Oregon State) on Friday, December 16
The Long Beach State 49ers have played the toughest schedule in the country so far this year, and it isn't even close. Dan Monson loves to schedule these brutal games early in the season to get his team well-prepared for the rest of the schedule. How ridiculous is the schedule? At one point they played at Wichita State, at North Carolina, at Louisville, and at UCLA in the span of just eight days. Insane!
Why am I looking to back Long Beach State here? Their schedule has calmed down of late. Long Beach State won at home against Pepperdine and then went to Texas this past weekend and lost by only six. The 49ers are a better team than their record would indicate, and I think this is where their tough competition early on starts to help them.
Oregon State is playing without star Tres Tinkle, and this Beavers team is in a bunch of trouble without him. How bad are they? They just lost at home to Savannah State in their last game. Long Beach State knocks them off here.
Play #3- Play on East Tennessee State (Fade Morehead State) on Saturday, December 17
The East Tennessee State Bucs are 7-2 on the year thus far, and they have been a program on the rise the last couple seasons. Morehead State has had all sorts of problems this year. Sean Woods, the team's head coach, has been suspended since Nov. 22. Morehead State has been drilled in all four of their games since that time.
Morehead State is in a bad spot here because they are traveling to Eastern Washington to take on the Eagles on Tuesday night. That's one heck of a road trip for a team that is accustomed to playing road games at Murray State or Belmont. With all the questions surrounding this team right now, I don't see them having the energy or will to match East Tennessee State throughout in this contest.
Play #4- Play on Illinois State (Fade St. Joe's) on Sunday, December 18
St. Joseph's will be playing in their final game of a four-game road trip in this one. St. Joe's was walloped by Villanova to start the trip. They then needed a big comeback to edge Drexel by a point at the buzzer. This week they play a good Princeton team and then make the rare trip out to Illinois to take on Illinois State.
Illinois State has a good home-court advantage. The Redbirds already beat a decent New Mexico team at home this year. They also blew out Fort Wayne at home. Illinois State has a little more than a week off before this game. During that time period, St. Joe's must play two games. Look for Illinois State to win and cover as the much more rested team in this one.
Schedule Spot Fade Plays Season Record- 0 Wins 0 Losses
Doc's Sports could not be more excited that college basketball is here. This is the absolute BEST sport to handicap and make a profit on. Find out why here. Doc's Sports knows all the tricks to beat the oddsmakers (read about one loophole here), and we want to offer new clients a chance to try out our service for free. Click here to get $60 worth of free college basketball picks that can go towards to free days of service for member's picks .
Read more articles by Aaron Smith
---
Most Recent College Basketball Handicapping