College Basketball Betting and Handicapping: Michigan State Early-Season Struggles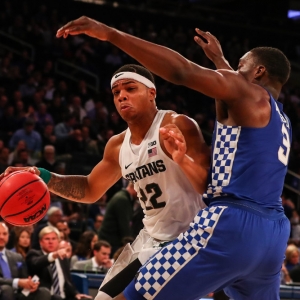 Things have not gone according to plan for the Michigan State Spartans on the hardcourt this year. And that's an understatement. Heading into the season they were ranked No. 9 in one poll and No. 12 in the other, and several people suggested that they had upward mobility. Yet they lost their first game out of the gate and seemed to like that so much that they have kept doing it. They have lost four times now and have given every indication that they aren't done yet. Needless to say, they have dropped out of both polls. So, what's going on in Spartan-ville? Is it fatal, or just a temporary funk? And what does it mean for bettors?
Here are five factors to consider when pondering those questions:
Schedule: The Spartans have been pretty lousy en route to their 4-4 record, but their schedule certainly has not done them any favors. In fact, no team in the country has played a schedule near as tough as this one. Their losses have come to four ranked teams - Kentucky was No. 2 when they played, Duke was No. 5, Arizona was No. 10, and Baylor was No. 20.
It's not just the quality of the opponents that has made things difficult, either. Geography has been rough, too. For example, they opened in Honolulu against Arizona and then played next four days later against Kentucky in New York. You couldn't find two games with more travel involved in between.
Of course, you can't blame all of the struggles on the schedule. Playing at home against Florida Gulf Coast they only won 78-77, and they were lucky enough to have the refs mismanage the clock at the end of the game, robbing FGCU of the final, potentially winning shot.
The good news from the schedule front, though, is that they have five games left before conference play starts, all five are at home, and none are against a team that should be even remotely a threat. So, 9-4 is far from what they were going for, and the losses are ugly, but could certainly be worse. If they lose again in the next five, though...
Injuries: This team has been hit very hard with injuries, and it is obviously having a major effect. Gavin Schilling, the senior big man who was expected to start and play a significant role, hasn't played yet with a knee injury, and could be out for the whole year. Ben Carter, a senior forward transfer from UNLV who played his first two years at Oregon, was expected to be important bench depth this year, but a knee injury has him down for the year, too.
And now the latest blow is Mile Bridges, the star freshman forward who leads the team in both scoring and rebounding. He went down with an ankle injury last time out against Duke and could miss at least a couple of weeks.
You have to be lucky to be good, and the Spartans have not at all been lucky on the injury front.
Youth: This is a young team, and the absence of Schilling and Carter only hurts further because they are were key senior contributors. Senior Eron Harris, the second-leading scorer, is the only guy older than a sophomore among the Top 6 scorers. Bridges is a freshman. So is third scorer Nick Ward, fifth-place scorer Cassius Winston, and sixth-place Josh Langford. Fourth-leading scorer Matt McQuaid is a sophomore.
With that much youth having to carry a heavy load, this schedule to start the season was pretty much the worst thing that could have happened to them. The good news, though, is that they will grow more experienced as the season progresses.
It's not all over yet: Dreams of a top seed and a cruise through the NCAA Tournament are dead, but they still can easily be a tournament team. Even better, things basically start all over again just after Christmas when conference play begins. The Big Ten is always tough but perhaps not quite as tough this year as it has been in recent years. If Bridges gets healthy and the young players get acclimated in a hurry then they have a chance to do some real damage.
The first five conference games are very winnable, too, so they have a chance to get off to a good start. It's pretty easy to find 12 conference wins without too many issues if the team plays reasonably well, and that's not giving them any wins against top-tier teams or against strong teams on the road. Twelve wins would easily get them into the tournament, and any more than that is just gravy.
Of course, if they keep playing like they have too often so far then 12 wins is just a pipe dream. Still, I remain reasonably optimistic despite the incredibly rocky start.
Betting performance: Needless to say, the Spartans have not been great to bettors so far this season. They are just 3-4 ATS, so there isn't any meaningful profit to be made either by betting on them or fading them. The total isn't any better - they have gone "over" the total three times, and under four.
Doc's Sports Advisory Board has set some lofty standards worldwide for college basketball handicapping. They normally do their best work at the beginning of the season. Click here for $60 worth of free college basketball picks. No credit card needed, and you will never deal with a salesman. Also, find out more about Doc's Sports Advisory Board college basketball results here. And find out a loophole that Doc's Sports has exploited that the oddsmakers don't want you to know about by clicking here.
Read more articles by Trevor Whenham
---
Most Recent College Basketball Handicapping