College Basketball Betting: Weekly Schedule Spot Fade Picks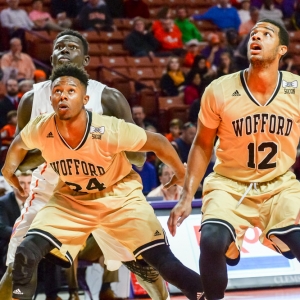 The College Basketball Weekly Schedule Spot Fade Picks article's fifth edition is here. Last season was the first for this article. With college football finishing up now, and the NFL in the playoffs, college basketball will now get a lot more attention for many bettors.
For this article throughout the year, I'll be looking at schedule spots that could be bad ones for teams throughout the course of the season and then recommending plays based on those spots. We'll track the results throughout the course of the season. For games that don't have a line at the time each article is written, the Bookmaker opening line will be used for grading purposes. All plays will be one-unit plays.
Last week's plays went 2-2 overall. The unique thing was not one of the four games selected were even close to the spread at the end of the game. The two winners won easily and the two losers weren't very close, either. LSU won huge at home against Kentucky as an underdog. The Tigers played their best game of the year so far in that one. Montana took advantage of a Sacramento State team that did prove to be very tired in a 19-point blowout. Sacramento State made only one shot from beyond the arc in that game. Central Michigan was blown out as Eastern Michigan made 13 out of 20 3-pointers in that game. For the season, Eastern Michigan shoots 29.8 percent from long range. UT Arlington was sleepwalking for much of the game against Appalachian State. They recovered enough to win by four but never got close to covering the spread.
Last week was better than the first few, but we're not going to make up any ground splitting the card. On to the next week of selections!
Play #1- Play on UCLA (Fade USC) on Wednesday, January 13
The USC Trojans are coming off a quadruple-overtime win over UCLA last game. Four players played at least 48 minutes in that game. Now they travel to UCLA to take on a Bruins team that has played well in their last couple games. USC is a much better team than they were last year, but this will be an extremely tough test for them. Can the Trojans avoid both the letdown factor as well as exhaustion to stay in the game against UCLA? I'm taking the more experienced Bruins to cover this one.
Play #2- Play on Florida Atlantic (Fade Old Dominion) on Thursday, January 14
Southern Miss has been a very up-and-down team this year. The Golden Eagles have wins over North Dakota State and Old Dominion, but they have some blowout losses to some bad teams as well (Jackson State, Tulane, and Troy). Saturday, they upended an Old Dominion team that is one of the favorites in the conference.
Southern Miss can't play in the postseason, and they are likely to alternate between great showings and ugly showings all year. Florida Atlantic has lost nine straight games, but they have played one of the toughest schedules in the country. This is a great spot for Florida Atlantic to win and cover and Southern Miss to fall flat after a great showing.
Play #3- Play on Cal Poly (Fade UCSB) on Thursday, January 14
UCSB played in Hawaii on Saturday night. That trip to Hawaii is a really tough one, and it can be extremely difficult for a team to bounce back from that trip in their next contest. Add in the fact that UCSB is playing without John Green, one of their best players, and this is a really bad spot for the Gauchos.
Cal Poly is an improved team that has played the fifth-toughest schedule in the country. The Mustangs lost three very close games against UCSB last year. There is no doubt they are hungry for revenge here. Cal Poly didn't play a game over the weekend, so they are very well-rested for this one. A motivated Cal Poly team against a short-handed UCSB team who is in a bad spot. I'm taking Cal Poly.
Play #4- Play on Mercer (Fade Wofford) on Saturday, January 16
The Wofford Terriers play Monday night at home against Chattanooga. Chattanooga is one of the best teams in the Southern Conference, and that will be a real test for the Terriers. They follow that up by playing at The Citadel on Thursday night. The Citadel is playing at the single fastest pace in the country by a large margin. Wofford has a thin roster, and their bench gets little playing time. That means in this game Wofford will be playing their third game in six days.
Mercer will only play two games this week, and they are both at home. Mercer played Wofford twice last year and lost by three points and four points in those two games. Wofford isn't even close to as good as they were last year since they lost star Karl Cochran, and Mercer is a quality team. Mercer will be looking for revenge, and they catch Wofford in a very difficult spot. I'm backing Mercer.
Play #5- Play on Utah (Fade Oregon State) on Sunday, January 17
Utah has always had one of the better home-court advantages in the country. Oregon State is an improved team, but they are a totally different team on the road. The Beavers still need to prove they can beat quality opponents away from home.
Oregon State plays at Colorado in altitude on Wednesday night and then at Utah in altitude again on Sunday. Oregon State is an inexperienced team, and they aren't particularly deep. This kind of a road trip is very tough on a young group of guys.
Utah has lost four games this year, but none of those losses have come at home. Still, the losses have lowered the perception of the Utes, and that should give us a good price here to back the home team.
Last Results- 2 Wins (LSU +5.5, Montana -8.5) 2 Losses (Central Michigan -4.5, UT Arlington -13.5)
Schedule Spot Fade Plays Season Record- 5 Wins 12 Losses (-$820)
Read more articles by Aaron Smith