College Basketball Betting: Weekly Schedule Spot Fade Picks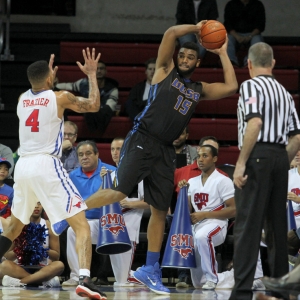 The College Basketball Weekly Schedule Spot Fade Picks is ready to go for the 12th time this year. We started this weekly article up last year, and have continued it this season.
I'll be looking at schedule spots that could be bad ones for teams throughout the course of the season and then recommending plays based on those spots. We'll track the weekly results throughout the course of the season. For games that don't have a line at the time each article is written, the Bookmaker opening line will be used for grading purposes. All plays will be one-unit plays.
Extremely close to pulling off a 5-0 sweep last week. The lone loser was Long Beach State -11.5. Long Beach State beat UC Riverside by 11 points on Saturday evening. The line at tipoff was 10.5, but for the purposes of this article we are using the Bookmaker opener, which was 11.5. The rest of the plays were all wins. Louisiana Monroe and South Dakota State both took care of business on Thursday night. Weber State was able to cover in a huge game at home against Montana. Weber State's win was particularly impressive since star Joel Bolomboy had to sit out with a knee injury. Southern Miss -1.5 was a big winner as the Golden Eagles did in fact play their hearts out in their final home game as I thought they might.
Let's try to put together another nice week for the plays!
Play #1- Play on UCF (Fade Tulane) on Wednesday, March 2
The UCF Knights appeared to be an improved team this year, but things have fallen apart late in the year. UCF has lost seven games in a row coming into this contest. The Knights play their home finale here, and they catch a Tulane team in a difficult spot.
Tulane has played two overtime games in the past three weeks. One of those games was a triple-overtime game. The Green Wave played Sunday at SMU. Tulane actually led that game in the second half before falling apart and losing by 21. The Green Wave don't match up well against UCF because of their lack of size vs. UCF's big men.
This is a great chance for UCF to rise up and win one at home to snap their losing streak. We'll back the home favorite here.
Play #2- Play on UCSB (Fade UC Riverside) on Thursday, March 3
UC Riverside will be playing their third consecutive road game. The first game of that road trip was a late night game in Hawaii last Thursday. UC Riverside then went to Long Beach State and played a very good 49ers team. They finish the trip here in Santa Barbara against the Gauchos.
UCSB won by 10 at UC Riverside a couple weeks ago. The Gauchos appear to be playing their best basketball of the season right now. UC Riverside dismissed star player Taylor Johns from the team recently, and this thin UC Riverside roster is unlikely to find much left in the tank at the end of this brutal road trip.
UCSB will be a significant home favorite in this one, and I see them cruising to a big win. We'll lay the points.
Play #3- Play on Appalachian State (Fade Arkansas State) on Saturday, March 5
The Arkansas State Red Wolves lost their home finale on Saturday night despite getting 53 free throw attempts against UT Arlington. That was the team's seventh straight loss. It's hard to believe this Arkansas State team will get up for much of anything now other than the Sun Belt Conference Tournament.
Appalachian State isn't a good team, but they have played much better on their home floor. Arkansas State must play on the road at Arkansas Little Rock on Tuesday night and then finish their regular season in this game on Saturday in North Carolina. Appalachian State will be home all week. This being their final home game of the year, I believe we'll get a strong effort from Appalachian State.
Play #4- Play on Marshall (Fade Southern Miss) on Saturday, March 5
The Marshall Thundering Herd have been a very good home team this year. Marshall is 7-4 against the spread on their home floor. Many of those wins have been blowouts in Conference USA play. Southern Miss was a team we backed in their final home game last Saturday, but I don't see them putting up nearly as strong of an effort in this one.
Marshall averages 84.2 points per game. Southern Miss averages only 63.0 points per game. While Southern Miss likes to slow the pace of the game down, Marshall is excellent at forcing the tempo, especially when they are at home. Marshall will be a large favorite here, but this game should get out of hand in a big way. Take Marshall in this spot.
Last Week's Results- 4 Wins (LA Monroe -5, South Dakota State -9.5, Southern Miss -1.5, and Weber State -2.5) 1 Loss (Long Beach State -11.5)
Read more articles by Aaron Smith
---
Most Recent College Basketball Handicapping