College Basketball Betting: Weekly Schedule Spot Fade Picks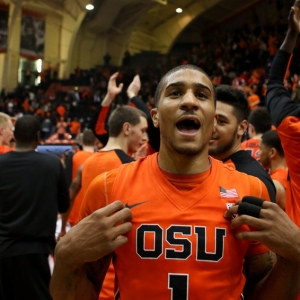 The sixth edition of the College Basketball Weekly Schedule Spot Fade Picks article is ready to go. Last season was the first for this article. Though it is hard to believe, we are only two months away from March Madness and the NCAA Tournament.
For this article throughout the year, I'll be looking at schedule spots that could be bad ones for teams throughout the course of the season and then recommending plays based on those spots. We'll track the weekly results throughout the course of the season. For games that don't have a line at the time each article is written, the Bookmaker opening line will be used for grading purposes. All plays will be one-unit plays.
Last week's plays went 1-4. The play on a desperate Florida Atlantic team looking to get a win at home was the only one that cashed in. The other four plays were losers. USC was in a bad spot at UCLA, but they went ahead and hammered the Bruins anyways. Cal Poly and UCSB had a back-and-forth game all the way, and the Mustangs came up just short in the end. I still believe the spot for Wofford was a very bad one at Mercer last weekend, but Wofford shot the ball well and lost by only a point while covering the spread. The play on Utah was a bad one. Oregon State actually led most of the way before Utah pulled out a close win late.
Play #1- Play on Louisiana Monroe (Fade Troy) on Thursday, January 21
The Troy Trojans just won their first game in their last seven contests. They came up with a strong effort at home against Texas State in their last game. Now, they go back on the road against a quality Louisiana Monroe team. The Trojans got the win they wanted badly last game, and the next game can be a letdown spot for poor teams like Troy. Monroe lost their last four games in a row. All of those were close contests on the road. The time to fade the Monroe Warhawks has likely passed, though. They play good defense and should be competitive in the Sun Belt. This is a great spot for them to bounce back and get things right.
Play #2- Play on Middle Tennessee State (Fade North Texas) on Thursday, January 21
Middle Tennessee State has proven to be a good team for the past few years. They play strong defense and they have a good coach. The Blue Raiders have won four straight games, and they are coming off a nice road win at Old Dominion. North Texas comes to town on Thursday, and the Mean Green are really bad this season. North Texas was blown out by Marshall early last week on their home court. They then lost a close, hard-fought game at home against Western Kentucky. North Texas lost by 23 at both Northern Iowa and UT Arlington. The Mean Green are unlikely to put up a big effort on the road after an ugly home stand.
Play #3- Play on Illinois State (Fade Northern Iowa) on Saturday, January 23
The Illinois State Redbirds catch Northern Iowa in a bad spot here. Northern Iowa hosts Wichita State on Wednesday night in their biggest game of the year. Regardless of what happens in that game, it's unlikely Northern Iowa can get up for this road contest against an Illinois State team that has struggled after that huge clash against the Shockers. Northern Iowa isn't the team they looked like they were at the beginning of the season, either. The Panthers already lost at Missouri State and Southern Illinois. This is a game that Illinois State will be up for, and I think they can pull the upset.
Play #4- Play on TCU (Fade Iowa State) on Saturday, January 23
You couldn't find a better sandwich spot than this one. Iowa State hosted and beat top-ranked Oklahoma on Monday. Next Monday they will host Kansas. In between they play at TCU, and the Horned Frogs are widely seen as the worst team in the Big 12. Can Iowa State get up for this one? One of the reasons I'm even more interested in backing TCU here is Iowa State's terrible recent history against Kansas. The Cyclones are going to badly want to beat Kansas, and they aren't likely to keep their focus on this game. TCU isn't a good team, but at home as an underdog in this spot, I'll take them.
Play #5- Play on Oregon State (Fade USC) on Sunday, January 24
USC burned me last week by putting in a great performance at UCLA, but the Trojans are going to be in a bad spot again this week, so I'll fade them again. USC is still a young team, and they are going to have some letdowns throughout the year. USC plays a good Oregon team on the road on Thursday night, and that game is likely to be a tight one. They must travel to Oregon State on Sunday to take on Oregon State. The Beavers are a really good team at home, and they will be at home all week. I'll back the home team here.
Last Week's Results- 1 Win (Florida Atlantic -4.5) 4 Losses (UCLA -1.5, Cal Poly -3, Utah -8.5, and Mercer -7.5)
Read more articles by Aaron Smith