College Football Wagering: Betting Strength of the Conferences After Week 1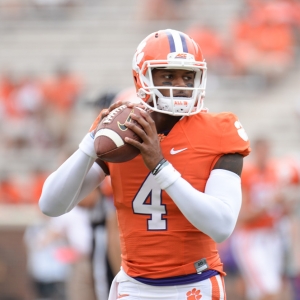 The first week of college football action, as is always the case, had more than a few surprises. There were shocking upsets - Wisconsin over LSU at the head of that list - and strangely flat performances - I'm talking about you, Tennessee. We confirmed what we knew about some programs and realized we know nothing about other programs. It was a mess - and that's why we love this sport so much. Each of the five major conferences had some highlights and some really dismal showings. In the end, none of them were profitable overall for bettors, and the conference that traditionally has been the strongest was the weakest here.
Let's look at how the Power 5 conferences stack up in terms of betting strength so far:
ACC - 6-6-2 ATS: There was one conference contest in the opening week, with Georgia Tech edging Boston College in Dublin. Tech was favored by three, so that game accounted for the two pushes. Louisville and Miami each scored 70 points to cover easily. Conference heavyweights Florida State and Clemson both won as expected, but the Tigers made it too close to get the cover. The worst game - not just for the conference but arguably of the whole week - was Wake Forest's 7-3 win over Tulane. They did not cover.
All in all, though, it was pretty much as you would expect for the ACC. The top three teams in the conference were 2-1 ATS. If they could keep doing that all season then they could create some very happy and wealthy bettors. The Atlantic Division is much stronger than the Coastal and was much better for bettors as well - 4-2-1 ATS compared to 2-4-1 ATS. It was, in short, a pretty dull and predictable betting weekend for the ACC.
Big 12 - 5-5 ATS: There were some surprises here. Oklahoma and TCU didn't cover spreads that many thought they would - and Oklahoma lost a game that surprised many as well. Kansas and Texas, meanwhile, got huge wins and nice covers that were somewhat unexpected in both cases. Baylor illustrated just how silly nonconference games can be at times - they beat Northwestern State by a whopping 48 points despite all the turmoil and change of the offseason, but that was two points short of enough to cover the spread. All in all, as with the ACC, it's tough to find too many reasons to complain when a major conference goes .500 ATS in nonconference play.
Pac-12 5-7 ATS: It felt to me coming into this season that the Pac-12 had some issues. There were a bunch of decent teams, but it was hard to find one that was any better than that. Well, the first week of the season sure seemed to affirm that feeling. USC, UCLA and Oregon are three of the five teams seen as top contenders for the conference. None of them covered their spread, and USC endured the most humiliating loss of the year to date at the hands of Alabama. UCLA's loss to Texas A&M wasn't nearly as shameful, but it never should have happened, either. Stanford and Washington both did what they were supposed to do, and Colorado was pleasantly impressive, but the ugly outweighed the good by a wide margin. I mean, Washington State lost to an FCS opponent - for the second year in a row. Ouch.
Big Ten - 6-8 ATS: Like the ACC, the Big Ten seems to shape up as purely a two-team league. Ohio State and Michigan both did exactly what they were supposed to, crushing hopelessly-outmatched opponents and cruising to easy covers despite large spreads. The next tier of teams could include Iowa, Michigan State, Wisconsin and Nebraska. All four won, with the Spartans and Hawkeyes not winning handily enough to cover the spread while not doing anything to arouse serious concerns, Wisconsin winning as an underdog that most wrote off as hopeless, and Nebraska dominating.
So, you could argue that the top six teams in the conference were 4-2 ATS. The other eight in the conference, then, were 2-6 ATS. That dichotomy between the haves and the have-nots in the Big Ten are going to be a story all year.
SEC - 5-9 ATS: I don't buy the stories that the conference is heading into a decline and won't be as dominant as they have been anymore. The mere fact that the teams are making it reasonably easy to make those arguments, though, is worth talking about.
Alabama has long been the class of the conference, and that didn't change - they dismantled USC as completely as possible. Georgia and South Carolina were respectable under new coaches. Texas A&M got a nice opening win, and Auburn was solid in defeat. And there it ends.
LSU should be ashamed of themselves. Tennessee was a massive disappointment in their opener despite the win - they looked flat when people expected fireworks. Arkansas looked flat. Ole Miss played one of the best halves of the whole week and also one of the very worst. Mississippi State needs to go right back to the drawing board. So does Kentucky. Mizzou and Vanderbilt are terrible.
It was a rough week overall, and it was much worse than rough if you take Alabama out of the picture.
Sometimes, the best picks are free picks. Doc's Sports will give new clients $60 worth of free NFL picks with absolutely no obligation. You don't even need a credit card to sign up. Just click here and get started today. Also, get three handicappers for the price of one when you sign up for a full-season football package! Click Here for details.
Read more articles by Trevor Whenham