Free 2016 Belmont Stakes Picks for Best Props Odds and Head-to-Head Matchups
by Victor Ryan - 6/10/2016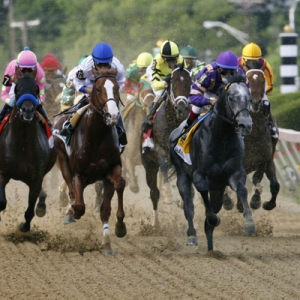 Playing in the traditional pari-mutuel pools isn't the only way to bet the Belmont Stakes. Bovada has released its smorgasbord of Belmont Stakes prop bets that includes an "over/under" on the margin of victory and array of head-to-head matchups. Let's dig in and try and find some winners.
Exaggerator (-350) vs. Stradivari (+250)
Preakness Stakes winner Exaggerator hasn't wavered through the Triple Crown grind and as the son of Curlin has put his best foot forward in all five starts this season. It takes a special horse to run with such consistency. These horses aren't machines, and even the greatest have a bad day. Could the rigors of the Triple Crown trail finally catch up to Exaggerator in the 1 1/2-mile Belmont? It's certainly possible.
Meanwhile, Stradivari is an uber-talented, lightly-raced colt that has every right to take another step forward in just his fifth trip to the post. This price offers great value, so let's take a shot.
The Pick: Stradivari
Gettysburg (-115) vs. Seeking the Soul (-115)
Gettysburg (-115) vs. Forever d'Oro (-115)
Gettysburg will be making his first start after being transferred to Hall of Fame trainer Steve Asmussen from the barn of future Hall of Fame trainer Todd Pletcher. He figures the pacesetter in the Belmont with hustling jockey Paco Lopez now in the irons. The problem is the lack of proven class with this colt. He's never hit the board in a graded stakes and was just beat in an allowance race at Belmont in his previous start. He looks to be playing the "rabbit" role in order to aid fellow Winstar Farm color-bearer Creator, who is a deep closer.
As for Seeking the Soul and Forever d'Oro, they are lightly-raced colts for owner Charles Fipke and trainer Dallas Stewart. The latter has reportedly made a favorable impression to observers at Belmont this week. It's also a big positive Forever d'Oro already has a win over the Belmont strip. A concern is his lack of early speed.
Seeking the Soul does possess that early lick, and his Maiden-breaking speed figure makes him competitive with this group. He's also bred to get the 1 1/2-miles of the "Test of a Champion."
The final and perhaps most important point is Stewart's recent record in the classics. He's been an ace with long shots outrunning their odds and hitting the board.
The Pick: Seeking the Soul, Forever d'Oro
Governor Malibu -115 vs. Brody's Cause -115
This is an interesting proposition when you consider Governor Malibu (12-1) is much lower than Brody's Cause (20-1) on the morning line. That seems to be for good reason. Governor Malibu, who is exiting a second in the Peter Pan Stakes (G2) at Belmont, has drawn raves for how he's trained in the lead-up. It's to the point where Governor Malibu is this year's Belmont wiseguy horse.
On the flip side, Brody's Cause showed little when last seen checking in seventh in the Kentucky Derby. He's run poorly in two of three starts this year, and his deep-closing running style may not suit this field.
The Pick: Governor Malibu
Cherry Wine (-125) vs. Destin (-105)
Destin (6/1) is at a slightly-lower price than Cherry Wine (8/1) on the morning line, so this certainly offers value for Destin supporters. Destin didn't run poorly when sixth in the Kentucky Derby, and that came following a nine-week layoff. He ran like a horse that was a bit short on fitness. But there's now a more recent race under the girth, and Destin has every right to move forward.
Cherry Wine ran a bang-up race when second to Exaggerator in the Preakness three weeks ago. But again, this comes down to running styles. Cherry Wine launches from way back, like in the Preakness where he was some 20 lengths back after the opening half mile. Of course, it was one of the fastest paces ever in the Preakness, and Cherry Wine was able to capitalize. Will his closing kick be as effective when the pace is more moderate? It seems a big gamble.
The Pick: Destin
Margin of Victory
Over 2.5 Lengths (Even) vs. Under 2.5 Lengths (-140)
Morning-line favorite Exaggerator is a standout on paper against this field. It would not be a surprise to see him run off with the second jewel of racing's Triple Crown. But any falter and this race will likely be a ding-dong battle to the wire.
The Pick: Under
Wow! Free Belmont Stakes picks. And it could not be easier. Follow the link and sign up (no credit card required, and no salesperson ever), and you can have your free Belmont Stakes picks in minutes. Click here for the no-hassle sign up.