Free Kentucky Derby Picks: Live Long Shots for 2016
by Trevor Whenham - 5/4/2016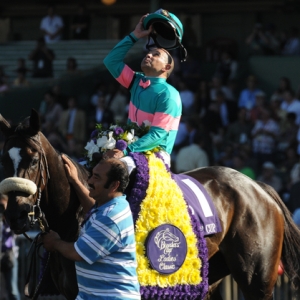 I remember Kentucky Derbies as tough as this one to handicap, but I certainly don't remember any harder. Last year we were so spoiled - the clear class of the field was obvious, and all you had to do was figure out how to deal with the two or three truly elite horses. This year, though, there isn't an elite horse in these eyes, but there are 15 or 16 that stand a reasonable chance, if everything goes their way, of winding up wearing roses. That makes picking a winner mind-numbingly challenging.
Thankfully, though, because pretty much everyone is confused about the race - unless they are drinking the Nyquist kool-aid - there are going to be a bunch of horses at 20/1 or better, which is the territory that qualifies them as a long shot in my eyes. As always, some of those long shots are more attractive than others - I wouldn't be particularly tempted to be on Majesto, Oscar Nominated or Lani at 50,000/1, for example. There are several horses here that have to be viewed as live long shots, though - horses you can't afford to leave out of your exotics considerations at the very least. Here are four of the most compelling:
Danzig Candy (15/1): The Santa Anita Derby was a disaster for this horse. He set the pace but faded badly. The more I have watched the replays of that race, though, the more I am willing to give him a mulligan. The track was in poor shape because of rain, and he obviously didn't handle it well. He didn't relax early as a result and set suicidal fractions - no horse could have handled that and survived. He was much more reasonable early in the two prior races while still setting the pace, and he has two wins from those to show for it.
He's not likely to be pressed too hard setting the pace here - Outwork is the only other horse likely to be with him, though Nyquist might push things as well. If he can get comfortable early and set reasonable fractions - something in the mid to high 46 second range instead of the ridiculous 45.1 on a heavy track at Santa Anita then he could quite possible hold on for a piece - or more.
He has Mike Smith aboard, so he's in good hands. At better than 20/1 he's attractive. At the 15/1 morning line he's not, but as a speed horse on the far outside I really don't expect him to stay anywhere near that once the bettors have their say. I don't love the post position at all, but I hate it a lot less than a lot of bettors are likely to, and that could work in my favor.
Whitmore (20/1): Victor Espinoza has won the last two editions of the Derby - and five of the last six Triple Crown races - so we have to pay attention to any horse he is on. Now, Whitmore is not nearly of the caliber of American Pharoah or California Chrome, but he's no slouch, either. He's been a factor in all three of his races this spring, and they have been decent ones at that. He is also training brilliantly.
He is one of the many horses that will be coming from off the pace this year, but if he can find room to move he could definitely pick up a piece. I am warming up more and more to this horse every day.
Mo Tom (20/1): In his first prep race of the season this deep closer found plenty of room to move and he beat a nice field as a result. The last two prep races have been disastrous for him, though - he has run into major traffic both times and had his momentum crushed. He has recovered decently both times. Bad luck for closers is very common in the Derby, but if he could get a decent trip he might be able to close nicely at a big price. I especially like him in the bottom portions of the trifecta or superfecta.
Trojan Nation (50/1): Everything is stacked against this horse from a betting perspective. He has never won a race of any kind. He made it into the field thanks to a second in the Wood Memorial - a race that is very tough to give any respect to given how it turned out. He hasn't worked particularly well lately. He's in the dreaded No. 1 post. He just doesn't seem to belong.
At a huge price, though, I'd probably throw him in at the bottom of my exotics for one big reason - his breeding. He's a son of Street Cry, who sired Derby winner Street Sense. His damsire is Summer Squall, who was second in the Derby before winning the Preakness and is the sire of Derby winner Charismatic.
He has the breeding to shine here. If only he had the talent to match.
Doc's Sports has been a leader in Triple Crown handicapping for more than four decades, and we have a great offer for new clients. Get $60 worth of Kentucky Derby picks free with no obligation to buy anything. Not credit card is needed, and you won't ever have to talk to a salesperson. Get your $60 in Kentucky Deby picks here.
Read more articles by Trevor Whenham