Free NBA Betting Picks: Season-Long Utah Jazz Analysis and Expert Predictions
by Chris Vasile - 12/8/2016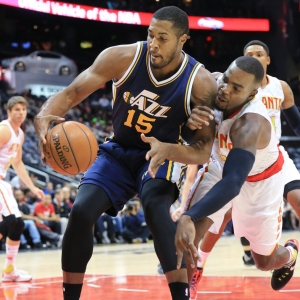 If you take a look at the Western Conference standings right now, you will see the usual suspects in the mix for a postseason berth. However, there is more of a log jam throughout the top eight seeds this year. The eighth-place Portland Trailblazers sit just 3.5 games back of fourth in the conference. I would like nothing more than to chalk this up as parity early in the season, but the actual reason the standings look the way they do is because the Western Conference is just simply better than the East. Coming into tonight's action, the West holds a 69-58 advantage against their Eastern opponents. The top two teams - Warriors and Spurs - are leading the charge with a combined 14-1 record.
Since we are tracking the Jazz, they own a 5-3 record against the East, with wins coming against New York, Philadelphia, Orlando, Miami and Atlanta. Their three losses were courtesy of Miami, Chicago and Charlotte. Not the worst teams to lose to, but the wins were definitely against the lower-tier Eastern Conference teams. The Jazz have only two more games this month against the East. They visit Toronto on Dec. 23 and Philadelphia Dec. 29. To me, that looks like 1-1. If the Jazz are to continue winning games and get themselves in the upper half of the conference, they will have to do it within their conference.
Tonight's game is the second game of a five-game homestand and their third game in four days. The rest of the home stand will see Sacramento, Oklahoma City and Dallas all visit Vivint Smart Home Arena.
As a reminder, I will release picks throughout the season using Doc's Sports Unit Betting System and will keep track of the results, regularly checking in with observations about what we can learn or have learned up to date.
Golden State Warriors @ Utah Jazz Betting Storylines
The Jazz come into tonight's game looking like a completely different team from the last time I wrote this article. They are currently riding a three-game winning streak and are 7-3 in their last 10 games. They have been buoyed and led by Gordon Hayward, who is averaging career highs in points and rebounds. The Butler product is averaging 23 points per game, 6.5 rebounds per game and 3.9 assists per game in his 17 starts this season. Hayward has put up no less than 23 points in the month of December, with back-to-back 32-point efforts and a 28-point performance in Tuesday's win against Phoenix. Hayward knows the importance of being the catalyst for this team as they are still without Derrick Favors (knee injury) and George Hill (foot injury). The latter has been out the last four games, while Favors has been out since Nov. 17.
The Jazz are also playing some solid ball on the defensive end of the court, holding opponents to 95.5 points per game, which is tops in The Association. A big part of that is their interior defense. Rudy Gobert is averaging 3.5 blocks per game and a solid 11.3 rebounds per game. His presence alone, while not quite like Hassan Whiteside, make opponents think twice before driving the lane and trying to get up a contested shot.
Despite how good the Jazz are playing as a team, throw all that out the window for tonight's game against the Warriors. The Warriors play backwards in terms of how they like to score the ball. They much prefer the outside shot - the 3-pointer to be exact - and they love to run the floor and get out in transition. They are averaging 120 points per game, and any one of their starters could go off on any given night. The Warriors are 9-1 in their last 10 games and coming off a beat down of Indiana two nights ago, where Klay Thompson put up 60 in 29 minutes of floor time. That's mental. They are playing tonight in the second game of a back-to-back, which means fatigue could be a factor. Last night the Warriors put in a more modest performance as they defeated the LA Clippers 115-98. They led from start to finish and had five players score in double figures. Thompson followed up his 60-spot with a solid 24/4/3 in 35 minutes of action. This is the second stop on the Warriors' five-game road trip.
Golden State Warriors @ Utah Jazz Betting Odds and Betting Trends
Two winning streaks will be on the line tonight as both the Jazz and Warriors will be looking to continue their winning ways. The Jazz are tabbed as nine-point underdogs in this matchup with the total sitting at 209.
The Jazz are 6-1-1 ATS in their last eight games and have gone "over" the total in five straight contests. The Warriors are 4-1-1 ATS in their last 6 contests and have also gone "over" the total in 10 of the last 15 games.
Golden State Warriors @ Utah Jazz Predictions and Picks
Despite playing some solid basketball of late, the Jazz are going to be in a world of trouble tonight. They have only 10 players available for tonight's game and their best player, Hayward, is officially listed as "out" for tonight's game. That is a huge blow to the Jazz as they now have to find away to cover his 23 points per game. I feel that this will be another one of the Golden State blowouts we've all but come accustomed too.
The Warriors are on record of saying that last night's performance vs the Clippers was far from their best. Keep in mind, they shot 48 percent and put up 115 points. Twenty-nine other teams in the NBA would kill for those numbers on an "off" night. The Warriors have so many weapons that fatigue is not going to be a factor in this one. The big three of Stephen Curry, Kevin Durant and Klay Thompson have been virtually unstoppable over the last four games. Thompson is averaging 31.3 on 48.9 percent shooting. Curry is scoring 22.8 on 47.6 percent and KD is chipping in with 23.8 points on 47 percent shooting. How do you stop that? I fully expect after tonight; the Jazz will slide down a spot in the rankings when it comes to points per game allowed.
Golden State has dominated the series with Utah in recent seasons. The Warriors have won five straight and 11 of the last 12 against the Jazz. Utah's' lone win in that stretch was a 110-100 home victory in January of 2015.
Let's get a win tonight with a 5-unit play on the Warriors -9, (-110).