Free NBA Picks for Eastern Conference Playoffs Odds with Expert Predictions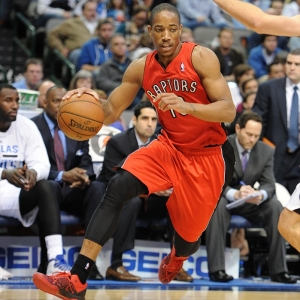 The NBA Playoffs are finally here, and what most basketball fans and experts are expecting is a postseason full of fireworks. The west is as top-heavy and loaded as it has ever been, while the Eastern Conference is as deep and well-round as it has been in the last decade. LeBron James and the Cleveland Cavaliers are once again the favorite to make it out of the conference and should dominate their first-round matchup. The rest of the east, however, may provide the most entertaining and closely-contested matchup during the playoffs. Let's take a closer look at the series price odds for each matchup and make a few picks and predictions.
Cleveland Cavaliers vs Detroit Pistons
Series Price : Cleveland -2564; Detroit +800
Thoughts : Coach Stan Van Gundy should be praised for grabbing the No. 8 seed and pushing the Pistons to a 44-win season. But let's not get carried away and even entertain the idea of an upset happening here. If you are looking for value, Detroit might be a solid wager on the spread, as the team managed to win three of the four regular season matchups against Cleveland. The Pistons are well-coached and can win a game or two simply based on that discipline alone.
Pick : Cleveland isn't a powerhouse this season, but they should be able to win this series in six. However, expect Detroit to win the ATS matchup (the spreads will be too big for Cleveland).
Toronto Raptors vs Indiana Pacers
Series Price : Toronto -337; Indiana +222
Thoughts : Toronto paid extra attention to defense this year in order to avoid a third straight first-round exit. The team allowed the fewest points the east while still scoring nearly 103 points per game and went from the No. 4 seed in the conference last season to the No. 2 seed. The Raptors also beat Indiana three out of four times during the regular season and largely held Paul George in check during those matchups. Indiana overachieved a bit with a 45-win season. And even though the squad should be game for this series, knocking off a newly-improved Toronto team will be tough.
Pick : Toronto has a first-round monkey on its back and will be eager to end this matchup quickly. Take the Raptors to win in five games.
Miami Heat vs Charlotte Hornets
Series Price : Miami -171; Charlotte +125
Thoughts : Miami grabbed the No. 3 seed over Charlotte by virtue of tie breakers, even though both squads won 48 games this season. Miami, however, seems to be underachieving at 48 wins, while Charlotte seems to be overachieving. The Heat will be without Chris Bosh for the entirely of the postseason, which may hurt the team who already scores few points that the Hornets.
Picks : this matchup will be Charlotte's chance to actually win a playoff series. Miami, on the other hand, has won title and made deep playoffs runs before. If you are looking to take an underdog, this is one of the spots to do it. Let's go with Charlotte in six games.
Atlanta Hawks vs Boston Celtics
Series Price : Atlanta -238; Boston +170
Thoughts : this is another spot where both of the teams ended with the same record and the seeding was decided by tie breakers. Atlanta is coming off a 60-win season and drastically declined this year. Boston, on the other hand, should be a lottery team, but excellent coaching by Brad Stevens and savvy draft picks have elevated the Celtics into a playoff squad that can do some damage. For those that do not follow the NBA on a close basis, Atlanta is not the same team as last year, and Boston could have easily been the No. 3 seed.
Pick : at +170 Boston is the solid value pick here. The Celtics have less talent than the Hawks, but they are better coached and simply play a better brand of basketball. Expect the Celtics to win in six games.
Doc's Sports has a great offer for new clients. You can get $60 worth of picks from any Advisory Board handicapper for any sport he handicaps. All with no obligation and no credit card needed. Claim your free picks today .
Read more articles by George Monroy