Free NBA Picks: Tuesday, Dec. 13, 2016, Opening Line Report and Handicapping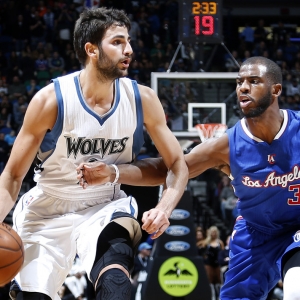 I thought that the Minnesota Timberwolves would be one of the most improved teams in the NBA this season and perhaps could sniff the final playoff spot in the Western Conference after hiring Tom Thibodeau as the team's new head coach (and personnel boss) this offseason. So far, it hasn't gone well for Thibs and the Wolves, but they'll be really good within a couple of years. And I think it's fair to say if there's one victory this season that Thibodeau wants for his team and perhaps more for himself is Tuesday when Minnesota visits Chicago. He was fired by the Bulls in late May 2015 despite winning a Coach of the Year Award there and going 255-139 in the regular season. The Bulls made the playoffs in each of his five years, but he and the front office just weren't on the same page at the end, especially Thibodeau's style of riding his key players incredibly hard in the regular season, only to have them gassed/hurt by the time the playoffs came around. The Bulls were 23-28 under him in the postseason and went to the East Finals just once despite having a really talented team when healthy.
Grizzlies at Cavaliers (-13, 207)
I'm stunned how well Memphis is playing with so many guys injured, mainly Mike Conley. The Grizzlies won a sixth straight game Saturday in upsetting the visiting Warriors 110-89. If that's not the most surprising score of the season, I don't know what is. The Grizzlies led by as many as 30 points in the second half -- the biggest advantage by any Warriors opponent this season. Cleveland won a fourth in a row Saturday, 116-105 at home against Charlotte. LeBron James scored 17 of his season-high 44 points in the fourth quarter. He added 10 assists and reached 7,000 career assists, the only forward or center to ever hit that mark. The Cavs shot a season-best 58 percent. J.R. Smith was back after a two-game injury absence but Channing Frye missed his second in a row after his father's death. These teams split last year, each winning at home.
Key trends: The Grizzlies are 6-2 against the spread in their past eight road games. The "over/under" is 8-2 in Cleveland's past 10.
Early lean: Grizzlies and over.
Magic at Hawks (TBA)
Orlando dropped a third in a row Saturday, 121-113 at home vs. Denver. The Magic were dominated in the paint without center Nikola Vucevic, who hurt his back Friday. He's questionable for this one as his fellow big man Bismack Biyombo, who played through a shoulder injury vs. the Nuggets. Atlanta has been off since a 114-110 win in Milwaukee on Friday. Dennis Schroder had a career-high 33 points. Paul Millsap had 23 points and 14 rebounds. Guard Kent Bazemore sat a second straight game with a sore knee. Orlando has lost 10 of its past 12 in Atlanta.
Key trends: The Magic are 4-1 ATS in their past five in Atlanta. The under is 4-1 in the Hawks' past five at home.
Early lean: Wait on Vucevic.
Timberwolves at Bulls (-7.5, 210)
First of an ESPN doubleheader, and I'm sure that Thibs gets a warm welcome from the Chicago faithful as many didn't want him fired. Minnesota dropped a fourth straight Sunday, 116-108 at home to Golden State. The Wolves led by 10 in the fourth. Karl-Anthony Towns had 25 points and 18 rebounds in the loss. Forward Nemanja Bjelica missed his second straight game with a sore right ankle. Chicago beat visiting Miami 105-100 on Saturday. Jimmy Butler had 31 points and Dwyane Wade 28. Minnesota had lost 10 of its past 11 in this series before sweeping last season.
Key trends: The Bulls are 0-4 ATS in their past four after a win. The over is 4-0 in Minnesota's past four vs. the East.
Early lean: Wolves and over.
Warriors at Pelicans (+11, 223)
Golden State played its fourth game in five nights Sunday and looked flat for three quarters before rallying for a 116-108 win in Minnesota to yet again avoid consecutive losses. That's now 111 regular-season games without one, a league record. Klay Thompson had 30 points and Steph Curry 22 points and nine assists. Center Zaza Pachulia sat again with a sprained right wrist and is doubtful here. New Orleans snapped a five-game losing streak with a 120-119 OT win in Phoenix on Sunday. Tim Frazier had his first NBA triple-double with 14 points, 11 assists and a career-high 11 rebounds. Guards Jrue Holiday and E'Twaun Moore were back after missing three games each with toe injuries. Golden State has won five in a row in this series, including two-high scoring matchups this season.
Key trends: The Warriors are 9-4-1 ATS in their past 13 in New Orleans. The over is 4-0 in the past four overall.
Early lean: Pelicans and over.
Knicks at Suns (+3.5, 219.5)
New York won for the sixth time in seven games Sunday, 118-112 at the Lakers. Kristaps Porzingis had 26 points and 12 rebounds and Derrick Rose 25 points on 12-for-16 shooting after missing two games with a back injury. Phoenix lost 120-119 in OT at home to New Orleans on Sunday. Eric Bledsoe scored 32 for the Suns. Tyson Chandler added 14 points and 21 rebounds, both season highs. Phoenix led by as many as 15 in the third quarter. The Knicks won both meetings last season, including a 31-point win in Phoenix on March 9. Of course first-year Knicks coach Jeff Hornacek was a former Suns coach.
Key trends: The Knicks are 2-7-1 ATS in the past 10 meetings. The over is 6-2 in the Suns' past eight at home.
Early lean: Suns and over.
Thunder at Trail Blazers (TBA)
Second ESPN game. Oklahoma City's Russell Westbrook is slacking as his seven-game streak of triple-doubles ended Sunday in a 99-96 home win over Boston. He "only" had 37 points, 12 rebounds and six assists. Seven in a row had been the NBA's longest triple-double run since Michael Jordan had seven straight in 1989. Thunder guard Victor Oladipo left the game for good after spraining his right wrist on a hard fall with 5.2 seconds left in the first quarter. I'd be moderately surprised if he plays here. Portland was at the Clippers on Monday on a three-game losing streak and with forward Al-Farouq Aminu (back contusion) doubtful. Portland and Oklahoma City split the season series 2-2 last year, with both teams winning their home games. The Trail Blazers have won their past four against the Thunder at the Moda Center.
Key trends: The Thunder are 5-1 ATS in the past six meetings. The over is 5-2 in the previous seven.
Early lean: Assuming the TBA for Oladipo. Wait on him.
Read more articles by Alan Matthews