Free NBA Picks: Wednesday, Oct. 26, 2016, Opening Line Report and Handicapping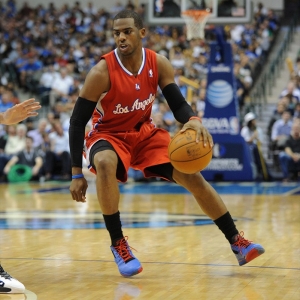 Before we get to Wednesday's NBA schedule, here are my picks to win individual awards in the Association this season: with BetOnline Odds: MVP -- Kawhi Leonard, Spurs at +700. I don't think the Thunder will be good enough for Russell Westbrook to win it, LeBron James is going to take several games off this season most likely, and Steph Curry and Kevin Durant will steal votes from one another. Scoring champion -- Westbrook, Thunder at +160. With no Durant around Russ might shoot 30 times a night. Assists leader -- Chris Paul, Clippers at +300. That's if he stays healthy. I think Westbrook (+300) will see his assists drop without Durant around. Rebounds leader -- Andre Drummond, Pistons at +150. The defending champion and a monster. Defensive Player of the Year -- Rudy Gobert, Jazz at +600. The Stifle Tower! The French Rejection!
Heat at Magic (-4, 204)
Did any team have a worse offseason outside of Oklahoma City than Miami? The Heat lost Dwyane Wade, the face of the franchise and perhaps the most beloved south Florida athlete ever, over a few million dollars. And Chris Bosh is never going to play for the franchise again as it won't clear him from his blood clot problem. How quickly the Big 3 broke up! I think the Heat tank this year for a top draft pick and then will be armed with a ton of salary-cap room next summer to lure free agents. Wasn't a big fan of the Magic's draft night trade for Serge Ibaka. Nothing against Ibaka, but he seems redundant on Orlando. It's the Magic coaching debut of Frank Vogel, an upgrade for sure over last year's coach, Scott Skiles.
Key trends: The home team is 5-1 against the spread in the past six meetings. The "over/under" is 9-2-1 in the past 12 in Orlando.
Early lean: Magic and under (Heat will struggle to score this year).
Mavericks at Pacers (-6.5, 199.5)
Dallas is again simply swimming in place and won't be good enough to win a playoff round or bad enough to get a high draft pick. The Mavs were hoping to re-sign Chandler Parsons and pursued free agents Mike Conley and Hassan Whiteside but struck out on all. They did add former Warriors Andrew Bogut and Harrison Barnes if that excites you. I really like what the Pacers did this offseason in trading for Hawks point guard Jeff Teague and Nets forward Thaddeus Young along with signing free-agent Al Jefferson. This might be the East's second-best team. It's the Indiana head coaching debut of Nate McMillan as he was promoted from assistant when Vogel was let go.
Key trends: The Pacers have covered four straight in the series. The over is 4-1 in the past five.
Early lean: Pacers and over.
Nets at Celtics (-13.5, 207.5)
Brooklyn has the lowest wins total of any team for this season at sportsbooks and they are going to have to swap first-round picks with the Celtics -- and that could easily be the No. 1 overall selection in what is supposed to be a very deep draft. Linsanity returns to New York as this will be the Nets debut of Jeremy Lin. It's also the head coaching debut of former Hawks assistant Kenny Atkinson. Boston is considered by most the main threat to Cleveland in the East. The Celtics couldn't get Kevin Durant in free agency but did land the No. 2 prize in Hawks big man Al Horford. Celtics guard Marcus Smart is likely to miss the opener with a sprained ankle.
Key trends: The underdog is 5-2 ATS in the past seven meetings. The under is 6-1 in Boston's past seven.
Early lean: Nets and under.
Pistons at Raptors (-7.5, 201)
On paper, this looks to be the best Pistons team since 2007-08, but they will begin the season without leading scorer Reggie Jackson. He had treatment on his left knee a few weeks ago and the timetable then was 6-8 weeks on the sideline. Jackson is coming off a season where he averaged a career-best 18.8 ppg. Ish Smith is expected to start at the point while he's out. Toronto reached the Eastern Conference Finals for the first time last season and certainly could again. The Raptors lost shot-blocking and rebounding stud Bismack Biyombo in free agency but were able to re-sign leading scorer DeMar DeRozan to a huge deal. New addition Jared Sullinger will miss at least two months, however, with a foot injury.
Key trends: The Pistons are 5-1 ATS in the past six meetings. The over is 7-1 in the past eight.
Early lean: Raptors and over.
Hornets at Bucks (pick'em, 199.5)
Charlotte lost Lin and Jefferson in free agency but was able to re-sign Nicolas Batum and Marvin Williams, so that's a net win. The team also took a flier on center Roy Hibbert and, finally, defensive wizard Michael Kidd-Gilchrist is healthy, knock on wood. Milwaukee had a crushing injury loss last month when Kris Middleton ruptured his left hamstring. He had surgery and won't be back until after the All-Star break -- if then. Middleton averaged a career-high 18.2 points and 4.2 assists in 79 games last season. That's big loss because the Bucks lack perimeter shooting and Middleton was the team's best.
Key trends: The Hornets are 5-0 ATS in the past five in Milwaukee. The under is 4-1 in the past five meetings overall.
Early lean: Hornets and under.
Timberwolves at Grizzlies (-2, 201)
The most exciting team to watch in the NBA this season outside of Golden State could be the rising Timberwolves. They have the best young roster in the NBA by far. A recent survey of GMs asked who they would start a franchise with right now, and reigning Rookie of the Year Karl-Anthony Towns won the vote. The Wolves also look to have drafted a future star in guard Kris Dunn at No. 5 overall this year. And they upgraded at head coach in hiring Tom Thibodeau. This team could sneak into the playoffs this year, but look out next season and beyond. The Grizzlies were able to re-sign Conley this offseason but had to vastly overpay to do it. They also added Parsons from the Mavericks. This will be David Fizdale's head coaching debut for Memphis.
Key trends: The Timberwolves are 6-2 ATS in the past eight meetings. The over is 5-0 in the past five.
Early lean: Wolves and over.
Nuggets at Pelicans (-3.5, 209)
Denver is accumulating some really nice assets after landing guard Jamal Murray with its first-round pick. The Nuggets will be a lottery team again this year but they have a bright future. Guard Gary Harris is likely to miss at least the first few games after a major groin strain suffered in early October. I really hope the mega-talented Anthony Davis of New Orleans can finally stay healthy this season. That didn't look good when he suffered a Grade 2 ankle sprain in mid-October, but he made a surprise early return last Thursday and thus will be in there for the opener. However, the Pelicans open the season without Tyreke Evans (knee surgery, out at least until mid-December) and Jrue Holiday (wife had surgery to remove a brain tumor last Thursday). My early Rookie of the Year pick: New Orleans' Buddy Hield, the former Oklahoma star.
Key trends: The road team is 5-1 ATS in the past six meetings. The under is 13-4 in the past 17 in New Orleans.
Early lean: Pelicans and under.
Thunder at 76ers (+8.5, 213.5)
First an ESPN doubleheader. I will watch every Thunder game possible this season just to see how angry Westbrook plays. He played with more fury than anyone as it was, and now he's going to be crazy with Durant gone. Like to see an O/U triple-double prop on Westbrook this season. I bet he gets at least 20 if he plays all 82 games. Liked OKC's trade for the Magic's Victor Oladipo this offseason. Philly can't catch a break as former Rookie of the Year betting favorite and No. 1 overall pick Ben Simmons broke his foot and will be out probably until February -- that's if the team doesn't play it cautious and shut him down all season. Nerlens Noel is out 3-5 weeks after knee surgery. Guard Jerryd Bayless will miss a month with a wrist injury. At least we finally get to see what 2014 No. 3 overall pick Joel Embiid has. He missed his first two rookie seasons with foot troubles but has looked great in the preseason. The 76ers won't give him heavy minutes for a while, however.
Key trends: The Thunder are 10-4 ATS in the past 14 meetings. The under is 6-1 in the past seven.
Early lean: Thunder and under.
Kings at Suns (-3, 215)
Every year I think the Kings are going to finally sneak into the playoffs, and every year they implode because that franchise is a mess. But Sacramento still has a Top-10 talent in DeMarcus Cousins and solid new head coach in Dave Joerger, formerly of the Grizzlies. The Kings are likely to trade Rudy Gay sooner rather than later as he already has said he won't be back next year. Either Phoenix or the Lakers will finish with the West's worst record this year most likely. But the Suns know they are rebuilding and appeared to have a really promising draft. Now they must trade either Brandon Knight or Eric Bledsoe as they don't need both with rising star Devin Booker in the backcourt.
Key trends: The Kings are 5-1 ATS in the past six meetings. The over is 5-2 in the past seven in Phoenix.
Early lean: Kings and over.
Rockets at Lakers (+6, 216.5)
ESPN nightcap. It will definitely be weird seeing the Lakers open a season without Kobe Bryant. It was curious to see Los Angeles give big contracts to veterans Luol Deng and Timofey Mozgov this offseason considering the team is in a full-blown youth movement. Deng makes some sense as he's a great leader. Mozgov makes none. This will be the debut of Lakers No. 2 overall pick Brandon Ingram as well as new head coach Luke Walton, the former Warriors assistant/interim head coach. Also the Rockets head coaching debut of Mike D'Antoni. Houston might well lead the NBA in scoring this year and probably sets an NBA record for 3-point attempts. But that team is going to be terrible on defense. Gone is Dwight Howard and in are former Pelicans Ryan Anderson and Eric Gordon. Much like James Harden, both can score but can't play defense.
Key trends: Rockets have covered six straight at Lakers. The over is 15-7 in the past 22 meetings.
Early lean: Rockets and over (you will want to bet over most Rockets games).
Get $60 worth of member's picks absolutely free - no obligation, no sales people. You can use this $60 credit for of our top NBA handicappers. Free NBA predictions here. Also, for a limited time only, you can get three handicappers NBA picks for the price of one! Click Here for more details!
Read more articles by Alan Matthews