NBA Free Picks for Western Conference Finals Betting Props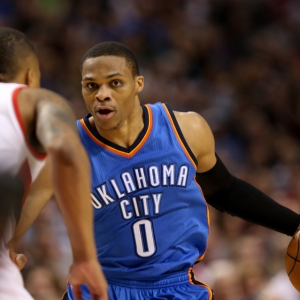 The Oklahoma City Thunder shocked the sports betting world by eliminating favored San Antonio in six games of the Western Conference Semifinals, and they stunned everyone again by beating Golden State at home as 7.5-point road underdogs in Game 1 of that best-of-seven showdown for a spot in the 2016 NBA Finals
Now that this heated showdown is firmly in the spotlight of the betting public's eye, it's a great time to try and cash in of a few special team props that have been released in conjunction with the series price as well as a highly-anticipated matchup in Game 2 on Wednesday night. The following are my top picks for a few of these props.
Updated Series Price
It's very rare that a team that loses the first game of a best-of-seven playoff series at home remains a heavy favorite to still win that series, but that is the case with Golden State. Bovada has updated its series price odds for the Western Conference Finals. And despite stealing the early home-court advantage, Oklahoma City is listed as a +165 underdog to win with the betting moneyline on Golden State set at -190 as the clear favorite.
The Thunder opened this series at +300 betting odds to win, with Golden State listed as -400 favorites, but there is still some solid value in a play on Oklahoma City at this point to pull off what would have to be considered one of the biggest upsets in recent NBA Playoff memory. Most betting experts had the Thunder bowing out against the Spurs in six games, but Oklahoma City is currently on a 5-1 run both straight up and against the spread ever since it lost the first game of that series.
A win on Wednesday night would not only turn the heat on high for Golden State, it would definitely cast a large shadow doubt on the Warriors actually being the better team in this matchup. Even if the Thunder lose Game 2, they would have accomplished what only two other NBA teams were able to do all season; beat Golden State on its home court. While I would not go big on OKC in this prop, it is still worth a small play given the current odds. You might also be able to use it as a hedge on a bet on the Warriors later in the series depending on how the price shifts.
Game 2- Alternative Pointspread Odds
Over at Bovada you can get prop bet odds on a number of alternative spreads for Wednesday's Game 2. Right now it has Golden State listed as an 8.5-point home favorite with some additional juice at -115. If you like the Warriors to turn things around after Monday's shocking loss with a double-digit win in Game 2, the money line odds on a 10.5-point spread moves to +115. And if you are willing to lay 12.5 points you can get a +170 moneyline. By going all the way up to 14.5 points, the return on a $100 bet on the Warriors would be +230.
Suppose you are going with the other school of thought that Oklahoma City is poised to stay hot and easily cover the 8.5 points at the regular -110 juice. By lowering the spread to 6.5 points, you would stand to make +130 on the same $100 bet by going with the Thunder to cover. Remember, they are 5-1 both SU and ATS on the road in the postseason.
I would take things one step further and state that the Thunder can push the Warriors to the brink on Wednesday night in a very close battle that ends up being a two-point game either way. Now that I am willing to really roll the dice on a hot team (SU and ATS) against an opponent that is 1-3 ATS in its last four games, the return on a $100 bet with a 2.5-point spread in my favor would be +255.
Game 2- Alternative Total Line Odds
The Warriors finished the regular season as the highest-scoring team in the NBA with an average of 114.9 points per game, and second on the list was Oklahoma City with 110.3 points. Through the first two rounds of the playoffs and Game 1 of this series, Golden State's scoring average stands at 113.3. The Thunder scoring average has dropped as well in the postseason, but at 106.1 PPG you can understand why the total line for Game 1 closed at 225 and it is still set high at 222 for Game 2.
Everyone expects these two high-flying offenses to continue to light up the scoreboard in this series, but defense still wins championships at this point of the playoffs and both head coaches know it. Recent betting trends follow this logic as well with five of Oklahoma City's last six conference championship games staying under the closing line. The total has also stayed under in five of the Warriors' last six games in this round of the playoffs.
That is good enough for me to go with the much more favorable prop bet odds of +145 that the total in Game 2 actually stays under 216.5.
Read more articles by Dave Schwab