Kentucky Derby Handicapping: Why Todd Pletcher has Struggled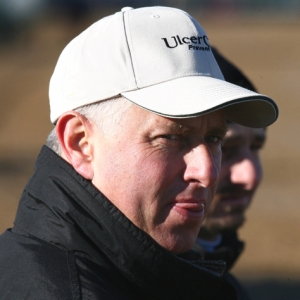 Every year I sit down and write an article about why betting on Todd Pletcher in the Kentucky Derby is a truly lousy idea. I talk about how he is a great trainer yet how he is spectacularly not great on the first Saturday in May. I pull out the stats of just how bad he is in the race, and update them with the latest numbers so that they get even worse. I offer theories why, and I look at the horses he has entered this year to see if he has a chance to change history. It's mostly the same thing every year, but it's simply not a story that can be ignored.
Pletcher has been named the Eclipse Award winner as top trainer in the country seven different times since 2004. He has won nine Breeders' Cup races and pretty much every other race worth winning in the country. He's a win machine. Yet somehow he has managed to start 43 horses in the Kentucky Derby, and Super Saver is his only winner. So he has won 2.3 percent of his Derby starts. So far this year he has started horses in 447 races, and he won 106 times - a 23.6 percent win rate. That disparity is shocking. Sure, the Derby fields are bigger than any other field he runs in, so we would expect a lower winning rate. Pletcher has a large number of very deep-pocketed owners, though, so the amount of talent, and the sheer number of colts, he has to work with every year is unmatched. His stable is very heavily focused on this race, so he should be more prepared. He also cut his teeth as an assistant to D. Wayne Lukas, the most efficient Triple Crown race machine we have ever seen, so he should have the tools to succeed. Yet betting against him has long been wildly profitable - and could very well be again this year.
Pletcher has a habit - and the strong ability required - to get multiple horses to the race. The two he has entered this year is definitely on the low side for him - he has entered as many as five. Now, with multiple entrants you are automatically damaging your win percentage - even if you win you are going to have losers, too. Multiple horses gives you an advantage, too - you have a better sense of how the pace will set up and potentially more capability to control a pace that works for you.
So, why does Pletcher struggle so much in this race? There are countless reasons, with bad luck being near the top of his list. He has also too often had his horses under-seasoned heading into the race and has struggled to define race strategy that maximizes the talent of his runner. So, will he face some of the same issues this time around with his two runners? Or will things be different this time around?
Outwork (15/1): Two starts back he was second behind his stable mate Destin, who we will check in on in a second. Last time out he won the Wood Memorial. Winning a major prep race deserves respect. Winning one of the least-impressive prep races in a decade, though, and doing it in very underwhelming fashion - the horses were so slow they almost walked down the stretch, and he barely beat a very uninspiring maiden in Trojan Nation - doesn't exactly inspire us. And then the breeding is a concern, too. Uncle Mo is a red-hot sire, but this is his first crop of three year olds, so we don't yet know if his offspring are up to the challenge of this distance. He didn't seem to be back in his day.
And then there are experience concerns - he has run only four times, which is less than ideal, and there was almost 10 months between his first and second start. Add it all up and you have a typical Pletcher Derby horse - things to like but at least as many concerns to choke on.
Destin (15/1): Last year at the Breeders' Cup Pletcher had two huge wins with horses coming off longer-than-normal breaks. He's obviously looking to replicate that success - Destin has not run since winning the Tampa Bay Derby on March 12. That's the longest break since the last outing in the field this year and much longer than has normally worked in this race. He hasn't been sitting on a couch eating horse bonbons. He's been training, and he's looking good doing it. The layoff is a big issue, though. Since 1991, eight different horses have tried to win the Derby off a break of 45 days or more. The best one of those horses has done is finishing sixth. That was Circular Quay. Pletcher trained that horse, too, so this approach isn't new to him.
It's not just the layoff that is a concern, either. Destin is also the only horse in this race that has yet to run at least a mile and an eighth. Since 1991 we have seen 30 horses that have not run at least nine furlongs before starting in the Derby. None have won the Derby, and only one - the filly Eight Belles in 2008 - has even finished in the money. Pletcher is trying to go against two very solid trends. He consistently tries to make the Derby submit to his own philosophies, and we have seen how that has worked for him in the past.
Free Derby picks? Doc's Sports has been a leader in Triple Crown handicapping for more than four decades, and we are offering new clients $60 in Kentucky Derby picks - there is no obligation for this offer. Click here for more details and to get your $60 in free picks.
Read more articles by Trevor Whenham