Kevin Durant and Golden State Warriors NBA Betting Props and Picks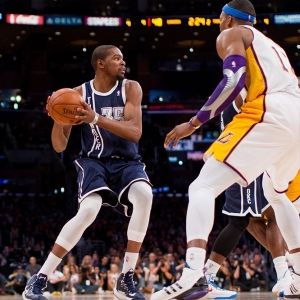 The shockwaves continue to reverberate across the entire NBA following Kevin Durant's recent decision to sign with Golden State as a free agent out of Oklahoma City. Not only have the Warriors become prohibitive favorites to win next season's NBA Championship, but Bovada has already posted betting odds for Golden State's chances to win a title in each of the next two seasons at +220 for "yes" and -340 for "no".
Bovada has also released quite a few special prop bets surrounding Durant joining league MVP Stephen Curry in Golden State, and the following three props offer the best value on the board.
Golden State 2016/2017 Regular Season Wins
Golden State is coming off a record-setting 73-win season and Bovada has set the projected win total next season with Durant in the fold at 67.5, with the moneyline odds set at -120 for both the "under" and the "over" for this prop.
The Warriors' steady climb to the top of the NBA started with 47 wins in 2012/2013 followed by 51 victories the next season and 67 wins in 2015 when they won an NBA title. They blew that number out of the water this past season in their quest to set a new NBA single-season record for wins.
While Golden State had to part ways with center Andrew Bogut and forward Harrison Barnes to make room for Durant, the basic nucleus of the team remains intact There is a chance that the adjustment period between Durant and Curry sharing the same ball could cost the Warriors a few games early in the season. However, it is hard to see this team falling back to fewer than 68 wins next season given the overall talent on this roster. Given the even moneyline, I would go with the over in this prop.
Oklahoma City 2016/2017 Regular Season Wins
The Thunder have been one of the elite franchises in the NBA for the past several seasons with the duo of Durant and Russell Westbrook leading the way. Other than the 2014/2015 season when both players missed a substantial amount of time due to injury, OKC has posted at least 55 wins in three of the past four years.
The over/under on total wins next season without Durant has been set at 47.5, with an even +100 moneyline on the over and a -140 moneyline for the under. The first thing you have to ask yourself when betting this prop is what happens to Russell Westbrook heading into the final year of his current contract. All indications point towards him heading for greener pastures once he becomes a free agent following next season, so there is a strong possibility that the Thunder will look to trade him this year.
Even with Westbrook, Oklahoma City is probably going to take a significant step backwards from last season's 55-27 record, and I am willing the hedge that losing Durant will cost the Thunder at least eight games in the win column to make the "under 47.5" the top play in this prop.
More Points Per Game: Stephen Curry or Kevin Durant
Putting two of the league's most prolific scorers on the same court is a very interesting proposition in its own right, and Bovada as taken things one step further with betting odds as to which player ends the regular season with the higher scoring average. Curry's odds to score more points per game are set at +110, with the moneyline on Durant leading the way set at -150.
Looking back at Curry's scoring average during his seven seasons in Golden State, he has been able to increase this number almost every single year. Going back to the 2012/2103 season he averaged 22.9 PPG. He averaged 24 points the next season and 23.8 points in 2015 before raising the bar to 30.1 PPG last season.
Durant has averaged 27.4 PPG over the course of his nine-year NBA career. His highest scoring average was 32 points in 2014 when he played in 81 of 82 games. Health is still a bit of concern for Durant, having missed at least 10 games in three of his last five seasons. This prop is based on a scoring average, but his numbers did drop off a bit in each of those three shortened seasons.
The scoring battle between these two superstars should remain neck and neck all season long, but I am going with the better value in Curry's odds that he ends up with the slight edge over his new teammate.
Read more articles by Dave Schwab