Lani Odds to win the 2016 Belmont Stakes with Expert Predictions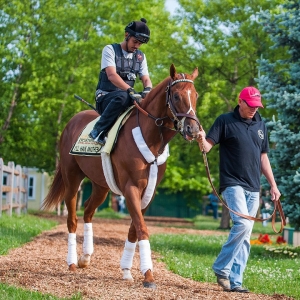 Exaggerator is the iron horse - a horse that runs in all three legs of the Triple Crown - that everyone is paying attention to. He's not the only horse set to run in all three legs, though. Lani is also planning to do it, and he is one of the oddest horses on the Triple Crown trail in recent memory. It doesn't seem like he is a threat here, but he is starting to give off some signs that maybe he could be a factor after all - a factor that would pay a big price if he were to hit the board. So, can Lani have his best race of this Triple Crown trail in the Belmont?
Last race: How was Lani in the Preakness? Fine, I guess. Totally forgettable, but not offensive. He bobbled out of the gate and found himself in last place for the first half of the race as a result. He started to move heading into the last turn and gained some ground - though not enough to ever be a real threat. When the dust settled he had crossed the finish line fifth. It was probably a better race than he had in the Derby, but it still wasn't a race that made you think that the horse was at the level of the best of his class.
Career highlights: The first we saw of this horse in the U.S. - at least since he was bred - was when he appeared in the Kentucky Derby. He got a very slow start and found himself in the back pack. Then he got forced very wide around the turns. He overcame things solidly, though, and was gaining ground admirably down the stretch. He was too far out of it, though, and could only get ninth. As with the Preakness, I would describe the effort as fine but forgettable. To earn that spot in the Derby he won the UAE Derby on the Dubai World Cup undercard. It was not a particularly impressive field that he beat, and again he had to overcome a slow start to get the win. Before that he had run five times in Japan, winning twice.
Jockey: Yutaka Take, who is 47 now, is one of the most famous jockeys in the history of Japanese racing. He has won everything there is to win there along with several races in Europe and Asia as well. His experience in North America has been very limited over the years, though. He is obviously a very capable jockey, though the impression he has given in the first two legs of the Triple Crown is that he is finding it tougher to adjust to North American pace structure than would be ideal. Hopefully he has a better ride - and that would perhaps mean a more aggressive one early on - in the Belmont.
Trainer: Before Mikio Matsunaga became a trainer he was a jockey - though he struggled to win major awards because of his major rival, Take. As a jockey he once scored a major stakes upset aboard a mare named Heavenly Romance - the horse that later gave birth to Lani. That's a stronger connection to a horse than most trainers have. Lani was the first horse he has raced in North America, so this is a new experience for him. He has had plenty of success over the last decade, though, so he is not totally unprepared. His techniques and approaches are certainly different than we are used to - he trains his horse much more each day than trainers here do, and he had declared his horse for both the Preakness and the Belmont just days after the Derby. The horse seems fitter and more mature now than he was when he arrived, though, so maybe the approach is paying off.
Pedigree: Lani's sire, Tapit, also sired 2014 Belmont winner Tonalist, so we know he is capable of producing a winner at this grueling distance. His damsire Sunday Silence won the Derby, Preakness and Breeders' Cup Classic in 1989 and was named Horse of the Year as a result. There is no reason to fear Lani's ability to handle this distance - at least not compared to some of the other horses in the field.
Running style: Consistently throughout his career Lani has struggled to get out of the gate cleanly and has been slow early in races as a result. He has consistently shown a good late move, but when he hasn't won it has been because he was too much out of touch to close the gap. That running style is a concern in this race. The field is packed with closers and is lacking early speed. It is shaping up as a foot race at the back of the pack, and a slow, lethargic start would put him at a bigger disadvantage than the other closers.
Belmont outlook: Lani sits at 14/1 at Bovada - a price that feels lower than what he will go off with at post time. He's a hard horse to judge - he is well-bred and looks impressive, but he has been underwhelming so far. He needs to take a big step forward here to be a factor, and he'll have to do it in his third race in five weeks. He has looked good training at Belmont, but because he works so much more than other horses it's tough to make a meaningful comparison. Still, it seems as if he is rounding into his best form for this race. If the price is indeed in this range or higher then he would be a good horse to involve in the exotics - though I don't see a reason to aggressively use him in the win position.
Doc's Sports has a fabulous offer for new clients. Get $60 in free Belmont Stakes picks with no obligation whatsoever! All you have to do is sign up here, and you will not be required to enter credit card information and you will never have to deal with a salesman.
Read more articles by Trevor Whenham