2016 Miami Heat Predictions and NBA Futures Betting Odds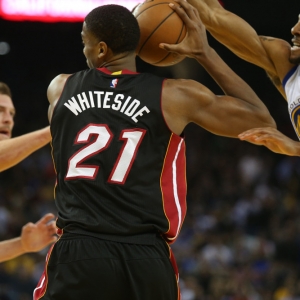 It's going to be strange watching the Miami Heat this year. For the first time since 2003, Dwyane Wade isn't at the core of this team. He shocked many by not blinking when the Heat tried to get him to take a cheaper deal than he felt he was deserved. Instead, he headed home to Chicago to presumably finish out his career. The team needs to find a new heart. That's not the only change by any means, which we will address further later on. This team finished third in the East last year and played the maximum of 14 games in two rounds before being dispatched. There is a potential that they could be about as competitive this year if things go just right. Or they could wind up as a lottery team. This is a tough team to judge.
2016 Miami Heat Betting Storylines
Wade isn't what he once was, but he looked pretty darned solid last year. He wanted to be paid like a guy who has earned respect and who feels healthier than he has in a while. The Heat wanted him to be paid like the fading superstar with bad knees that they feared he was it. It went badly. Now he's gone. So is Luol Deng. The Lakers grossly overpaid him, which is, incredibly, what the Lakers have to do these days. Now the team has a hole on the wing - something they haven't had to even think about in more than a decade.
With Wade gone, the elder statesman of the team is now Chris Bosh. Maybe. The challenge we have is that we really don't know what we have in him. After two struggles with blood clots that have cost him significant time, he might be back and ready to go, or he may never play again. He is preparing and talking like he will be at full strength, but we can't be sure how this will turn out. The challenge of handicapping this team is that we don't know what the availability of Bosh will be. He's their best offensive player if he can go, and the roster and usage by necessity will look quite different if he is gone.
With or without Bosh, the rest of the core here is solid. Goran Dragic is useful in the backcourt, though they could certainly do better. Hassan Whiteside emerged as a defensive force last year, leading the league in blocks. He can take steps forward on both ends of the court, and the team will really need him to. Youngsters like Tyler Johnson, Josh Richardson and especially Justise Winslow have massive upside and should see their games advance. With the losses to this team, though, those players could be forced to do too much, too soon.
2016 Miami Heat Additions and Departures
Wade and Deng are gone. So is Joe Johnson - yet another wing. The team didn't have a pick in the draft this year, so they looked to free agency to fill the gaps. They did plenty, but not much was inspiring. Dion Waiters was the biggest addition. You would struggle to find a fan of his former teams who is sad to see him gone. The price is probably right here - he's making less than $3 million - but he's far from great. Five others were added as well - Beno Udrih, Willie Reed, James Johnson, Wayne Ellington, and Derrick Williams. If you see a difference maker there then you are far more optimistic than me.
2016 Miami Heat Futures Odds and Trends
No one got rich betting on Miami all season last year, but they didn't lose money, either - they were 43-38-1 ATS. There was real cash to be made on the totals, though - they went "under" 47 times and "over" just 34. They were a profitable 8-6 ATS in the playoffs and went under in eight of 14 games.
Miami Heat Futures Odds
NBA title odds : +10000
Eastern Conference title odds : +4000
Hassan Whiteside MVP Odds : +10000
2016 Miami Heat Predictions and Futures Odds Picks
There are things to like. Erik Spoelstra is a great coach, Justise Winslow was a steal in the draft last year. Hassan Whiteside is legitimate - though probably slightly overpaid. Tyler Johnson is very fun to watch. If Bosh is healthy then I really like him, too. That's a big if, though, and there are plenty of issues.
The loss of all those wings will be a concern, and the depth - at least experienced and useful depth - isn't nearly good enough. They have the pieces to be tough to play against but likely not the pieces to be very good and win a lot of games. The most likely expectation is that they will finish fifth in their division. It's not a hugely inspiring division, though, so they could do significantly better than that. Either way, they are very far from being a real contender.
Want free sports betting picks? Doc's Sports has you covered - get $60 worth of picks free from any of Doc's Sports expert handicappers. Click here for free picks (new clients only).
Read more articles by Trevor Whenham