NBA Betting and Handicapping: Buyouts can Help Teams Down Stretch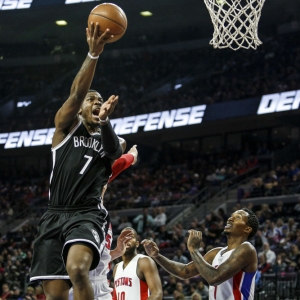 As soon as the NBA trade deadline passes, attention turns to the next way that teams can change their rosters down the stretch - buyouts. A player needs to be waived before the end of February in order for him to be able to join a new team and be eligible for the postseason, so we are in the midst of a tight window. Players will be bought out for a number of reasons - because they were throw ins to make trades work but weren't wanted on their new team, because they are aging and want a shot on a contender before their time is done, because they have unwieldy contracts that teams don't want to be weighed down by anymore, because the team was unable to trade the player, because the team needs a roster spot, and so on.
These transactions can easily get more attention than they deserve - in almost every case if the player was truly valuable then they never would have been bought out in the first place. There are always some intriguing names, though, and in the right circumstance they might still have something left to give and could perhaps even help out bettors seeking for late-season value. Here are five of the more interesting names in play this year:
David Lee: Lee is 11 years into his career, but he's certainly well rested lately. Last year he rode the pine for the Warriors as Draymond Green developed into the monster he is. This year he got traded to Boston but was again unable to find much playing time behind younger and now better players. Lee certainly won't be starting in Dallas, either, but he should be able to find some playing time in a couple of positions in relief roles. He was an all-star as recently as 2013, so there is some potential here - especially if he can find some chemistry and effectively fill the role the team needs him to fill. He could be in for a rude awakening, though - he's talking like he just joined a real contender, but that just isn't the case.
Anderson Varejao: Varejao tore his Achilles in December of 2014 and hasn't been the same since. LeBron James was a big fan of Varejao's when he returned to Cleveland, but judging by Varejao's comments upon leaving Cleveland this week it was clear that the chemistry around the Cavs wasn't exactly rosy. He almost immediately joined the Warriors. He'll play a depth role there - they obviously don't need to make any dramatic changes in key roles. He's not likely to have a big impact on things, but he knows as well as anyone what goes on in the Cavs' locker room, so he could provide valuable intel leading to the finals.
Steve Novak: Novak was a non-factor in Oklahoma City, having played a grand total of 24 minutes in seven games this season. It was time for the team to move on. He wasn't unemployed for long, quickly returning to where he played college ball and joining the Milwaukee Bucks. The Bucks are by no means a good team, and the playoffs are totally out of the question. Novak is good in the locker room, though, so maybe he can teach the young players at the core of the Bucks a little bit about what it takes to win. He briefly played with Milwaukee coach Jason Kidd in Dallas, so there should be some trust there. Don't look for Novak to light the world on fire, though - not that he ever really has.
Andrea Bargnani: What a mess of a career Bargnani has had - certainly not one worthy of a No. 1 pick. He was mostly underwhelming in Toronto, and the trade that finally saw them get rid of him was a miracle. The Knicks got exactly what they should have expected from him - not much at all. This year he wound up in New Jersey and did very little of note there, either. He just isn't much of a player right now - at least not with any consistency. As I write this the only interest he has had is from Europe, but he doesn't seem to be interested and would rather try to find another landing spot in the NBA. It shows just how disappointing his career has been that it is quite easy to imagine him not winding up anywhere. At the bargain basement price any team would pay for him now, though, you could argue that it might be worth a gamble for some team somewhere. I just hope he doesn't wind up with a team I actually like.
Joe Johnson: Bargnani might not be the only fading star to leave the Nets. There is a lot of buzz surrounding the potential for Johnson to move on. He has said that he isn't interested in the move, and that could slow things down. He would be attractive if he were available, though, and there are rumors flying that he would land in Cleveland if he were to get bought out. If that is indeed a viable landing spot for him then I just don't see why he wouldn't leap at it and try to end his career on a higher note than his time in New Jersey has been. He's one to watch for sure.
Read more articles by Trevor Whenham