NBA Betting Trends: Hot and Cold Teams Against the Point Spread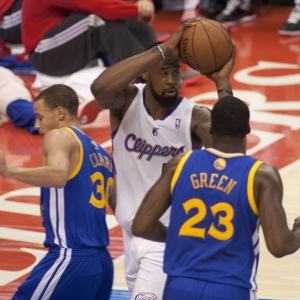 Now is a good time to start watching the playoff standings in the NBA. Most teams only have a little bit more than 20 games left in the regular season. Every year we see some teams catch fire this time of the year and springboard themselves into the playoffs. Of course, there will some cases on the other side, where teams who currently look like contenders fall apart down the stretch. The bottom of the Eastern Conference is jammed up with all kinds of possible playoff teams. That will take some major sorting out in the coming weeks.
Doc's Sports has done an NBA ATS Hot and Cold report in the past, and we'll be doing it again this year. We'll highlight the Top 5 hot teams and the Bottom 5 cold teams in each article. This will allow people to see which teams are streaking and which teams are slumping. In a league that is unquestionably a momentum-driven league, that can be extremely important. This report will be offered on a bi-weekly basis throughout the NBA regular season. The statistics listed for this article are for all games played Feb. 18 through March 3.
Top Five Hot Teams
1. Miami Heat (7-1 ATS) The Heat played a brutal schedule in the weeks before the break, and that made them go through a long slump, but they have turned things back around. Miami has moved up into the fourth spot in the Eastern Conference standings. They have made this run without Chris Bosh, who is out indefinitely. The Heat are now 10-1 ATS in their last 11 games vs. the Eastern Conference. They are 4-0 ATS in their last four games on zero days of rest.
2. Brooklyn Nets (5-2 ATS) This one is a big surprise to me. The Nets looked like a team that didn't care for quite some time before the break, but they have been playing much harder in recent weeks. Thaddeus Young has been playing excellent for this team. Also, despite the team having a rough year overall, Brook Lopez has been very reliable this year.
3. Charlotte Hornets (5-2 ATS) Charlotte is one of the teams in the jammed-up Eastern Conference standings. The Hornets have definitely been better than expected this year. Nic Batum and Jeremy Lin have both been solid additions, and Kemba Walker is playing the best basketball of his NBA career. Charlotte plays their next seven games on their home court, so this is a chance for them to continue to gain ground.
4. Los Angeles Clippers (5-2 ATS) The Clippers have gone 19-10 ATS in their last 29 games. Blake Griffin hasn't played in any of those games. Where have the Clippers improved in order to be much better of late? The defensive end. Los Angeles is second in the NBA in field goal percentage defense, allowing opponents to shoot only 43.4 percent on the year. It will be interesting to see what the team chemistry looks like when Griffin returns. If they struggle at all, you can bet the media will be ready to point it out!
5. Memphis Grizzlies (5-2 ATS) Memphis has been playing much better defense in the past few weeks as well. Early in the season, the Grizzlies were disappointing because they ranked in the Bottom 10 in the NBA in defensive efficiency. The Grizzlies now rank in the Top 10 in the NBA in defensive efficiency in the past month. This is a veteran team that isn't elite, but they also do have a lot of pride and it shouldn't surprise anyone that they have improved of late.
Top Five Cold Teams
1. Utah Jazz (1-7 ATS) The Jazz have to be considered the biggest disappointment in the league since the break. Utah has their big men healthy, and they were expected to make a nice run with them in the lineup. Instead, the Jazz have now lost their last four games. In addition, the way they have been losing some of these games is concerning. Their home blowout at the hands of the Spurs was a real eye-opener.
2. Philadelphia 76ers (2-6 ATS) The Philadelphia 76ers defense has been atrocious in recent weeks. The 76ers have allowed 111 points or more in eight of their last nine games. Here's a really interesting statistic: the 76ers are only 11-26 ATS against the Eastern Conference this year. Philadelphia is 16-7 ATS when playing against the Western Conference.
3. Cleveland Cavaliers (2-5 ATS) The Cleveland Cavs are a tough team to figure out. They clearly have a very high upside, but they just aren't consistent at all. This is a team I've been avoiding altogether based on the large unknown. Cleveland is one of those teams that could really use a nice run to finish off the season. They are only two games ahead of Toronto for the best record in the Eastern Conference.
4. Denver Nuggets (2-5 ATS) Denver has been back and forth a lot of different times this year. They are one of the streakiest teams in the league on an ATS basis. The Nuggets typically have a great home-court advantage, but they have been best away from home this year. Denver is 19-11-1 ATS on the road this year. Their next five games are at home, so we'll see if they can turn things around on their home court this time.
5. Phoenix Suns (2-5 ATS) The Suns are 16-16 ATS at home this year. On the road, they are a brutal 7-22 ATS. After winning their first two ATS this year, Phoenix is on a 5-22 ATS run on the road. They are 0-7 ATS in their last seven road games vs. a team with a winning record. Six of their next eight games are on the road, and most of them are against high-quality teams. The Suns could be on this side of the report again next time!
Read more articles by Aaron Smith