NBA Betting Trends: Hot and Cold Teams Against the Point Spread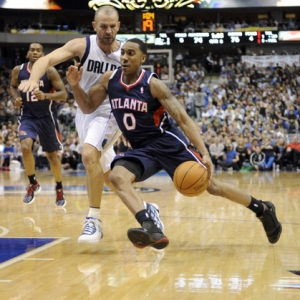 The Saturday night showdown between Golden State and San Antonio didn't disappoint. I think I speak for almost all NBA fans by saying I hope we get to see a series between these two. It would be great for the league as a whole. The Spurs are only three games behind the Warriors for the best record in the NBA, but the Spurs play a much tougher schedule down the stretch. Cleveland is only one game up on Toronto in the Eastern Conference. Indiana, Chicago, Detroit, and Washington appear geared up for a good battle for the last couple playoff spots in the Eastern Conference.
Free $60 in Member NBA Picks No Obligation Click Here
Doc's Sports has done an NBA ATS Hot and Cold report in the past, and we'll be doing it again this year. We'll highlight the Top 5 hot teams and the Bottom 5 cold teams in each article. This will allow people to see which teams are streaking and which teams are slumping. In a league that is unquestionably a momentum-driven league, that can be extremely important. This report will be offered on a bi-weekly basis throughout the NBA regular season. The statistics listed for this article are for all games played March 4 through March 20.
Top Five Hot Teams
1. Atlanta Hawks (7-2 ATS) The Atlanta Hawks are playing tremendous defense, and that's definitely the reason they top this side of the report. Atlanta has quietly gotten up to third spot in the Eastern Conference playoff standings. The Hawks have covered four straight games. Atlanta is going to be a tricky out in the playoffs this year if they keep up this defensive intensity.
2. Chicago Bulls (6-2 ATS) For the year, the Bulls have been a really bad bet. Chicago is 29-39 ATS this year overall. It does appear though that the oddsmakers have finally gotten too low on the Bulls. This Bulls team is still a difficult one to know what you will get on a daily basis though, so my strategy on this team will be to play them only as an underdog. I don't want to lay points with a team like this one.
3. Oklahoma City Thunder (6-2 ATS) Oklahoma City has been great in the past couple weeks. They have picked up some nice wins and covers on the road as favorites, which had been a big problem for them in past weeks. On the year, Oklahoma City is still the second-worst team against the spread in the NBA when playing on the road (13-21 ATS). The Thunder's upside is unquestionable, but can they show the consistency necessary to make a deep run? That remains to be seen.
4. Orlando Magic (6-3 ATS) I don't think there has been a team flip flop back and forth between the hot and cold sides of this report more often than the Orlando Magic. Orlando is 39-29-1 ATS so far this year. That makes them the third-best ATS bet in the league this season behind only the Spurs and the Warriors. This young team is definitely on the right path, and they are a team I'm not afraid to back as an underdog.
5. Denver Nuggets (6-3 ATS) At 38-30-2 ATS on the year, Denver has been the fifth-best team to bet in the league this year. Denver is generally known as a great home team, but they are 21-13-1 ATS this year. The Nuggets are 32-23-1 ATS as an underdog this season. When will the oddsmakers catch up to this team?
Bottom Five Cold Teams
1. Los Angeles Clippers (2-7 ATS) Overall, they have played very well without Blake Griffin. In the past couple weeks, the Clippers have been scuffling though. If the playoffs were to start today the Clippers would take on the Grizzlies in the first round of the playoffs. It feels like that is simply an annual occurrence at this point.
2. Boston Celtics (2-6 ATS) The injury to Jae Crowder definitely has something to do with this slump. Boston is a deep team overall, but they don't have other guys with the same skill set as Crowder. The Celtics start a key five-game road trip in Phoenix this Saturday night. Boston is in fifth place in the Eastern Conference playoff race, but they are only a game behind Atlanta for third.
3. Los Angeles Lakers (2-5 ATS) The Lakers have failed to cover in their last four games. This is a team I'd be either looking to bet against or simply stay away from as the season winds down. I don't see them being motivated to win games or cover the number. The Lakers are 22-45-1 ATS in their last 68 vs. the Western Conference.
4. Washington Wizards (3-6 ATS) The Wizards have been cold and they are 0-5 ATS in their last five games. Still, I see this as a team that has the potential to get hot to end the season. This team is better than their record so far this year would indicate. I'll look to back them as the oddsmakers will likely be too low on them down the stretch.
5. New Orleans Pelicans (3-6 ATS) What a wasted season for this Pelicans team. They were expected to be very good this year, and things have gone about as badly as anyone could have ever imagined. Now, Anthony Davis is shut down for the rest of the year. What should you do with this team now? I recommend staying away to wait and see what kind of effort the rest of the roster gives without their star in the fold.
Read more articles by Aaron Smith