NBA Betting Trends: Top Totals Wagering Teams for Over and Under This Season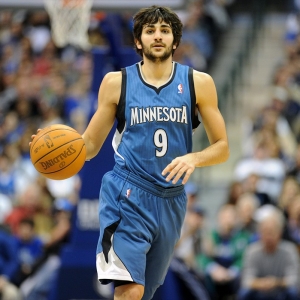 We are, incredibly, already three-quarters of the way through the NBA season. The playoffs are just around the corner. This is as good a time as any to take a look at which teams have been making money for totals bettors so far this year. The sample size is large enough now that there is a decent chance that teams that have generated profits up to this point could keep generating them down the stretch.
"Over"
Minnesota Timberwolves (37-25): The formula for the success of this team at going over the total is simple - they are lousy defensively. Their offense is slightly below average, but defensively they are rough - allowing 105.5 points per game. They have allowed more points than that average in eight of their last 10 games - and it's no coincidence that the over is 8-2 in those games. The issues the T-Wolves have defensively - age, personnel, scheme - are not the kind that get fixed quickly, so these issues could very well persist profitably down the stretch.
Houston Rockets (37-26): This is an even better formula than the Timberwolves have - the Rockets have a Top 5 offense, and they are horrible defensively. The reason for their defensive struggles is obvious - they just don't care. This is not a team that is particularly invested in cohesiveness or success right now, and it shows in their results. The over is 7-3 in their last 10, so it's not like they have turned a new leaf now that games matter more down the stretch.
Denver Nuggets (36-26): This is the Minnesota model again - an underwhelming offense combined with a poor defense. There is a difference here, though. In Minnesota there are young players that people pay attention to and are excited by - Karl-Anthony Towns and Andrew Wiggins. People actually care about the team. There is nothing to care about when a team's leading active scorer is Will Barton. Denver is an anonymous team for the betting public, which keeps them under the radar and can make value easier to find. There are some decent players there, just none that get the imagination going.
Golden State Warriors (35-29): They average five points more per game than second-place Oklahoma City and double digits more than almost every other team. Their defense is decent but is certainly dictated by their offensive schemes and their tempo. In other words, they can afford to give up a lot of points because they can score more. If you can't figure out why this team goes over the total a lot then you just aren't paying attention.
"Under"
Miami Heat (23-39): This is the most profitable of all teams in the league when it comes to totals. The reason is clear - they have a Top 2 defense and a Bottom 5 offense. Offense is in short supply - especially with Chris Bosh likely gone for the rest of the season. The under is 3-2 in the five games since Joe Johnson joined the squad so, shockingly, he doesn't seem to be an immediate remedy to the woes. That isn't shocking, but it is good news for bettors.
L.A. Clippers (26-35): This team is more surprising than many we have talked about so far - they have a Top-10 defense but also have a Top-10 offense. Their ability to go under so consistently probably has to do with two things - their defense is better than the public gives them credit for, and the offense isn't quite as consistently scary as the public thinks it should be given the personnel. Of course, you have to also note that Blake Griffin has missed a lot of time this year The under is 6-2 in the last eight without him, so the missing offense he provides, and the somewhat better defense they often get without him, is having an impact.
Oklahoma City (28-35): This one is a surprise, too. They have the second-best offense in the league and a slightly-below-average defense, yet they have gone under the total the majority of games this year. This is a star-driven league, and the public loves their stars. When a team has two offensive superpowers like this squad does then people obviously expect a lot of offense - even more than this team can consistently provide, it seems.
Utah Jazz (27-34) : After two interesting teams to evaluate, we finish off with one that is very simple to understand. The Jazz have a Top-4 defense and a Bottom-4 offense. It's how they are built, and they are consistent with it - not that it works great for them in the standings. The under is 4-2 in their last six, so they aren't in danger of changing their approach, either.
Read more articles by Trevor Whenham