NBA Eastern Conference Futures Odds: Cavaliers a Big Favorite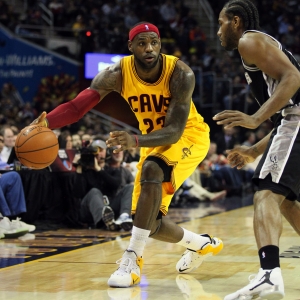 The prevailing theory amongst most NBA fans is that LeBron James is destined to make another NBA Finals appearance, which would be his sixth consecutive trip, and that the Cleveland Cavaliers are ready to run over a weak Eastern Conference during the playoffs. However, for those that have not been paying close attention, the Eastern Conference is the strongest it has been in a decade, and James seems hell bent on torpedoing Cleveland's postseason chances.
The two-time NBA champion has taken every opportunity he can find to create drama and distraction for the Cavaliers by unfollowing the team on Twitter, working out with Dwyane Wade in Miami, and constantly talking about which superstars (besides Kevin Love and Kyrie Irving) that he would like to play with. The 2016 NBA Playoffs are set to start on Saturday, April 16, and the Eastern Conference may not be as cut and dry as it typically seems. Let's take a closer look at the futures odds and figure out who has the best chance at knocking off Cleveland.
Free $60 in Member NBA Picks No Obligation Click Here
2016 Eastern Conference Futures Odds
Cleveland: -300
Toronto Raptors: +500
Miami Heat: +1000
Boston Celtics: +1600
Cleveland : James and company are a huge favorite to win the east, but they do not have much value with a number as large as -300. No player outside of the 1960's Boston Celtics has made six straight NBA finals appearances, which is what James is on course to do. Players and teams get fatigued all the time, and deep postseason runs are not a given. James may not have the patience to drag another team to the finals.
Toronto : The Raptors have quietly been one of the most consistent teams in the league with a young and talented core made up of Kyle Lowry and DeMar DeRozan. The team plays excellent defense, moves the ball, and clocks in as the third-best 3-point shooting team in the league (which is huge in today's league). Most importantly, however, Toronto is receiving a great price at +500. If Cleveland is ready to self-destruct, expect the Raptors to take advantage of that dysfunction.
Miami : The Heat are an intriguing team with excellent coaching and loads of potential, but internal drama and various injuries have kept the squad from reaching their true potential during the regular season. Forward Chris Bosh is still out dealing with serious medical issues and will probably not be available for the postseason. The young center Hassan Whiteside has been nothing but polarizing throughout the season, and the additions of Joe Johnson and Amar'e Stoudemire have been uneventful. Miami isn't a team ready to dethrone the Eastern Conference champions.
Boston : The Celtics may be the most well-coached team in the east as Brad Stevens continues to catapult himself into the Gregg Popovich/Steve Kerr conversion for best coach in the league. At +1600 futures odds and a potential second-round matchup, a Celtics versus Cavaliers series has upset written all over it. Boston has done more with less than any team in the league over the last three seasons. And with Cleveland on the verge of falling apart, taking the +1600 feels like an excellent "gamble".
Even if the Cavaliers end up winning the east, wagering on another team to knock them off feels like a solid bet to make. Winning is difficult in the NBA and James isn't just going to walk his way into six straight finals appearances. Take Toronto or Boston with a small bet.
Read more articles by George Monroy