NBA Handicapping: Atlanta Hawks Most Bland Team in Eastern Conference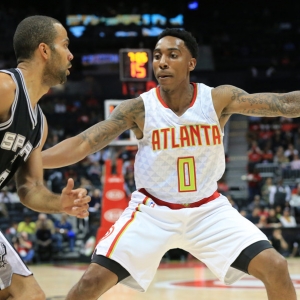 Last year the Atlanta Hawks were pretty impressive. They weren't perfect, but they took massive steps forward and it seemed like they were really building towards something. This year so much of that momentum is gone. They aren't bad by any means, but they aren't exactly inspiring, either. They are just generic - like cheap vanilla ice cream. No one's going to complain about being served a bowl of vanilla ice cream, but no one would request it for their last meal, either. They have been so bland that it can be easy to forget about them.
So, what is going on in Atlanta? And what does it mean for bettors the rest of this season? Here are six factors to consider when pondering those questions:
The trades that didn't happen: This was one odd way for a front office to operate. In the month or so leading up to the trade deadline they flirted with the idea of blowing the team up and starting over. Al Horford was widely thought to be on the block. So were others - it didn't seem like anyone was sacred if the price was big enough. As the deadline neared they seemed to indicate that they might instead be looking to make a splashy addition at the right price. A 180 degree shift in philosophy. In the end, they did neither. The closest things to big moves they did was trade a spare part for Kirk Hinrich, and sign the recently-bought out Kris Humphries, who joins his third team this season and sixth since 2013. If you think that Hinrich and the former Kardashian are the answers to your problems then your biggest issue is that you have no idea what your problems really are. It seems really odd to have let business be aired publicly like that when you seemingly have no intention of acting on it. You can't imagine that it was great for team morale along the way.
Hardaway: As a Michigan guy I have always kept an eye on Tim Hardaway, Jr. I was glad to see him get out of the mess that is the Knicks but had been very concerned by how poorly he had transitioned to Atlanta. A wrist injury slowed him to start, but even when healthy he struggled to find a role. It seemed like he was destined for a short career. Recently, though, a switch has been flipped with him. He's still not lighting the league on fire or anything, but his last five games have been his best in Atlanta, and he has become a valuable bench presence. If nothing else, it's a good sign that forward progress is still being made even as the team seems to be running in place.
Schedule: The Hawks have the toughest remaining schedule of any team in the Eastern Conference between third and 10th place. That's not good news. They currently sit in fifth in the conference but are just 2.5 games out of 10th. The margins are small all the way down - they have a half-game margin on sixth, another half on seventh, and just a game and a half on eighth. It is no guarantee that the team will even make the playoffs, then - though they have no excuse not to. Almost as significantly, it is definitely in their interest to finish fifth. That way they avoid Cleveland, Toronto and Boston in the first round and give themselves the best chance of moving on to the second round.
Coaching overcomes issues: Mike Budenholzer is really good. Coach of the year last year in his second season as a head coach. He manages games and rosters equally well. He gives the team a big edge in this race to the finish.
Balance: While I think it odd that the Hawks didn't make moves at the deadline, I do have to acknowledge how their roster is built. They have five players averaging double-digit points, with Kyle Korver close at 9.3. The bench is deep and solid. This team should be more slump resistant than many because at this point they aren't relying on any one player to make things work for them.
Betting performance: Like I said at the outset, the Hawks have been a bland and forgettable team this year. Their betting record certainly backs that up - at 30-30-1 ATS it has been impossible to make any long-term profit on them no matter whether you like them or like to bet against them. They have been a walking coin flip this season. They have been no better on the total., either - they have gone "under" in 31 of 61 games.
Read more articles by Trevor Whenham