NBA Handicapping: How to bet the Dallas Mavericks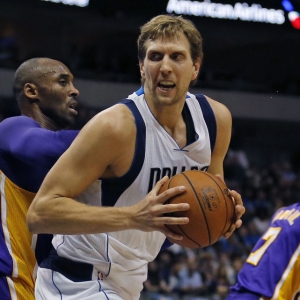 What a mess. We knew that the Dallas Mavericks were likely not going to be as good as they have been in recent years this season. They have made plenty of changes the last couple of seasons but have seemed to struggle to keep up with the best of the West. Even the most pessimistic out there, though, couldn't have expected this. Their 2-11 record gives them two less wins than every team in the league. The freaking Sixers and Nets are looking down on Dallas. Just think about that for a second.
The looming question is obvious for the Mavs. Are they really this bad? As bettors do we just fade them every chance we get, or do we wait for them to start turning a corner and cash in before the public catches on? Here are six factors to consider as we ponder those questions:
Dirk Nowitzki: It certainly doesn't help the team that their heart and soul has played only three games. The big German has missed the last eight games with an Achilles injury, but he could be back in action as soon as Wednesday. With him they have issues, but without him they are just lost. It's worth noting that the two wins Dallas does have, which came in consecutive games against Milwaukee and at the Lakers, came with Nowitzki newly sidelined, but that certainly doesn't mean that they are better without him. He's still the glue that makes things work here. And that is a big part of the problem. I don't have a single bad thing to say about Dirk - he's a legendary player and has been exceptional in Dallas. He's 38, though, and that is ancient for a bigger guy in this league. Somehow, though, the Mavs have been unwilling or unable to move on from the model that has served them so well for so long - constructing their team as a support structure for their star. They have bet that he is good enough to keep them relevant, and he has been up until now. He may still be, but it's still not a smart long-term play. The day the team got screwed by DeAndre Jordan they should have committed to a tanking rebuild that would set them up to quickly climb back up to the highest ranks of the sport. At this point, though, they seem committed to just trying to tread water - and will stay that way as long as the legend is still the centerpiece.
Harrison Barnes: Barnes was the biggest addition of the offseason and the biggest in a while. And that's the problem - when your big splash is grabbing a guy the best team in the league has replaced in a massive upgrade then you aren't playing with the big boys. To his credit, though, Barnes has been excellent. He has managed to pretty much double his offensive production yet has maintained the efficiency that made him admirable with Golden State. This team has been shockingly limp offensively as it is - their 90.7 points per game are so bad that Orlando, at 92.3, is the only other team under 96. It's scary to think just how bad this team would be if Barnes hadn't stepped up like he has.
Coaching: If I were starting a team from scratch and could have anyone leading them, Rick Carlisle would be a top five pick as a head coach. He's the real deal, and I have all the time in the world for him. If he is committed to being in Dallas then they can't do any better than him. My only question, though, is if this is really what Carlisle wants. This team needs to embrace a rebuild. At this stage in his career does Carlisle want or need to go through that? If he does then nothing more needs to be said. If he doesn't have the appetite for it, though - and that would not be a reason to knock him in the slightest - then they might as well move on sooner rather than later. It's not like the team could be dramatically worse without him at this point. Of course, with the loyalty that both Nowitzki and Mark Cuban show, the chances of him leaving are just barely north of zero.
Schedule: The schedule makers sure haven't done this struggling team any favors. Only the Bulls, Jazz and Suns, with 10 each, have played more road games than the nine Dallas has had so far. Compared to just four home games, that is a real imbalance. Dallas hasn't helped their own cause, either -- they have won just once in those nine away games. There were trips to Golden State and San Antonio that they likely weren't going to win no matter what, but games at places like New York and Orlando count as real missed opportunities. They have another brutal trip, this time to Cleveland, on Friday, but they play nine of their next 12 at home so if they are going to do anything to salvage this season they need to do it now.
Betting performance: The Mavs have actually created some betting opportunities if you approach them right. They sit at 4-9 ATS, so you can make good money betting against them regularly. Their offensive ineptness also means that they have gone "under" the total in eight of 13 games.
We would like to offer you $60 of member's predictions free - no obligation, no sales people - you don't even have to enter credit card information. Click Here for $60 in free NBA predictions. Also, for a limited time only, you can get three handicappers NBA picks for the price of one! Click Here for more details!
Read more articles by Trevor Whenham