NBA Handicapping: Lakers a Tough Team to Handicap from Betting Standpoint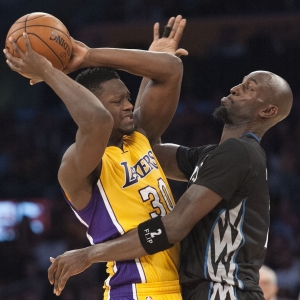 On the dawn of the NBA season there are a lot of teams out there that are tough to evaluate. What will the Thunder look like without Kevin Durant? Can the Sixers still turn a corner without Ben Simmons to start the season? Do the Celtics have the depth to match their hype, or is their lack of a true star a bigger issue than most seem to think? Can this 2012 All-Star team assembled in New York recapture their lost youth?
Of all the squads, though, the one that perplexes me most as a bettor is the Lakers. There is so much uncertainty, and so much that makes it tough to judge, that just thinking about them and this coming season really makes my head hurt. Why? There are dozens of reasons, but here are five that sit atop the pile:
Coach: I like Luke Walton and don't have a big issue with his hire. Judging what to get from him, though, is all but impossible. For starters, the guy is just 36 years old. He could still be in the league. As recently as 2013 he was. A year earlier he was playing for these Lakers. His coaching record is impressive but brief. He worked as an assistant at the University of Memphis during the 2011 NBA lockout. Upon retirement he worked as a player development coach for the L.A. Defenders. On July 3, 2014 - just over two years ago - he became an assistant for the Warriors. He won a title - the third of his career - that first season. The next season - last year - Steve Kerr was hurt to start the year, and Walton ran the show. He won his first 19 games and was 39-4 when Kerr returned. Because he was only the interim coach he doesn't technically get credit for the wins, so he is still 0-0 for his career. Is he ready? Does he know how to run a team when it is his for real - not just until the boss comes back? Does he know about coaching anything other than the best team on the planet? Will he command the attention of this very young team? He's an X-factor. He could easily be the next great coach, replacing Brad Stevens as the young superstar of the coaching fraternity. Or he could be out at the end of the season.
Development of youngsters: Brandon Ingram is being relied upon to be the star of this franchise. He was born in 1997. I graduated from college that year. This makes me feel exceptionally old. He's the youngest player on the team, but not by much. Ivica Zubac was born in 1997, too. D'Angelo Russell - who happens to now be the team captain - is a 1996 baby. Nine guys on the roster right now were born in 1991 or more recently. This is a very young squad. Youth brings excitement but also issues. If Ingram can hit the ground running, Russell can build on last year's success, and others like Julius Randle and Larry Nance can step forward then this can be an interesting team on a nice trajectory. If they trip over their own babyish feet, though, like the Sixers last year, then things could get ugly. Until we see how things develop we can't know for sure.
What did Kobe actually do?: It has been very easy to be negative about Kobe Bryant in recent years. He doesn't play well with others, his skill had eroded at the same rate as his selfishness had increased, and he seemed like much, much more of a distraction than an asset. I, for one, was counting the days until he left and the Lakers could finally start the next chapter. Now he's gone, though, and we can't truly know what that will mean. We have assumptions, but until we see what a Kobe-free Lakers team actually looks like we are just guessing, Maybe he brought more than it seemed. Maybe the squad was even worse than they appeared and Kobe was the only thing saving them. I doubt it, but I can't be sure.
Public fascination: Teams this incredibly bad, this hopelessly run, this oddly built - they just don't get attention. Unless they are the Lakers. We don't talk about teams in deep rebuilds. We don't care until they are relevant. What's going on with the Nets right now? No one knows or cares. The Lakers are the Yankees. The Cowboys. The Canadiens. They matter because they exist. And that makes everything tougher.
Health: This team does not have a lot of depth. That makes them particularly vulnerable to injuries - much more so than teams with depth to rely on and experience to fall back on. Julius Randle has already struggled with injuries, and the other central pieces are only one misstep away from a long injury. You have to fear injuries for every team, but this one more than most.
Doc's Sports is offering $60 worth of member's picks absolutely free - no obligation, no sales people - you don't even have to enter credit card information. You can use this $60 credit any way you please on any of our top NBA handicappers. Get your $60 in free NBA picks here. Also, for a limited time only get three top NBA handicappers for the price of one! Click Here.
Read more articles by Trevor Whenham