NBA Handicapping: Portland Trail Blazers a Boon for Bettors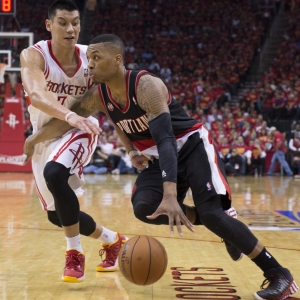 There must be something new in the water in Portland or something, because the Trail Blazers have been playing like a whole new team since Jan. 10. On that day they were 15-24, and it looked like it was going to be yet another wasted season in the Pacific Northwest. Since then, though, they are an incredible 18-5 and have climbed right back into the playoff hunt. If the playoffs started now they would be the seventh seed, and they would likely have to play worse than they did in the first half of the season to fall out of the playoffs entirely. Now, making the playoffs as a lower seed in the West isn't exactly a gift - you get crushed by the Warriors, Spurs or Thunder in the first round. Still, it's better than not making it, and quite remarkable given how the team started out.
So, how is the team doing it? And what does it all means for bettors? Let's take a look:
Damian Lillard: The unfortunate thing for Lillard is that Steph Curry exists. If he didn't, or at least wasn't playing at the immortal pace he currently is, then a whole lot more talk would be about Portland's point guard. The Weber State product has scored 30 or more points in eight of his last 10 games - and the team has gone 8-2 over that stretch, losing his two lower-scoring efforts. The best of those efforts, a 51-point explosion, fittingly came against Steph and the Warriors in a huge win. He's shooting like crazy all over the floor right now, and he's getting to the line a lot and taking advantage when he gets there. It has been a truly impressive stretch of play. Of course, Lillard has long been almost as impressive in Portland. His strong play, and command and leadership in the backcourt, is a big part of the reason why the team was able to confidently make the major changes they did heading into this season. Lillard has taken C.J. McCollum under his wing, and the chemistry they have developed makes them one of the top guard duos in the whole league. This team wouldn't be where they are without Lillard any more than the Warriors would be without Curry.
Terry Stotts: If I had to vote right now, I would give the Coach of the Year to Dwane Casey in Toronto. It can't go to Golden State because two coaches have shared the load, and Gregg Popovich is just doing what he always does. Casey would have close competition, though, from Portland's Stotts. He had a team that was gutted in the offseason, and they got off to a rough start. Many coaches would have accepted their fate and quietly started thinking about their next job. Stotts instead coached his face off. He's got this young team playing way beyond expectations and building tremendous confidence with every outing. It's a masterful showing and a big reason for the success. It's worth noting that Casey and Stotts both worked together under Rick Carlisle in Dallas, proving just how important coaching trees really are.
Patience: The front office deserves all sorts of credit for being so patient. They didn't panic in the summer when LaMarcus Aldridge, Robin Lopez, Wes Matthews and Nicolas Batum all left. Other teams might have made crazy free agent moves to stay on track or gone into full fire-sale mode - or, worst of all, overspent in an attempt to keep the players on board. When things were going rough earlier in the season they didn't panic and make a move. When they were hot and moving into contention at the trade deadline they didn't aim for the big move that is supposed to put a team over the top but so rarely does. They banked on the backcourt they had, added some reasonable pieces, and let things develop on their own schedule. It seems so logical, but it's too rare in sports these days.
Effort level: The Warriors are, of course, the most fun team to watch right now. It's not even close. Portland is right in that second tier, though. They always play with all the effort they have to give. It's refreshing - and clearly showing results right now.
Balance: It has all been rainbows and unicorns up to this point, but not all things are positive with this team - if they were then they would be higher in the standings. Lillard is averaging 25.3 ppg, and McCollum is at 20.8. They have just one other player averaging double digits - Allen Crabbe at 10.6. That's a huge drop off in production from the engine to the rest of the team. Even the Warriors have four players averaging 12 points or better. The more reliant you are on two players, the more vulnerable you are to too many things - an off night, injuries, foul trouble, persistent and focused defense. The team needs to find or develop a third and fourth presence to compete in the long term. In their defense, though, they are a ridiculously young team. The Warriors have four players who are 25 or younger on the roster. Portland has 11 - including both Lillard and McCollum. If the patience is maintained in the organization then we are just at the start of what this team can become.
Betting performance: The slow start put bettors in an early hole, but things have turned around nicely. The team is now a profitable 35-27 ATS on the season, which is the fourth-best mark in the whole league behind only San Antonio, Golden State and Boston. Good company to be in. They have gone "over" the total in 33 of 62 games, so betting the total over the long term has been basically a wash for the squad.
Read more articles by Trevor Whenham