NBA Handicapping: Toronto Raptors Hot for Bettors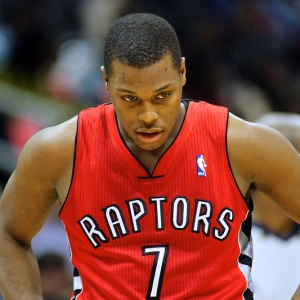 The Toronto Raptors are the hottest team in the Eastern Conference after winning four in a row, and their nine wins in their last 10 is matched only by Houston. They are dialed in. But does that mean that they will be legitimate contenders by the time the playoffs roll around? Or are they forever consigned to the role of a very good team that just isn't quite good enough when it really matters? And are they a team that bettors should love or avoid? Here are six factors to consider when pondering those questions:
DeRozan and Lowry: DeMar DeRozan got paid in a big way this summer. And this week he became the second ever Raptor to score 10,000 points for the team (Chris Bosh is the other). And the two-time all-star is playing the best basketball of his career right now. He's somewhat less streaky, he's scoring more, and he's more efficient. Kyle Lowry has upped his game as well. He's also more efficient and has tightened up his game in other ways. Together they are the one-two punch that drives a pretty impressive offense. Neither is defensively stellar, and that's a bit of a factor, but if they keep scoring that isn't a massive issue.
There are concerns - Lowry in particular is probably playing too many minutes, and the team would struggle to overcome a long injury absence from either guy. Being built around these two as this team is, though, is less concerning than it has been at any time up to this point. They have really grown into their roles and are proving that the team made the right decision in committing to them and patiently staying the course and letting them develop. It's what good teams do - Golden State, for the most obvious example.
Challenging opponents: The Raptors are 18-7. Nothing wrong with that. The losses, though, are a bit of an issue. They have single losses to the Clippers and Warriors. That isn't ideal, but everyone loses to Golden State, and the Clippers loss was on the road, so neither is a huge deal.
The other losses, though are more concerning. Their path to the finals would almost certainly go through Cleveland, so it's a problem that they have already lost to the Cavs three times. The margins have only been three, four and four points, so they aren't getting blown out, but they are still losing. The other two losses are just bizarre - they have somehow lost to Sacramento twice. The Kings have nine wins, and two of them are against a team with 18 wins. There's no real way to explain that. They don't need to worry about seeing the Kings in the playoffs - maybe never - but the other losses are something that needs to be addressed if this team has major ambitions that they hope to realize.
Patterson: Getting rid of Rudy Gay is what turned this team into a contender. The Kings should learn from that. Just not having him on the team would be enough, but the Raptors also got Patrick Patterson back as part of the deal, and that has been a major benefit. There are some guys in this league who don't stand out when you just look at basic stats, but when you watch games you see how important they are. This team is just plain better with Patterson on the court. His offensive and rebounding numbers are just okay, but his presence is significant, and he consistently leads the team in plus-minus. It takes the ideal blend of stars and high-level role players to build a title team. Patterson's importance can't be overstated.
Valanciunas: Jonas Valanciunas is a disappointment. He's fine, but in his fifth year I was really hoping for the seven footer to finally emerge as the player he clearly could be. It hasn't happened. He has been banged up, his production is flat, and the coaching staff clearly doesn't trust him as a clutch player - he has spent too much time on the bench when games are on the line. A guy with his skillset would be a major asset for a championship-chasing team, but he is not where he is needed to be - and it's hard to believe he will get there in any hurry.
Defense: There is no denying that this is an elite offensive team. They are scoring better than ever, and it is sustainable for the most part. It's the defense, though, that is perhaps a concern for a team that wants to win it all. In recent years they have been much better on defense than they are now. They are not actively bad, but they are flirting with average - from the wrong side of it by several measures. There is a delicate balance - they can't focus on defense to the extent that it significantly limits their offense, but they need to be somewhat better than they are or they are going to have issues when games really start to matter.
Betting performance: The success of this team has extended to the betting window this year as well. Their 18-6-1 ATS record is tops in the league. They have been particularly dominant of late - they are a stunning 11-1 ATS over their last 12. That, of course, isn't sustainable, but this was a Top 5 betting team last year as well, so we know they are capable of covering more spreads than they fall short on. Their betting dominance isn't limited to sides, either. They have gone "over" in 18 of 25 games, which also makes them the most profitable team in the league on that front.
Read more articles by Trevor Whenham