NBA Odds: Wednesday, March 16 2016 Opening Line Report and Handicapping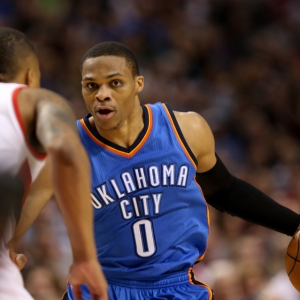 Sometimes players need to invent motivation in the long NBA regular season. And for that reason, I believe that Oklahoma City Thunder star Russell Westbrook could have a really big game Wednesday against Boston. In the teams' first meeting this season, a Boston upset win, Westbrook and Celtics guard Marcus Smart were jawing all night, and Smart actually got the better of the matchup with 26 points. He helped hold Westbrook to 5-for-20 shooting. Westbrook clearly was irritated with Smart when asked about him after the game: "He had a good game," he said. "Eighty-two games, I do this. Don't get it twisted. Don't get it twisted. He had a good game. ... We'll see him again."
Thunder at Celtics (+2, 221)
First of an ESPN game and will have live betting at sportsbooks. Boston was in Indiana on Tuesday. Oklahoma City ended a two-game losing streak by trashing Portland 128-94 on Monday. Westbrook had 17 points, 16 assists and 10 rebounds in his 12th triple-double of the season. He didn't turn the ball over once and nearly had the triple-double in the first half alone. Oklahoma City shot a season-high 59 percent from the field. Boston won in OKC 100-85 on Nov. 15 with Kevin Durant out injured. It marked the Celtics' first win in the city since the 2010-11 season.
Key trends: The road team is 4-0 against the spread in the past four meetings. The "over/under" is 12-4 in Boston's past 16 vs. the West.
Early lean: Thunder and under.
Magic at Hornets (-8.5, 210.5)
Orlando hosted Denver on Tuesday. Charlotte's season-high seven-game winning streak ended in a 107-96 home loss to Dallas on Monday. The Hornets had just 33 first-half points. Kemba Walker, named Eastern Conference Player of the Week on Monday, had 25 points and nine assists. Orlando has lost six of the past eight meetings at home in this series but has won four of the last six trips to Charlotte. They have split two meetings this season.
Key trends: The underdog is 5-1 ATS in the past six meetings. The over is 5-1 in those six.
Early lean: Hornets and over.
Mavericks at Cavaliers (-10, 207)
Dallas ended a five-game losing streak by ending Charlotte's seven-game winning run with a 107-96 upset on Monday. Coach Rick Carlisle decided to play small-ball, starting point guard Raymond Felton in place of center Zaza Pachulia. Apparently it worked as Felton had nine points and 12 assists. Pachulia played only six minutes. Cleveland closed a four-game West Coast trip at 3-1 with a 94-85 loss in Utah on Monday. LeBron James had 23 points and 12 boards. The Cavs were pretty clearly gassed and were held under 100 points or the first time in seven games. Cleveland won in Dallas 110-107 in overtime on Jan. 12. The Mavs have won three straight in Ohio, however.
Key trends: The Mavs are 6-1 ATS in the past seven meetings. The over is 4-0 in the Cavs' past four on Wednesday.
Early lean: Cavaliers and over.
Bulls at Wizards (TBA)
Chicago for whatever reason owns the Raptors, and the Bulls won in Toronto 109-107 on Monday to end a two-game slide and a ninth straight win in the series. Doug McDermott dropped 29 points and Jimmy Butler returned after missing three games and had 13 points. Chicago played without starters Derrick Rose, Pau Gasol and Mike Dunleavy. I doubt you see Rose here and Gasol's not playing again. Dunleavy is likely to go. Washington ended a five-game losing streak with a 124-81 home blowout of Detroit on Monday. It was the Wizards' biggest margin of victory in 13 years. Bradley Beal had 12 points in his return after missing three games with a sprained pelvis. These teams have split two high-scoring meetings in Chicago. The Bulls are 8-6 in their past 14 in D.C.
Key trends: The Bulls are 6-13 ATS in the past 19 meetings. The over is 4-0 in the previous four.
Early lean: Wizards win.
Hawks at Pistons (pick'em, 200)
Atlanta won a second in a row Sunday, 104-75 over Indiana. Al Horford and Paul Millsap each scored 18 points for the Hawks, who allowed a season low in points. All Hawks starters got the fourth quarter off. Detroit closed a four-game trip in Washington on Monday and didn't bother showing up in a 43-point loss. It was the third straight game the Pistons allowed at least 110 points. This game starts a franchise-record nine-game homestand for Detroit. These teams have split two meetings. Atlanta has won eight of the past 12 overall.
Key trends: The Hawks are 5-1 ATS in their past six road games. The over is 4-1 in the past five meetings.
Early lean: Pistons and under.
Timberwolves at Grizzlies (TBA)
Minnesota lost 107-104 in Phoenix on Monday on a last-second shot. Zach LaVine led the Wolves with 28 points. Ricky Rubio tied a career high with 17 assists. The Wolves are basically in tank mode at this point. Memphis was crushed 130-81 in Houston on Monday as all those Grizzlies injuries are starting to take a toll. These guys were all out for the Grizz: Mike Conley, Zach Randolph, Marc Gasol (for season), Lance Stephenson, Chris Andersen, Brandan Wright and Vince Carter. You won't see Conley for at least three weeks. Memphis leads the season series 2-1. Minnesota has dropped three straight at the Grizzlies.
Key trends: The home team is 4-1 ATS in the past five meetings. The over is 4-0 in the previous four.
Early lean: Wolves could steal this against the Memphis D-League team.
Clippers at Rockets (pick'em, 212)
Second ESPN game. Los Angeles was in San Antonio on Tuesday. Houston obliterated the short-handed Grizzlies on Monday, coming up three points shy of the biggest margin of victory in franchise history (52 points). James Harden had 15 points, eight assists and seven rebounds in just 25 minutes. There's an outside chance that Dwight Howard is suspended for this game after getting a flagrant foul against the Grizz. The Rockets lead the season series 2-1. The one in Houston was a 107-97 Rockets win on Dec. 19. They have won two straight in the series there.
Key trends: The Clippers are 1-5 ATS in the past six meetings. The over is 8-2 in the past 10.
Early lean: Rockets and over.
Pelicans at Kings (-2, 223)
Sacramento was at the LA Lakers on Tuesday. New Orleans lost its fourth in a row Monday, 125-107 at Golden State. Anthony Davis had 22 points and 11 rebounds for the Pelicans. New Orleans is 6-17 on the road against the Western Conference. This is the final meeting of the season with New Orleans leading 3-0. The Pelicans have scored at least 109 points in each game. Overall they have won five straight in the series.
Key trends: The home team is 4-1 ATS in the past five meetings. The over is 12-5 in the past 17.
Early lean: Kings and over.
Knicks at Warriors (-16, 221.5)
New York won at the Lakers 90-87 on Sunday. Jose Calderon hit the winning 3-pointer with 0.2 seconds left. Carmelo Anthony had 26 points and 12 rebounds. Kristaps Porzingis missed the game with a stomach bug. Golden State improved to 60-6 with an 18-point home win over New Orleans on Monday. Steph Curry had 27 points on his 28th birthday in the Warriors' 49th straight home win. Golden State won at Madison Square Garden 116-95 on Jan. 31. Draymond Green went 9-of-9 from the field in a triple-double of 20 points, 10 rebounds and 10 assists. He was the first player to be perfect from the field on at least nine attempts in a triple-double since Wilt Chamberlain on Feb. 24, 1967. Golden State has won three straight vs. the Knicks overall.
Key trends: The Knicks are 6-1 ATS in their past seven road games. The over is 12-3-1 in the Warriors' past 16 at home vs. teams with a losing road record.
Early lean: Warriors and over.
Read more articles by Alan Matthews