NCAA Basketball Betting 3-Point Play: Three Interesting Feb. 18 Opening Lines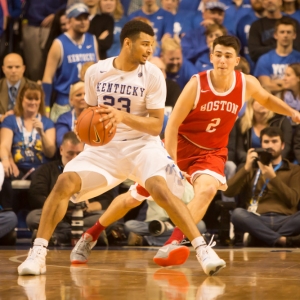 It's a potential payback night for national title contenders and 2015 Final Four teams Kentucky and Michigan State on Thursday night. Both the Wildcats and Spartans were knocked off at unranked schools earlier this season that they now get to host. And I assure you that coaches John Calipari and Tom Izzo will use those first games as plenty of motivation.
Tennessee at No. 14 Kentucky (-14.5)
SEC game tips off at 7 p.m. ET on ESPN. I always find it somewhat amazing how different teams can be on the road compared to at home. Take Tennessee (12-13, 5-7), for example. The Vols fell to 1-11 outside of Knoxville with a 75-64 loss at Missouri, the SEC's worst team that had lost nine straight games, on Saturday. The Vols just can't seem to throw it in the ocean outside of their gym. They hit only 38.2 percent vs. the Tigers. Yet at home, UT is almost NCAA Tournament quality. And for proof I give you an 84-77 upset there of then-No. 20 Kentucky on Feb. 2. The Cats were up 21 points early in the first half and then UT totally flipped the script in its biggest comeback win since at least 2006. Kevin Punter, the SEC's second-leading scorer, had 27 points for the Vols. It was the 18th time a Tennessee team outside the Top 25 beat a ranked Kentucky squad.
Kentucky (19-6, 9-3) now simply needs to win out against all unranked teams -- tough road games at Texas A&M, Vandy and Florida, however -- to repeat as the SEC's regular-season champion. The Cats are playing perhaps their most dominant ball of the season, winning three straight games by nearly 27 points per since that Tennessee loss. On Saturday, UK won at South Carolina by 27 and the Gamecocks are pretty solid; Calipari was ejected early in the first half after two technicals. UK sophomore guard Tyler Ulis set career highs with 27 points and 12 assists, while freshman Jamal Murray had 26 points. Both those guys need to be first-team All-SEC. Ulis probably loses out to LSU's Ben Simmons for SEC Player of the Year.
Key trends: The Vols are 0-4 against the spread in their past four road games. UK is 4-0 ATS in its past four at home. The home team is 9-4 ATS in the past 13 meetings.
I'm leaning: Kentucky in a major blowout.
No. 21 SMU at UConn (-2)
American Athletic Conference game at 8 p.m. ET on ESPN2. SMU (21-3, 9-3) is a half-game out of Temple's lead in the conference, but the Mustangs aren't eligible for the conference or NCAA Tournament so I'd imagine league officials are rooting for them not to win the regular-season title as that could only hurt the NCAA chances of other teams. SMU did perhaps help the at-large chances of some AAC bubble teams with a 69-60 home win over Gonzaga on Saturday in non-conference play. If the Zags don't win the West Coast Conference Tournament, they are squarely on the bubble and that loss doesn't help. Nic Moore led the Mustangs with 25 points and 11 assists against just one turnover while playing all 40 minutes. He could repeat as AAC Player of the Year.
While the Mustangs are the best offensive team in the conference, UConn (18-7, 8-4) is No. 2 nationally in field goal defense. The Huskies are on the bubble, although ESPN lists them currently as a No. 9 seed in the Big Dance. They nearly blew a 20-point second half lead in Saturday's 75-73 win over Tulsa; blowing big leads has been an issue this season for the Huskies. This is a payback game for UConn as well but for last season. It lost 62-54 to SMU in the AAC Tournament final, which basically kept the Huskies out of the NCAA Tournament and the chance to defend their national title. SMU is 2-1 all-time on the road at UConn but lost last year.
Key trends: SMU is 2-6 ATS in its past eight vs. teams with a winning record. It is 0-4 ATS in its past four after a win. The home team is 4-1 ATS in the past five meetings.
I'm leaning: UConn.
Wisconsin at No. 8 Michigan State (-10)
Big Ten game at 9 p.m. ET on ESPN. Wisconsin (16-9, 8-4) looked dead in the water for an NCAA Tournament berth at 10-9 overall and 2-4 in the conference. But as you can see, the Badgers haven't lost since. The most impressive of those victories was easily Saturday's 70-57 win at No. 2 Maryland. Frankly, it wasn't ever much in doubt as the Terps' school-record 27-game home winning streak ended. Vitto Brown scored a career-high 21 points for UW. The Badgers' win streak is the nation's longest among major conference teams. Wisconsin is one of just five teams with a pair of Top-5 wins this season. The other was at home over No. 4 Michigan State, 77-76 on Jan. 17. That started this winning streak. Ethan Happ scored from in close with 10 seconds left. MSU star Denzel Valentine then missed a 3-pointer and Matt Costello's last-second jumper bounced off the rim. The Spartans shot a higher percentage than Wisconsin from the field and 3-point range and outrebounded the Badgers yet somehow lost.
Michigan State (21-5, 8-5) bounced back from a tough OT loss at ranked Purdue last Tuesday with a hugely impressive 88-69 home win over Indiana on Sunday. Valentine had 30 points and 13 assists, and Costello a career-high 22 points with 11 rebounds. Valentine was named Big Ten Player of the Week for the fourth time this season and he's your conference player of the year favorite again. He leads the Big Ten in scoring (19.5) and assists (7.1) and is tied for sixth in rebounds (7.1). MSU got some bad news from that Indiana win in that reserve freshman forward Kenny Goins suffered a knee injury and will miss 2-4 weeks. Michigan State has lost three straight to Wisconsin but has won eight in a row vs. the Badgers in East Lansing. It's UW's first visit since 2013.
Key trends: MSU is 6-0 ATS in its past six games. UW is 2-8 ATS in the past 10 meetings.
I'm leaning: Michigan State.
Read more articles by Alan Matthews
---
Most Recent College Basketball Handicapping