NCAA Basketball Betting 3-Point Play: Three Interesting Feb. 24 Opening Lines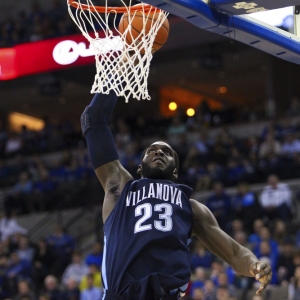 It's definitely not too early for the top teams in the nation to start thinking about landing a No. 1 seed in the NCAA Tournament. And if top-ranked Villanova wins on Wednesday night at No. 5 Xavier, the Wildcats might all but sew one up because they shouldn't lose again in the regular season and would have a bye right to the Big East Tournament quarterfinals. Even a loss there shouldn't knock Villanova off the top line of one of the brackets.
No. 1 Villanova at No. 5 Xavier (-1.5)
The Big East game of the year is at 7 p.m. ET on Fox Sports 1. Villanova (24-3, 13-1) has a 1.5-game lead over Xavier (24-3, 12-3) so a win basically clinches the regular-season title. The Wildcats beat Butler 77-67 on Saturday for their seventh straight victory. On Senior Day, juniors Josh Hart and Kris Jenkins combined for 42 points and 18 rebounds in Nova's 38th straight win at its on-campus arena. The Wildcats trailed the Bulldogs 43-41 with 12:17 remaining in the game before taking control. Villanova made 11 of its final 16 shots from the field. Nova isn't a good 3-point shooting team but is fourth nationally in 2-point field goal percentage.
Xavier won a third in a row Saturday, 88-70 over Georgetown. Freshman guard Edmond Sumner finished with 22 points on 6-for-9 shooting from the floor and 9-of-9 from the foul line. Xavier shot 77.3 percent from the floor in the second half, outscoring the Hoyas 53-37. Xavier is now 22-0 this season when leading at halftime and when shooting at least 40 percent from the field. This is the Musketeers' first time hosting the No. 1 team in the country since the 1999-2000 season. It's the 17th time overall Xavier has faced the No. 1 team and first since the 2007 NCAA Tournament. All three of Xavier's all-time wins vs. the AP No.1 team have come in its last five games against them. Villanova is 22-4 all-time vs. Xavier and destroyed XU 95-64 on Dec. 31. Sumner was hurt early in that one and didn't return.
Key trends: The Musketeers are 1-4 against the spread in their past five home games. The Wildcats are 6-0 ATS in the past six meetings.
I'm leaning: Villanova.
No. 23 Notre Dame at Wake Forest (-7)
ACC matchup at 9 p.m. ET isn't nationally televised. Notre Dame (18-8, 9-5) is currently a projected No. 6 seed but could slide toward the bubble with a bad loss like this; the Irish also still have potential defeats coming at Florida State (Saturday) and home to ranked Miami (March 2). The Irish have a chance to finish with a Top 4 seed in the ACC to get that double-bye in the conference tournament. They are currently tied for fifth with Duke and third-place team Louisville is ineligible for the ACC Tournament. Notre Dame is off a bad loss, 63-62 at Georgia Tech on Saturday. The Jackets' Marcus Georges-Hunt hit the winning short jumper with two seconds left. Zach Auguste had 13 points for Notre Dame but he's on the injury report for this one (questionable) with a knee injury suffered Saturday. Auguste averages 14.0 points and 10.0 rebounds per game.
Wake Forest (11-16, 2-13) is playing out the string and will be without two of its best players here. Forward Devin Thomas, one of the ACC's better players, will miss a second straight game due to a suspension. Thomas averages team bests of 15.8 points and 10.2 rebounds and leads all active ACC players with 1,029 career rebounds. Thomas missed Sunday's 74-48 blowout win of Boston College, which ended Wake's 11-game losing streak. Meanwhile, forward Cornelius Hudson was booted off the team before Sunday's game. The sophomore was averaging 7.8 points and 3.3 rebounds.
Key trends: Notre Dame is 3-0-1 ATS in its past four after a loss. Wake is 3-10 ATS in its past 13 at home.
I'm leaning: Wake lost by 23 at Notre Dame on Jan. 23. Don't see the Irish winning by that much again but they will cover, Auguste or not.
Washington at Oregon State (-4.5)
Pac-12 matchup is the latest-starting game of the night at 11 p.m. ET on ESPNU. This is arguably the bubble game of the night around the nation as well. Both Washington (16-11, 8-7) and Oregon State (15-10, 6-8) are currently listed among the "Next Four Out" for the Big Dance. I'd think the loser is toast here. The Huskies ended a four-game losing streak with a 64-53 home win over Stanford on Saturday. They won that despite Pac-12 leading scorer Andrew Andrews behind held to eight points, all at the free-throw line. It was only his second single-digit game of the season. UW really needs this one because it's likely to lose Sunday at No. 13 Oregon. The Huskies then close the regular season with what should be a win vs. Washington State.
Oregon State lost a second straight game Saturday, 91-81 at Oregon. Freshman Tres Tinkle, the son of Coach Wayne Tinkle, tied a career high with 23 points in the loss. Oddly, he has led OSU in scoring in every conference road game of the season. He's sixth in school history among freshmen with 324 points. Oregon State needs one more win to clinch a winning record for the second straight season. The last time the Beavers had a winning mark in back-to-back years was 1989-1990. This is the only meeting of the season between the teams. OSU won't play a game in the state of Washington this season for the first time since 1911. UW has won four of the past five meetings.
Key trends: UW is 1-4 ATS in its past five after a win. OSU is 8-2 ATS in its past 10 at home. The home team is 5-1 ATS in the past six meetings.
I'm leaning: Oregon State.
Read more articles by Alan Matthews
---
Most Recent College Basketball Handicapping