NCAA Basketball Betting 3-Point Play: Three Interesting March 10 Opening Lines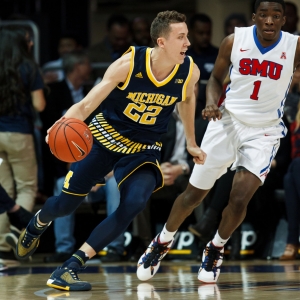 The fans at both Ohio State and Michigan can go ahead and turn their focus totally to spring football if the Buckeyes and Wolverines lose in their Big Ten Tournament openers on Thursday. Both schools are very much on the NCAA Tournament bubble. Michigan also missed the Big Dance last year, while OSU hasn't missed it since 2008.
Northwestern vs. Michigan (-2)
Game tips at noon ET on the Big Ten Network from Bankers Life Fieldhouse in Indianapolis. NU is the No. 9 seed and Michigan the No. 8. The winner faces regular-season champion Indiana on Friday. I'll flat-out admit that I'm rooting for Northwestern (20-11) to win this tournament, although I highly doubt that happens. That remains the only current Power 5 school to never make the NCAA Tournament, although Coach Chris Collins appears to have the Cats headed in that direction sooner or later as the 20 wins are a school record for a regular season. Maybe NU will be dangerous in this event as its closed the season on a three-game winning streak, all by double digits, albeit against lightweights Rutgers, Penn State and Nebraska. Still, it's the first time Northwestern has won three straight Big Ten games by 10 or more points since 1954.
Michigan (20-11) is listed among ESPN's "Next Four Out", so it probably needs not just a win here but then an upset of the Hoosiers to get an at-large bid. The Wolverines closed the regular season losing four of their final five games. Their season went down the tubes when star Caris LeVert was essentially lost for the season in a Dec. 30 game. UM's lone win in its final five was 72-63 at home against Northwestern. A 3-pointer by Aubrey Dawkins put Michigan ahead for good at 57-54 with a bit over four minutes to play. Northwestern had led by as many as 13 points.
Key trends: The Wildcats are 2-5 against the spread in their past seven vs. teams with a winning record. The favorite is 5-1 ATS in the past six meetings.
I'm leaning: Michigan has won its past nine opening tournament games. I think that continues and it covers.
Arkansas vs. Florida (-2.5)
SEC Tournament game from Nashville at 1 p.m. ET on the SEC Network. The Razorbacks are No. 9 seeds and Gators are No. 8, with the winner facing No. 1 seed Texas A&M. Arkansas (16-15) had a four-game winning streak end in a 76-61 home defeat to South Carolina on Saturday. The team's best player is junior forward Moses Kingsley, who is likely the SEC's most improved player. He was named second-team All-SEC and landed on the league's All-Defensive Team. Last year he played just 10.9 minutes a game and averaged 3.6 points, 2.5 rebounds and 1.1 blocks. This season: 16.1 points, 9.2 rebounds and 2.4 blocks. His 15 double-doubles are second in the conference. Kingsley is the lone player in the conference to rank in the top five in rebounds, field goal percentage (.556) and blocked shots.
I'm frankly tired of writing about Florida (18-13), so I hope the Gators lose and they can just go to the NIT. Right now they are listed among the "Next Four Out." I don't even think they deserve that designation with a single win over a ranked team this season and really no great nonconference wins (Saint Joseph's being the best). We wouldn't even be talking about UF on the bubble had it not ended a four-game losing streak in the regular-season finale at Missouri, but Mizzou is awful. The Gators beat visiting Arkansas 87-83 on Feb. 3. UF star Dorian Finney-Smith had 22 points and nine rebounds. UF has won nine of the past 10 in this series.
Key trends: Arkansas is 2-5 ATS in its past seven after a loss. UF is 2-8 ATS in its past 10 games. The underdog is 5-0 ATS in the past five.
I'm leaning: Florida (unfortunately).
Penn State vs. Ohio State (-5.5)
Game tips at 6:30 p.m. ET from Indianapolis on ESPN2. The Nittany Lions are No. 10 seeds and Buckeyes No. 7, with the winner drawing No. 2 Michigan State on Friday. Penn State (16-15) will miss the NCAA Tournament for the fifth straight season but maybe gets a bid to the CIT or something. PSU closed the regular season with an 86-79 double-overtime win over Illinois. Penn State had a bye in the first round of this tournament for the first time in program history. With seven Big Ten wins, the Nittany Lions have the most league victories in five seasons under Coach Patrick Chambers. Penn State is 11-18 in the Big Ten tourney since it began in 1998. The Lions went 2-1 last season, advancing to the quarterfinals as the No. 13 seed.
Ohio State (19-12) is also listed among the "Next Four Out" for the NCAA Tournament. It definitely would need to win here and then upset the Spartans, who have beat OSU handily twice over the past two weeks or so. But the Buckeyes have played pretty well since early February otherwise. They routed visiting Penn State 66-46 on Jan. 25. It should be noted that the Buckeyes had Jae'Sean Tate then (15 points), but he's out for the season. PSU was without one of its better players, freshman guard Josh Reaves. He's healthy now.
Key trends: PSU is 1-5 ATS in its past six after a win. OSU is 7-1-1 ATS in its past nine after a loss. The Buckeyes are 7-2 ATS in the past nine meetings.
I'm leaning: Ohio State.
Read more articles by Alan Matthews
---
Most Recent College Basketball Handicapping