NCAA Basketball Betting 3-Point Play: Three Interesting March 5 Opening Lines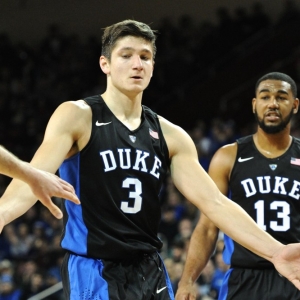 Unless you have a betting interest against them, don't you have to root for both Boston College and Rutgers on Saturday in their regular-season finales? Thank goodness the northeast portion of the U.S. has Villanova to root for because otherwise it has been a mess up there (St. John's is also terrible) college basketball wise. BC hosts Clemson on Saturday and Rutgers hosts Minnesota. Both the Eagles and Scarlet Knights are 0-17 in their respective conferences. The last time two teams from different power conferences finished winless in conference play in the same season was 1953-54.
No. 8 North Carolina at No. 17 Duke (-1)
ACC game at 6:30 p.m. ET on ESPN (of course it is). What, you thought I wouldn't preview UNC-Duke? North Carolina (24-6, 13-4) will know the Miami at Virginia Tech result by the time it takes the court at Cameron Indoor Stadium. If the Canes lose, UNC wins the outright ACC title with a win. If they both win, the Heels are the top seed for the ACC Tournament. If they both lose, we will see a three-way tie for the regular-season title (see Louisville-Virginia game) and I have no idea who would be the top seed. Obviously a Miami win and UNC loss gives the outright crown to the Hurricanes. Could this be the final UNC-Duke game involving Heels coach Roy Williams? There were some whispers he could retire after this season with an academic scandal at the school that partially involved the basketball team, plus Williams' health is in question after collapsing at a game last month. Williams says the retirement questions are hogwash.
Duke (22-8, 11-6) would assure itself a double-bye into the ACC Tournament quarterfinals with a win and still might get it with a loss. The Blue Devils are currently fifth, but remember that even if Louisville finishes ahead of Duke in the standings, the Cardinals are ineligible. Duke didn't play very well Tuesday, clearly looking ahead to this one, in beating visiting Wake Forest 79-71. ACC second-leading scorer Grayson Allen had 30 points. This will absolutely be the final home game for Duke superstar freshman Brandon Ingram as he will be one-and-done and probably the No. 2 pick in this summer's NBA Draft. He's averaging 16.9 points and 6.8 rebounds. It's Senior Night at Duke, but the only senior on the roster is Amile Jefferson, and he might redshirt. Jefferson hasn't played since early December due to a foot injury, and it doesn't appear likely he will get back for the NCAA Tournament.
Key trends: The Heels are 1-5 against the spread in their past six road games. Duke is 2-5 ATS in its past seven at home. UNC is 8-2 ATS in its past 10 at Duke.
I'm leaning: Duke has won four straight and eight of the past 10 meetings, including a 74-73 thriller on Chapel Hill on Feb. 17 that went down to the final possession. But then don't most in this rivalry? I'll take the Heels here.
No.16 Iowa at Michigan (Pick'em)
Big Ten game at 8 p.m. ET on the Big Ten Network. Iowa (20-9, 11-6) is tied for fifth in the Big Ten and still has that top-four seed and double-bye in the conference tournament to play for. It would take a win and some help. The Hawkeyes are playing their worst basketball of the season at the worst time. I thought they'd beat visiting Indiana on Tuesday, but Iowa lost a fourth straight game, 81-78. The Hawkeyes overcame a 14-point second half deficit and led 75-74 with 3:59 to play before making just one of their final 12 shots. Peter Jok missed an open 3-pointer from the corner at the buzzer. That clinched the Big Ten outright title for the Hoosiers. Iowa star Jarrod Uthoff was just 5-for-17 from the field.
Michigan (20-10, 10-7) definitely needs this one more as the Wolverines are listed among ESPN's "Last Four In" and in a First Four game against St. Bonaventure. UM got bad but probably not unexpected news this week when senior star Caris LeVert, who will be among his class honored before this game, was ruled out the rest of the season. He has played just one game since suffering a leg injury on Dec. 30. Guy had superstar potential following a breakout sophomore season but couldn't stay healthy the past two seasons. He'll still probably be a first-round pick in the NBA Draft, and getting healthy for that was part of his reasoning for shutting it down. Michigan lost at Iowa 82-71 on Jan. 17. Uthoff had 23 points. Iowa snapped a five-game losing skid in Ann Arbor last season with a 72-54 victory.
Key trends: Iowa is 0-6 ATS in its past six overall. UM is 6-2 ATS in its past eight after a loss. The home team is 5-1 ATS in the past six meetings.
I'm leaning: Michigan is more desperate, so it is the choice.
No. 11 Louisville at No. 4 Virginia (-5)
ACC game at 8:30 p.m. ET on ESPN. This is basically Louisville's national championship game because of course the program self-imposed a postseason ban last month in the wake of that sex scandal. By the time these schools take the court, they will know if sharing the ACC regular-season title is still doable. Miami needs to lose earlier in the day (at Virginia Tech) as does North Carolina. Only the winner of this game would share it. At least something good could come out of this season for Louisville (23-7, 12-5), which certainly has Final Four talent. Many believe this will be the final game at the school for embattled Hall of Fame coach Rick Pitino. At Tuesday's home finale, Pitino seemed like a guy on the way out. Reports are the he would head to the NBA if so. Louisville could be facing heavier sanctions so it might be wise to leave now.
Virginia (23-6, 12-5) would be a lock for a No. 1 seed in the NCAA Tournament with a win here and then taking the ACC Tournament. It might not be the most talented team in the ACC (North Carolina is), but it's the best coached. The Wahoos avoided a trap game on Tuesday with a 64-57 win at Clemson. Their past two losses are by a combined four points at Duke and Miami. UVA has won 19 straight at home and ranks third nationally in scoring defense in allowing 60.1 ppg. The Cavs went to Louisville on Jan. 30 and delivered a 63-47 beatdown on Pitino's team. Louisville shot just 32.7 percent from the field and turned it over 18 times.
Key trends: The Cardinals are 1-8 ATS in their past nine road games. UVA is 6-1 ATS in its past seven games.
I'm leaning: Virginia -- and whatever this small total will be, still go under.
Read more articles by Alan Matthews
---
Most Recent College Basketball Handicapping