NCAA Basketball Betting: Top-5 Teams Struggling Against the Spread
by Chris Vasile - 2/15/2016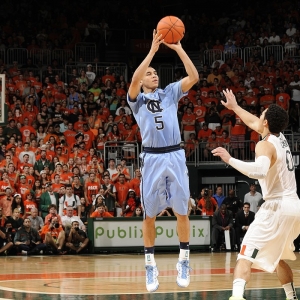 To be the best, you have to beat the best.
That saying has never been more accurate in a single college basketball season up until this year.
There have been 13 teams to crack the AP Top 5 in the country; Duke, Iowa, Iowa St, Kansas, Kentucky, Maryland, Michigan State, North Carolina, Oklahoma, Texas A&M, Villanova, Virginia and Xavier.
If you were to guess on how many total losses the aforementioned 13 teams have combined for, you would be lying if you said any number north of 15.
The season started as expected, with the top teams hammering out win after win against "cupcake" schools to shake off the early-season rust. However, once the calendar hit December, the ATS results worsened and the SU column doubled in losses. That was just a sign of things to come once we got the New Year under way.
As January rolled around and conference play started, the records for both SU and ATS results continued their downward spiral for those teams lucky enough to crack the Top 5.
February is on pace to shatter any hope for Top-5 teams, and we are only half way through the month.
Let's take a closer look at what the numbers say for the Top-5 teams SU and ATS
November:
31-3 SU
16-17 ATS (1 no line)
SU Home/Away
16-1 SU (H)
3-1 SU (A)
12-1 SU (N)
ATS H/A
6-10 ATS (H)
2-2 ATS (A)
8-5 ATS (N)
December
28-6 SU
13-18 ATS
SU H/A
23-0 SU (H)
3-4 SU (A)
2-2 SU(N)
ATS H/A
9-10 ATS (H)
2-5 ATS (A)
2-3 ATS (N)
January
29-13 SU
15-27 ATS
SU H/A
19-3 SU (H)
10-10 SU (A)
ATS H/A
10-12 ATS (H)
5-15 ATS (A)
February (Up to Feb. 14)
13-7 SU
8-11 ATS
SU H/A
8-2 (H)
5-5 (A)
ATS H/A
4-5(H)
4-6 (A)
As you can see by the numbers, the Top-5 ranked teams in the country are having one hell of a time covering the spread. They are covering at a clip of 41 percent for a record of 52-73 ATS.
To make matters worse, this season has set the bar for most losses by teams ranked in the Top 5 with 29 losses straight up. Compared to only 21 losses for the top teams last season, we could be on pace to see a number that will not be broken for a very long time. This college season has been nothing short of entertaining, and I do believe parity has caught up to the perennial powerhouse teams.
---
Most Recent College Basketball Handicapping