2016 New York Knicks Predictions and NBA Futures Betting Odds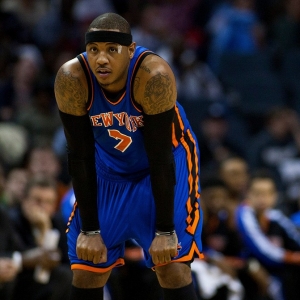 This, once and for all, is our chance to see if Phil Jackson still has anything left in the tank. He's perhaps the best coach of all time, but his time in New York has left a lot to be desired. It has left everything to be desired, really. He has made a boatload of big moves this summer and really invested in a vision. So, could this all work out great and we could see this team win 55 games and host a playoff series or two? Absolutely. But could they completely self-destruct, win 30-some games, and be thoroughly and utterly embarrassed? No question about it.
What makes this team so fascinating is that either thing is possible, and you really can't tell what is going to happen. It's a bit like watching a guy juggle chainsaws. Either you are going to see an amazing trick you won't forget, or you'll see some schmuck cut his arm off. Either way, though, you won't be sad that you were watching.
2016 New York Knicks Betting Storylines
Some people brag that they don't see color when they look at people. Phil Jackson clearly doesn't see injuries when he looks at players. At their prime this is a very strong team. Carmelo Anthony and Kristaps Porzingis are still there, and are both good at what they can do. Joakim Noah is a strong defensive presence. Derrick Rose is a former MVP point guard who was a joy to watch. Brandon Jennings is a dynamic guard. Courtney Lee is an excellent shooter. That's a team that can score, can defend, and can make lives miserable for a lot of opponents. That could be a very good team.
But then reality sets in.
Anthony lost most of a year to injury two years back. Rose has been a walking injury for far too long and has been a shadow of himself when he plays lately. Jennings blew his Achilles and is working to come back from it. Noah has been banged up badly the last two years. So, we have a healthy Porzingis and Lee and question marks everywhere else. The upside is obvious, but the chances of all these guys staying on the court and healthy seems low.
And then there are the egos. Melo has never been easy to play with. Rose likes to be the man and likes to talk. Jennings is a different and lower tier of star but doesn't always talk like he realizes it. If you are willing to view this team as a super term then you know that the talent isn't always fully realized in these situations.
Injuries and questions aside, you do have to give Jackson credit for addressing the two biggest needs of this team. In Jose Calderon they had a truly terrible point guard last year, and it really hurt them. The position was a major negative. Even Rose, in his wildly-inconsistent current form, is a big step forward. If he can step his game up now that he is further removed from injury then things could go well. And then there is defense - as in, they didn't play it. Noah is a very strong defensive presence and upgrades things significantly if he can stay on the court.
Beyond it all, we should mention that they have a new coach this year, too. Jeff Hornacek becomes the fourth head coach since 2014, following Mike Woodson, Derek Fisher, and Kurt Rambis. Hornacek started off great in his first year in Phoenix, but then last year, his third, was an epic disaster. A lot of that isn't his fault, but it's a concern nonetheless. Still, he's the best coach they have had since at least Mike D'Antoni, so that's a positive.
2016 New York Knicks Additions and Departures
We have largely covered this overhaul. Rose, Lee, Noah, and Jennings are all in. Arron Afflalo, Jose Calderon, Robin Lopez and others are gone. On paper they got dramatically better - with all the issues we have mentioned ad nauseum. Beyond that they added some minor pieces and lost others. There is some potential - I like what Willy Hernangomez could be, for example - but the moves aren't what will make or break this season.
2016 New York Knicks Futures Odds and Trends
Despite winning just 32 games last year the Knicks were 44-38 ATS, so they were slightly profitable. They went "under" the total in 47 games and "over" in just 34, so there was even more money to be made playing them to go under regularly.
New York Knicks Futures Odds (from Bovada)
NBA title odds : +6600
Eastern Conference title odds : +2800
Carmelo Anthony MVP Odds : +3300
Derrick Rose MVP Odds : +10000
Kristaps Porzingis MVP Odds : +30000
Season win total (from Westgate): 38.5
2016 New York Knicks Predictions and Futures Odds Picks
I was a big fan of Rose in his glory. I appreciate Anthony's play this summer in Rio. I guess I hope for the best here. I certainly won't be mortgaging my house to bet on them, but as laughable as this team could be I am going to hope for the best. I target 45 wins and a playoff spot, which means there is strong value in the over on the season win total at this level. Or they could fall 10 games below that win total. It won't be boring, at least.
Get free picks from any of Doc's Sports Advisory Board of expert handicappers - and with no obligation or credit card. You can use these free picks for any sport, and you will never deal with a salesman. Click here for your free Doc's Sports picks.
Read more articles by Trevor Whenham