NFL Survivor Pool Picks and Advice: Week 10
by Matt Severance - 11/9/2016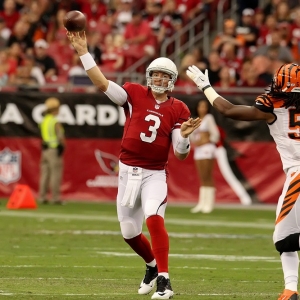 This will be an election-free column. And perhaps my last before moving to Costa Rica! Sigh.
If you want clear proof of why I don't think you should put all your eggs into the Monday night basket in terms of a Survivor Pool, I give you the Week 9 game between the Seahawks and Bills in Seattle.
I was very high on the Seahawks as a potential choice but only if Buffalo running back LeSean McCoy wasn't playing. Early in the week, it looked as if he would sit out with a hamstring injury. The Bills weren't likely to move the ball much on the road against a good defense without their best offensive player. (As an aside, I really hate the NFL's new injury designations of just questionable and doubtful because now EVERYONE is listed as questionable and you never really know who is truly doubtful. But I digress.) McCoy did play and was a big factor with 85 yards rushing and four catches for 35 yards as the Bills absolutely dominated time of possession. Seattle did escape 31-25, but barely. I'm sure some of you were quite nervous when the Bills had first-and-goal at the Seattle 10 in the final minute.
The other major scare in Week 9 was my top choice: Kansas City. I was a bit concerned that both Chiefs QB Alex Smith and top tailback Spencer Ware were out with concussions, but the Jaguars never win on the road -- well, other than in Chicago. The Chiefs tried to blow Sunday's game but also escaped, 19-14.
Most likely the only major Survivor Pool-altering result in Week 9 was Minnesota being upset at home by Detroit, 22-16 in overtime. The Vikings absolutely gagged that game away, going into a prevent defense with 23 seconds left and the Lions at their own 25. So of course Matthew Stafford got the Lions into field-goal range to tie. And then in overtime, two Vikings chose to do the Samba with Detroit receiver Golden Tate rather than tackle him or push him out of bounds on the sideline. Tate's 28-yard TD reception won the game. At least there wasn't a tie for a third straight week, which would have been an NFL first.
Here are the picks for Week 10 with the recommended team first. The Bills, Lions, Colts and Raiders are on the bye.
First Down
Arizona vs. San Francisco: The 49ers are the Browns West, and Coach Chip Kelly should bail and head back to the University of Oregon, in my opinion. Hard to imagine the Cardinals losing at home here when they can potentially close to within a game of first-place Seattle in the NFC West. The Cards won in San Francisco 33-21 in Week 5 when Carson Palmer was sidelined.
Second Down
Baltimore vs. Cleveland (Thursday): This is going to be a very popular pick. Understandable considering how terrible the Browns are as they are looking at the first 0-10 start in franchise history. But, again, they are most likely going to win at least one game. The Browns nearly beat Baltimore in Week 2. And I really prefer not locking myself into the Thursday game, either, with so many potential intangibles in the quick turnaround. Those usually do favor the home team, however. I think the Ravens will win, but I bet this is close.
Washington vs. Minnesota: The Vikings offense was clearly fool's gold in that 5-0 start. Sam Bradford is who we thought he was. They also can't run the ball. There's only so much that excellent defense can do. Washington has the added advantage of coming off the bye.
Pittsburgh vs. Dallas: The Cowboys are scorching-hot with their seven-game winning streak, and Dak Prescott and Ezekiel Elliott continue to amaze. But the Steelers will be much, much better this week after a putrid offensive display in Baltimore last Sunday.
New England vs. Seattle: Rematch of the amazing Super Bowl from two seasons ago, won by the Patriots because Pete Carroll apparently forgot he had Marshawn Lynch on his team late in the game. Patriots off their bye and a short week for Seattle.
Third Down
Tennessee vs. Green Bay: If given a choice right now to have either Marcus Mariota or Aaron Rodgers for the next five years, don't you have to take Mariota? Rodgers and the Packers look broken with all their injuries.
Tampa Bay vs. Chicago: When do Cubs pitchers and catchers report? Normally I would go to this game, but it's the most blah Bears team in years.
Carolina vs. Kansas City: At the close of the 2015 regular season, these might have been the two best teams in football with the Panthers at 15-1 and the Chiefs on a 10-game winning streak. Neither is that good this year but it's still an intriguing, likely low-scoring game. The Chiefs' Smith will be back.
Atlanta at Philadelphia: I'm sure Eagles QB Carson Wentz will be a good NFL player, but that bandwagon has emptied a bit with the Eagles having dropped four of five. Every loss helps the Browns for the 2017 draft.
New Orleans vs. Denver: Drew Brees just doesn't age. My fantasy team thanks you. Like that Saints offense in the dome against a good but not-2015-level-good Denver defense.
Houston at Jacksonville: I've given up on the Jaguars, whom I thought would contend in the AFC South. Maybe Blake Bortles isn't the long-term answer at QB. The Texans are winless on the road and Brock Osweiler has been terrible away from home, but I lean Houston simply as it's off the bye week.
NY Giants vs. Cincinnati (Monday): Good MNF matchup here. Whichever NFL Top-5 receiver, the Giants' Odell Beckham Jr. or Cincinnati's A.J. Green, has the better game then his team likely wins. I'll go with Beckham at home.
San Diego vs. Miami: What the heck has gotten into the Dolphins' Jay Ajayi? Not sure he will keep that up. This could be one of the last NFL games in San Diego as the stadium measure failed on Tuesday in a big way. Too bad as that town deserves NFL football. Los Angeles doesn't need another team.
Fourth Down
NY Jets vs. Los Angeles: Normally this would be a ratings bonanza for Fox with the two biggest media markets in the USA, but you couldn't pay me to sit through three hours of Ryan Fitzpatrick vs. Case Keenum. There was better quarterback play in Tuesday's Western Michigan at Kent State MAC game, where my Broncos became the first team in the nation to 10 wins. Row the Boat!
Sometimes, the best picks are free picks. Doc's Sports will give new clients $60 worth of free NFL picks with absolutely no obligation. You don't even need a credit card to sign up. Just click here and get started today.