NFL Survivor Pool Picks and Advice: Week 14
by Matt Severance - 12/7/2016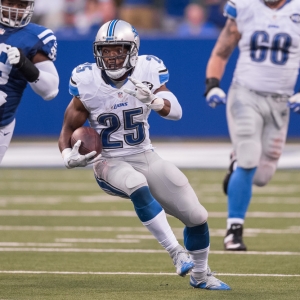 I'm starting to feel like Leonard in the terrific Christopher Nolan movie "Memento." In that I see things in the NFL that I must have just forgotten. Like, how are the Detroit Lions on pace to win their division? What year is this? They haven't done that since 1993. The Tampa Bay Buccaneers are good? Huh? The Oakland Raiders are too? Is this the 2002 NFL season?
It has been an interesting, unexpected year in the NFL. Sure, the usual suspects like New England and Seattle are Super Bowl favorites, but then you have the upstarts like the Bucs, Raiders and Tennessee Titans. Almost every year in the NFL we are guaranteed to see four new playoff teams from the previous season, and that trend is going to continue.
With four games left in the regular season, it's also the stretch run in those Survivor Pool competitions. Are you still alive? Have you won it already? At this point of the season, the pickings are certainly slim. Now you have to take into account a team's motivation. A club like the Jets is just playing out the string and looking at their young QB. The Browns suck, but you know they will play hard to avoid 0-16 infamy. The Cowboys might have no reason to care at all the rest of the regular season if they clinch the NFC's top seed this week.
My top pick in Week 13 was Green Bay and it had little trouble over visiting Houston. There were really no shocking upsets last week. Well, the Bears actually won a game and that was upsetting to me. On to the Week 14 picks -- no more bye weeks. Recommended team listed first.
First Down
Detroit vs. Chicago: I have used Detroit in this spot earlier so I'll have to make another choice. But if you haven't, I can't see the injury-ravaged Bears winning a road game the rest of the way. Matt Barkley was perhaps better than Matt Stafford was in college, but they aren't close as professionals. It does give me slight pause that this would be a typical game a past Lions contending team would lose. But 2016 seems different thanks in large part to Stafford and the offensive coordinator with the best name in NFL history: Jim Bob Cooter.
Second Down
Carolina vs. San Diego: This might be my top pick when all is said and done. I'd feel better if Panthers star linebacker Luke Kuechly could return from his concussion. I obviously wonder a bit about Carolina's motivation at this point and whether Cam Newton might be suspended the first half for New Kids On The Block wearing overalls this week or something. But the Chargers are playing out the string, too, and it's an early kickoff for them on the East Coast.
Indianapolis vs. Houston: I often try to avoid picking teams on the short week, but the Colts barely broke a sweat on Monday night at the Jets. And, yeah, I'll take Andrew Luck over the steaming pile of poo that is Brock Osweiler any day of the week.
Green Bay vs. Seattle: I think the Packers are finding their form and it's a mini-short week for Seattle after trashing Carolina at home last Sunday night. The Seahawks are really going to miss Pro Bowl safety Earl Thomas, who was lost for the season. I still believe these two could meet in the playoffs.
New England vs. Baltimore (Monday): Did you watch Tom Brady in last week's win over the Rams? He didn't look quite the same without Rob Gronkowski. But the Patriots aren't losing this at home because Baltimore's offense still isn't in the same stratosphere.
Third Down
Kansas City vs. Oakland (Thursday): Game of the week. Winner most likely takes the AFC West and gets a first-round bye in the playoffs. The short week generally favors the home side and the fact it will be cold as heck in K.C. certainly benefits the Chiefs.
Pittsburgh at Buffalo: Is the Steelers' defense suddenly good? It has allowed just 30 points in a three-game winning streak. While Pittsburgh could lose and still win the AFC North, the Bills absolutely must have this for their wild-card chances. Don't see it, however.
Washington at Philadelphia: Perhaps the Eagles should have given Carson Wentz a redshirt year after all. That quick start seems like a very long time ago as Wentz has really struggled. But he doesn't have much around him. Washington beat Philly by a TD earlier this season and should again.
Arizona at Miami: That Dolphins bandwagon emptied very quickly following last week's blowout loss in Baltimore. I wouldn't trust Ryan Tannehill to bag my groceries (dog food on top of the eggs! Doh!). The Cardinals still have more overall talent in this game even though they have largely disappointed.
Minnesota at Jacksonville: I would consider this a possible trap game for Minnesota, but it's on extra rest and Blake Bortles simply isn't good. The Vikings will win this with their defense something like 9-5.
Tampa Bay vs. New Orleans: Somewhat strange these NFC South rivals are playing for the first time in Week 14 -- then they do again on Christmas Eve. The Bucs are playing their best football in years so ride them while you can.
NY Giants vs. Dallas: The Cowboys can clinch the NFC East with a win and the NFC's top seed with some help elsewhere. New York is the only team to beat Dallas this year, doing it back in Week 1 because Cowboys receiver Terrance Williams had a brain fart. I think Big Blue pulls off the upset here despite losing top defensive player Jason Pierre-Paul for the season.
Atlanta at Los Angeles: Yeah, I don't like dome teams playing outdoors, but I'm pretty sure it won't be wintry weather at the L.A. Coliseum on Sunday. Falcons already have won in tough places like Oakland and Denver.
Tennessee vs. Denver: Will Trevor Siemian return from his one-game injury absence for Denver? I don't think it matters. Marcus Mariota is better and the Titans are off their bye week.
Fourth Down
Cincinnati at Cleveland: Dear Ohioans, make fun of my native Michigan all you want. But we never vacation in Ohio -- OK, Cedar Pointe for a day -- yet you all come vacation in our state. Oh, and nice pro football teams you have. Enjoy this blockbuster!
San Francisco vs. NY Jets: Just for fun, I'm going to check StubHub for the cheapest-price ticket for this ghastly game about an hour before kickoff. 80 cents perhaps? Jets are going with QB Bryce Petty the rest of the season, while the Niners are sticking with Colin Kaepernick even though he was awful in last week's loss in Chicago. I'm actually serious here when I say you could consider using the 1-11 Niners as your pick this week. The Jets have totally mailed it in, are on short week and have to travel across the country.
Get $60 worth of free NFL picks. The same picks that members get. No obligation, or sales people to deal with. Just a simple, hassle-free sign-up form. Click here to get started today.