NFL Survivor Pool Picks and Advice: Week 15
by Matt Severance - 12/14/2016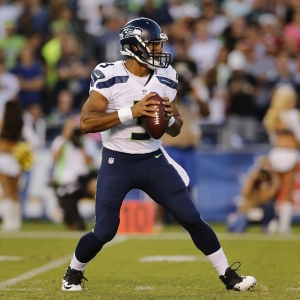 There have been more than a few years that I've waited to Christmas shop until I potentially won my Survivor Pool and had those extra dollars lying around. Of course I also used to go to malls to shop and I'm honestly not even sure those still exist? If you can't get it online and delivered in two days, it might as well be fictional in my mind.
But I digress. My point being that no doubt your competitions are down to just a few people left, if they haven't ended already. Most of the NFL clubs still have motivation entering Week 15 as 26 teams are in the playoff hunt, although obviously a big handful are only mathematically so. Dallas remains the only one to have clinched entering Week 15.
Week 14 was almost totally chalk around the NFL, except for perhaps Houston winning in Indianapolis. I didn't even consider the Giants' win over the Cowboys an upset as I picked New York in this space. Four teams - Detroit, Minnesota, the NY Jets and Washington - won after trailing in the fourth quarter. My top choice last week was the Lions, who needed yet another fourth-quarter rally to beat my Bears. There now have been a total of 61 wins this season by teams that trailed in the fourth quarter, three shy of the NFL record mark through Week 14 (set in 1989 & 2012). There have been 155 games within one score in the fourth quarter through Week 14, the most ever in the first 14 weeks of a season.
With so few choices left, obviously try to stick with home teams and stay away from rivalry games (so really any inside the division) if possible. Anything can happen in those. Also, monitor the weather in those outdoor cold-weather situations. This weekend it could be a big factor in several cities, and lousy weather can lead to unpredictable results. On to the Week 15 picks. Recommended team listed first.
First Down
Seattle vs. Los Angeles (Thursday): A total no-brainer, although I think the Rams will play a little better now that they fired Coach Jeff Fisher on Monday. I guess owner Stan Kroenke was able to acquire those incriminating pictures/video that Fisher must have had of Kroenke, because that's the only reason I can think of why the NFL's co-losingest coach ever kept his gig this long. I'm quite sure the Seahawks are off the table in your competition, however.
Second Down
Baltimore vs. Philadelphia: This probably will be my pick, although I hate taking teams on short weeks as the Ravens will be after losing Monday night in New England. But at least it was a short flight back. Plus Baltimore absolutely has to have this for its playoff chances. The Eagles and Carson Wentz have regressed so much since a 3-0 start that you hear rumors first-year coach Doug Pederson is actually on the hot seat a bit.
Atlanta vs. San Francisco: The 49ers are terrible, no question, and I don't know how they blew that home game last week against the Jets. But this could be a trap game for the Falcons as they have two important division games up next and might be without star receiver Julio Jones again. I would play defense here and just stay away.
Green Bay at Chicago: The Packers are starting to resemble what we thought they would be. Meanwhile, Matt Barkley has actually played well enough for the Bears to warrant him being brought back next year to compete with whichever QB Chicago selects early in the 2017 draft. But Barkley, even with the return of No. 1 receiver Alshon Jeffery from suspension, isn't beating Aaron Rodgers in a must-win game for the Pack. BTW, it might be below zero for a high at this game. Polar Vortex yo!
Houston vs. Jacksonville: Should the Texans beat the sorry Jaguars? Of course. But are you ready to put your faith in Brock Osweiler? I'm not.
Pittsburgh at Cincinnati: Two words for this game: Vontaze Burfict. He crushed a defenseless Antonio Brown late in last year's wild-card game against the Steelers. On the bright side, Burfict's stupid personal foul penalty played a role in Pittsburgh winning the game. But Brown also suffered a concussion and missed the next week's divisional-round game in Denver. Burfict was suspended because of that hit when these teams met early in the season. Thus I expect some sort of payback here if the game is out of hand. Watch for the Steelers to insert some sort of scrub enforcer to mete out punishment a la the old days in the NHL.
Oakland at San Diego: The last time these teams will meet as the Oakland Raiders and San Diego Chargers. The latter are expected to be the LA Chargers next year and the former the Las Vegas Raiders in 2019. Oakland should win with extra rest off last Thursday's loss in Kansas City, but this is doubly scary as a road game against a rival that's actually decent, unlike the Bears vs. Green Bay scenario.
Third Down
NY Jets vs. Miami (Saturday): Yep, we have Saturday action this week, and most of the games next week are also on Saturday as the NFL didn't want a full slate on Christmas. It's Matt Moore for the Fins making his first start in five years with Ryan Tannehill perhaps done for the season due to a strained ACL and MCL. Not trusting Matt Moore on the road in likely ugly weather conditions, even against Bryce Petty.
Kansas City vs. Tennessee: This will more closely resemble a Big Ten game between Bo Schembechler and Woody Hayes back in their heyday at Michigan and Ohio State, respectively, than any other in the NFL this year. Two teams that want to win with "3 yards and a cloud of dust" and good defense.
NY Giants vs. Detroit: Big one between 9-4 teams, and the Lions can clinch their first division title since 1993 with a win and Packers loss. So, no. One of the most overlooked injuries in Week 14 was Matthew Stafford's middle finger on his right hand. He apparently dislocated it and tore some ligaments. That's going to be an issue going forward. Not like you can just shoot up your middle finger with drugs and not have it affect throwing a football.
Minnesota vs. Indianapolis: If the Vikings had Andrew Luck they might win the Super Bowl this year. Ditto if the Colts had the Minnesota defense. Alas ...
Denver vs. New England : This won't be the same without Brady vs. Manning. The Broncos beat the visiting Patriots twice last year, once in the regular season with Osweiler under center and then in the AFC title game with Peyton Manning. I favor the Broncos here because the Pats are on a short week and missing Gronk.
Dallas vs. Tampa Bay: I would take the Bucs +7.5 here, but the Cowboys should be able to eke out a victory if Dak Prescott forgets about the past two weeks. Might we see Tony Romo at any point in this one? You might wreck Prescott's confidence if so.
Washington vs. Carolina (Monday): The Josh Norman Bowl! The Panthers clearly blew it by not keeping the franchise tag on their Pro Bowl cornerback this past offseason, although they were going to regress even with him. I'm hoping the Skins let Norman blitz one play and hit Cam Newton, because those two had some issues while teammates.
Arizona vs. New Orleans: Two teams playing out the string. Sadly, I have Drew Brees on one fantasy team, and while he had been great this year he has zero touchdowns and six interceptions the past two weeks. Needless to say, I'm not in that league's playoffs now.
Fourth Down
Buffalo vs. Cleveland: The NFL's longest playoff drought against its worst-run franchise. Which is which again? The only good thing about this game happening on Dec. 18 and not after is that some poor Buffalo-area kid doesn't isn't gifted tickets to this as his main Christmas present from Mom and Dad. What, no coal?
After more than four decades handicapping the NFL, at Doc's Sports we know our stuff. We want to give new clients a chance to try our service completely free. Click here for $60 worth of free NFL picks. The sign-up is hassle-free, and there is no obligation.