NFL Survivor Pools Strategy Advice and Predictions: Week 10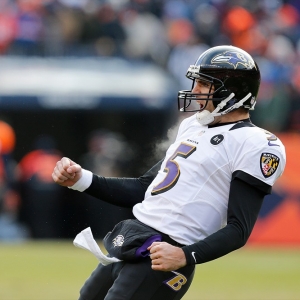 Last week was a dream week for Survivor Pool players. Dallas, Kansas City and New Orleans were all logical and very playable teams, and all did what they were supposed to do without massive amounts of drama involved. It was ideal - especially this late in the season. The later we get into the season, the more we value weeks with a larger number of viable, lower-risk plays. Let's hope that the Survivor Pool gods are as kind to us this week. Here are the most logical picks this week:
Baltimore vs. Cleveland: This one qualifies because of our auto-play - if a team is playing Cleveland then they are playable. Baltimore isn't nearly as inspiring as some teams that have faced the Browns lately, but they showed a lot in their surprising victory over the Steelers last week, so they are clearly capable of a win here. Cleveland could very well win one at some point, but it is well beyond the time that we can assume that that is likely to happen at any given time. The list of their issues is too long to summarize, and the spirit in the locker room has to be decidedly low. The Ravens have a big advantage for pool players - it is very unlikely that they have been picked already this year. It's not going to be the most comfortable pick we have seen all year, but I would have no issue at all with casting my fate onto the backs of the Ravens this week.
Arizona vs. San Francisco: The Cardinals are in a mystifying stretch of games - in their last two they had that 6-6 debacle with the Seahawks that set the game of football back a decade, and they lost by 10 to Carolina. They had a much-needed bye week, though, and we have to have faith that their high-quality coaching staff has been able to address some of the issues in that time. They are a far better team than they have appeared lately. The Niners are also a pretty good remedy for the struggles of this team. They have lost seven in a row since their surprising opening win and have gotten progressively worse as the season has worn on. Chip Kelly is being forced to address questions about whether he will bolt back to college after the season, and it is getting increasingly tougher to figure out why he wouldn't. They don't have a quarterback, are short on talent pretty much everywhere, and just don't have a whole lot of reasons for optimism. The Cardinals are not an ideal team right now, but if we can't trust them at home against an opponent like this then we just can't trust them at all. They won by 12 a month ago in San Francisco, and it's not like the 49ers have made progress since.
Kansas City at Carolina: The Chiefs are an impressive story. They have won 17 of their last 20 games, but yet have somehow managed to stay well under the radar of most fans and bettors. They aren't flashy, and it remains tough to see them as a top-level contender, but they just get the job done. The Panthers have won both their games since their bye week, but the last one against the Rams was far from inspiring. They have a lot of issues - as the five losses in their first six games proved. I would obviously feel a lot more comfortable if this game was in Kansas City where the Chiefs are 4-0 instead of on the road where they are 2-2, and the two previous games are clearly more attractive than this one. This game remains playable if there aren't other options, though.
Houston at Jacksonville: This is another situation that isn't ideal, but since when should we expect ideal conditions in Week 10 of a Survivor pool? The Jaguars really seem to have quit on their soon-to-be-ex head coach and each other. They are just playing out the string on yet another lost season. Now, it's not like Houston is a juggernaut. They are unbeaten in five at home but have lost all three on the road. They don't have a quarterback that is worth anything, and there are other issues, too. When you put these teams side by side, though - in terms of the realization of their talent, current form, and what they have left to play for - it's a total mismatch. Let's put it this way - if the Texans can't win a game like this then they are just as pathetic as the rest of their horrid division is.
Great offer! Doc's Sports has been a leader in NFL handicapping for more than four decades, and we are offering new clients $60 in free picks for any NFL handicapper on Doc's Sports Web site. You cannot afford to miss out on this great offer - click here.
Read more articles by Trevor Whenham