NFL Survivor Pools Strategy Advice and Predictions: Week 14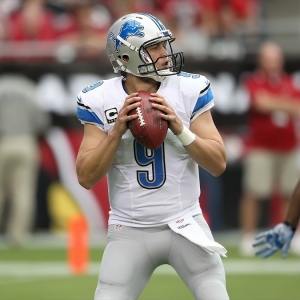 We've settled into a comfortable pattern the last few weeks in terms of Survivor Pools. There have been enough games out there that are straightforward that picks are out there to be found, and the games we have picked have mostly turned out as expected. Surprises and chaos are the enemies of Survivor Pool players, and for the most part both have been absent at the top end of games over the last few weeks. That's much appreciated after some of the wonky stuff we saw earlier in the season. So, in that vein, here are two Survivor Pool picks and predictions I really like and am quite confident will turn out okay, and two more that I don't like nearly as much but could swallow if I had to:
Detroit vs. Chicago: The Bears got a win last week, but it hardly counts. They played against a team that is just plain awful at football right now - one even worse than the Bears, which is only barely possible. They played at home in a miserable mud bowl which made passing almost impossible and allowed them to run on every down. They won't get either advantage here. Conditions will be ideal and the Lions will pulverize them through the air. They will have to pass to stay close, but they can't pass so it's going to end badly. Detroit has everything to play for here - they are in the driver's seat for the division title, and if they keep winning they are not only playoff bound but also looking pretty good. They could even get a bye if they keep winning and have some luck. Chicago, meanwhile, has nothing to play for and no real reason for hope. The Lions would rightfully be completely embarrassed if they didn't win this one handily. If you can pick the Lions you absolutely should.
Atlanta at Los Angeles: The Falcons are, as I am sure you have figured out by now, not a team I have a lot of love or respect for. They have the talent to be much better than they are, but the same mindset that has caused them to disappoint for so long hasn't been washed out of their system yet. I don't trust them at all. So, it must really be a juicy spot if I am suggesting that they are an easy play here. The Rams have, logically, altered their priorities for this week. They have made it clear that they are not making a coaching change - or at least as much as you can trust any team not to. And they have chosen to go with their young QB even though he currently gives them no chance at all of winning. They are pointing right towards next year and beyond instead of picking up another win or two this year that only costs them positions in the draft. Atlanta needs to win here, and they have absolutely no excuse not to. I'll be nervous because it is still Atlanta after all, but the Falcons are a very sound pick here.
Cincinnati at Cleveland: Normally picking against the Browns has been an easy and confident pick. Here it isn't quite that. I still think they will lose, but it isn't the lock it has been in recent weeks. For one thing, the Bengals just aren't very good right now. They played well last week, but you sure can't trust that, and between the injuries and the real uncertainty around the status of Marvin Lewis you sure can't expect them to show up every week. Cleveland has had a bye week to prepare for this one, and they have seen the Bengals already. The coaching staff is stable, so there won't be that potential distraction out there. They don't have enough to compete, but with Terrelle Pryor and Corey Coleman at receiver they have a chance to make a few things happen. I'd feel better by far if Cody Kessler were getting the start for Cleveland, but it appears that Robert Griffin III will get the nod as the team evaluates if they have anything at all in him (spoiler alert - they don't). He won't have much of an offensive line protecting him, either. So, you could pick the Bengals if you had to, but their general apathy and the incompetence of Lewis, plus the fact that I really want Cleveland to go 0-16 and the universe so often doesn't give me what I want, makes this an uncomfortable pick in my eyes.
New England vs. Baltimore: Most people don't have the Patriots available, and that's probably a good thing in my eyes. They are the heavy favorites here, and they will likely win, but the Ravens have been playing pretty well lately, and they have more to play for right now than New England does. I would pick New England if I had to, and I would probably do it before a dozen other games, but it's not nearly as comfortable a pick as the first two games here are.
Doc's NFL handicapping team is confident that a great year is ahead of them. How confident? So much that they are giving away their picks. New clients can claim $60 worth of free picks just by clicking here. No hassle. No obligation. Just great picks.
Read more articles by Trevor Whenham