NFL Survivor Pools Strategy Advice and Predictions: Week 15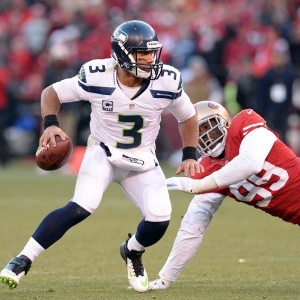 Again last week the games that stood out as Survivor Pool plays turned out as expected. This year has turned into a gift for aficionados of these pools with plenty of bad teams that are incapable of playing well and which haven't even been throwing in an upset or two along the way. Thanks to the generosity of the Rams, Niners and Bears - though sadly not the Browns this time as we will discuss - the smooth sailing should continue through Week 15. Here's how I see the week playing out from a Survivor Pool perspective:
Seattle vs. L.A.: I have a son who is in first grade. He's very tall for his age, but that still means he's short, and his hands are laughably tiny compared to, say, mine. He can't throw a spiral. Obviously. I mean, he can't even hold a football with one hand - and likely won't be able to for a couple of years. And his legs have grown faster than they should have, so his mobility has room for improvement. Yet, and I am not kidding when I say this, I think he would be no worse than Jared Goff has been at quarterback for the Rams. And my kid isn't making millions a year to do it. Heck, he doesn't even get his $5 allowance regularly because I often forget. Goff has been beyond horrible. He doesn't even look like he can throw a ball. It's not like the Seahawks have the greatest QB play ever right now - Russell Wilson threw five picks against the Packers last week - but in comparison they have Joe Montana at his best. The incompetence of Goff seems to have directly impacted the will to play for the rest of the team because the Rams just don't give a collective damn anymore. They were so uninvolved and awful that they just got their coach fired - a week after he got a contract extension. This is a Seattle win - no doubt about that. I seriously question the Seahawks against real competition, and discount their playoff chances almost entirely as a result, but in this spot they will be just fine. Seattle is an easy pick if you are at all able to do so.
Atlanta vs. San Francisco: For some reason I watched the first half of the Niners and Jets on Sunday. Apparently I really hate myself. It was 17-3, San Francisco didn't look awful, and the Jets were a total and utter mess. I turned it off and went to do other things for a while. Imagine my shock, then, when I saw that Chip Kelly's boys had managed to lose it. I mean, I knew they were bad, but I really and honestly didn't know they were that bad. If it weren't for the Browns all we would be talking about this year is how horrendous the Niners are. I have almost as many issues with Atlanta as I do with Seattle this year in the long term, but in this spot I couldn't be more confident. The Falcons will win, and win handily, and you should pick them if you can.
Green Bay at Chicago: This isn't quite as comfortable as the other two picks, but you could justify taking the Packers without too much issue. The Bears played decently under Matt Barkley last week and aren't quite the mess they have been of late. And they are at home. Green Bay is playing well right now, but Aaron Rodgers still looks like a grandfather with two bad hips when he walks around. Green Bay should win this one, but they should also be way better than 7-6, and they shouldn't be in a tough spot to even get the final wild-card spot.
Kansas City vs. Tennessee: I wrote about the Chiefs this morning , and it is not at all hard to find reasons to like this team and where they are at right now. They have won 21 of their last 25 and just seriously humbled the Raiders. Tennessee has at least marginal playoff hopes to keep alive, and they have won two in a row. They are only 3-3 on the road, though, and this is a tough spot to play. They are clearly the second best here. I wouldn't pick the Chiefs over any of the other three teams that came before them on this list, but they are playable if needed.
Buffalo vs. Cleveland: I am not advocating a pick of either of these teams - let me be perfectly clear about that. I include this game only because of how sad it makes me that any Cleveland game is going wasted in Survivor Pool action this year. The Browns remain terrible, and if they remain committed to RGIII they stand no chance of salvation. The Bills are a total mess, though. We are on Rex Ryan death watch as I write - he could and should be fired at any minute. They are likely benching Tyrod Taylor because if he were to get hurt his contract says that they would have to pay him next year - and the team can't imagine a fate worse than that. No team in the NFL should be capable of losing to the Browns, but the Bills as they currently sit just might do so.
Read more articles by Trevor Whenham