NFL Betting Advice: are the Chiefs Legitimate Super Bowl Contenders?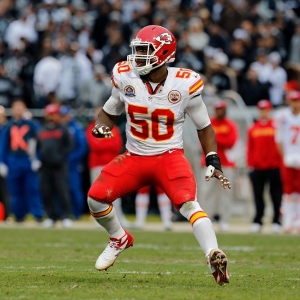 The AFC West was viewed as a showdown between the Broncos and the Raiders heading into the season, with the Chiefs trailing somewhere behind. Yet here we sit less than two weeks from Christmas, and Kansas City is the squad that sits in first place and controls their own destiny the rest of the way. They haven't backed into their position, either - they have won 10 games and seriously humbled the Raiders last Thursday night. So, is this team elite? Should the city start thinking about parade routes? Can this team win it all? Here are seven factors to consider when pondering those questions:
Quiet consistency: This team has won 10 of 13 this year. They won 11 straight last year before losing their second playoff game. That means that they are 21-4 in their last 25. That is far from bad. They haven't lost two in a row in 14 months, either. This is a very consistent team. They hide it because they are very rarely even a little bit flashy, but they have been out there getting their job done for well over a year. Andy Reid has this team dialed right in. Teams in the NFL can win a game or two by total fluke - the Niners aren't winless, which is all the proof you need of that. To win at the rate this team has won in the last 14 months or so, though, is no fluke - it only happens to teams that are very good.
Schedule: To win the division they need to at least match the Raiders' record down the stretch. Oakland has a schedule that can really play to their strengths - at the Chargers, against the Colts and at the Broncos. There seem to be at least two wins there if the team rediscovers whatever mojo was lost last week. The Chiefs have a decent schedule of their own, though - even better than Oakland's. They host Tennessee and Denver and then travel to San Diego. There is no reason that the Chiefs team that beat Oakland can't win all three of those games. Kansas City continues to control their own destiny.
Quarterback: I'm not even going to spend much time here. Against Oakland, in the biggest game of the year that any team has played, Smith completed three-quarters of his passes and averaged 10.5 yards per attempt. Smith is a serious asset to this team.
Health: Most of what has been said so far is rosy, but this is more of a mixed bag. Derrick Johnson is the team's leading tackler and the quarterback of the defense, so losing him to his second torn Achilles in three years is far from a good thing. The news is better on other fronts, though. Jeremy Maclin returned last week after missing a month to a groin injury. He wasn't hugely effective, but at least he got a taste of game speed. He is a favorite target of Smith, so his return to health combined with the recent dominance of Travis Kelce (four straight 100-yard games for the tight end) and the emergence of Tyreek Hill makes this a passing attack to fear. The offense could get another boost as well as rumors are growing that superstud running back Jamaal Charles, who has had surgery on both knees this year, could return to action for the playoffs. His role and effectiveness would be uncertain, but you can never scoff at getting a guy like that added late in the year.
Savvy offseason additions: As much as anywhere else, teams win games in the front office. If management can find ways to get good players that fit the system at the right price then they can make their teams dramatically better. Three examples stand out this offseason of moves the team made that have helped get them to where they are. Tyreek Hill is a bad guy off the field. There is no disputing that, and it's why he was available in the fifth round. The Chiefs took a risk - both in terms of PR and in the locker room - by drafting the receiver, and it has paid off handsomely on the field. He's almost impossibly fast, and the team is getting better every week at figuring out how to use him to maximum impact. With Jeremy Maclin banged up, his presence has been huge. Mitchell Schwartz has been one of the best right tackles in football, and it is mystifying that the Browns let him walk in free agency. The Chiefs stepped up and paid him handsomely this offseason, but he has earned every dollar and more. He has been a wall on the right side, and it has had a big impact. Nick Foles had a disastrous year in St. Louis last year, but that team is a circus, and he has shown he can play. He was close to the perfect addition to this team as a backup QB, and he has proved his worth in two appearances - both wins. Those three guys are all, for different reasons, big parts of the success this team is having and will have.
Honestly, who is better?: I'm fine if you don't want to believe that the Chiefs are the cream of the crop this year. But who is? It's not like this is a year of dominant teams this year. Things are really muddy up top. The Chiefs just beat Oakland and made their offense disappear in the process. Dallas looked JV last week and only barely better the week before. The last time the Patriots played a good team they lost to Seattle. At home. Seattle just lost by four touchdowns to a team that likely isn't making the playoffs. Detroit plays only 15 minutes a game, and their QB's hand is messed up. The Giants beat Dallas this week but couldn't handle Pittsburgh last week. Denver's defense is just plain awful - who would have guessed that starting a guy at QB who was in a platoon at Northwestern wouldn't be the long-term answer? If you have a clear sense of who is going to win the Super Bowl right now then you are a better person than me, but you really have to be determined if you want to rule out the Chefs entirely.
Betting performance: For all of their winning the Chiefs have not been a great team to bet on - they are just 7-6 ATS, so they are basically a break-even squad. They have been stronger on the total, though, going "under" in nine of 13 games.
Read more articles by Trevor Whenham